Vancouver's Booming, Kid-Friendly Neapolitan Pizzeria Scene
Vancouver's Neapolitan pizzeria scene has exploded in recent years. This is great news for families looking for kid-friendly pizzerias offering a product that is more refined than ketchup sauce on a cardboard crust, yet still at an affordable price.
From the Basic to the Eye-Popping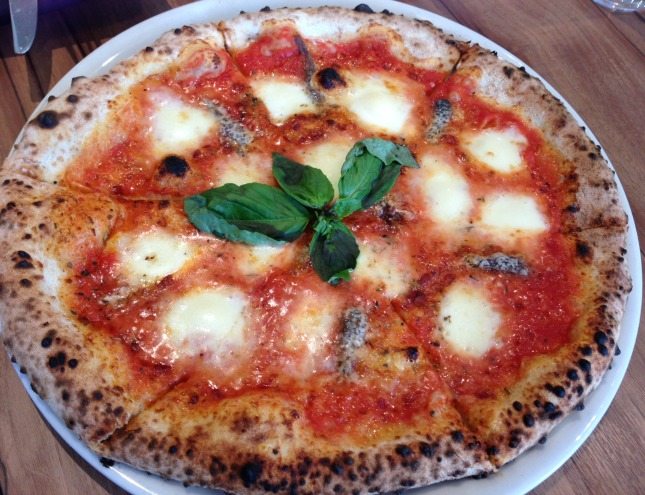 Even if kids yearn for only the most basic Margarita pizza with (San Marzano) tomato sauce and cheese, the more adventurous eaters can choose from an eye-popping list of fabulous toppings: white anchovies, arugula, Italian burrata cheese, double-smoked bacon, jalapenos, fennel or duck sausage, truffle oil, clams, or fior di latte (a personal favorite).
Most if not all of the members of Vancouver's Neapolitan pizzeria community encourage family-style sharing and dining, which is perfect for smaller stomachs. Pizza orders can be accompanied by exciting salad options, if you want to encourage the intake of fresh greens (you never know!).
The Neapolitan Pizzeria Roster
Here's a rundown of some great new additions to the city's Neapolitan pizzeria roster, as well as older Vancouver favorites.
Pizzeria Bufala – If you drive along Arbutus Street by Point Grey High School on a weekend evening, you'll see line-ups out the door of this new restaurant in the Kerrisdale neighbourhood. Bufala offers a warm and inviting atmosphere, with booths for families, and tall, communal tables for larger groups. The pizza crust is chewy and firm enough to fold, and hold a wide variety of toppings (peas & taleggio cheese!) without collapsing. If you like flavored oils, you can be choose from house-infused chili, smoked ham or other variations to drizzle on your tasty crust. Lunch & dinner.
Bella Gelateria Yaletown – The best gelato maker in the world, James Coledridge, has expanded his culinary horizons to include pizza at his new Yaletown location of Bella Gelateria. The new space is bright, airy and well-situated along the neighbourhood's seawall. In addition to the delicious and flavorful pizzas, Bella Geleria offers its signature ice cream, as well decadent gelatinis (gelato cockatails) and other delicious desserts. Breakfast, lunch, dinner.
Nicli Antica Pizzeria – Located away from the beaten path of Gastown's central core, Nicli was the first certified Verace Pizza Napoletana (VPN) pizzeria in Vancouver. The VPN label denotes authenticity to the true roots of Neapolitan pizza, and Nicli does not disappoint its chewy blistered pizza crust and quality toppings. Fold and taste the spiciness of Diavola or saltiness of Napoletana with anchovies. Their cocktails choices are great, including the virgin Shirley Temples for kids. "The best we've ever had," said the boys. Lunch & dinner.
Lombardo's Ristorante and Pizzeria – While its location inside the Il Mercato mall hides its presence from passers-by on Commercial Drive, lucky are we who've enjoyed Lombardo's since it opened 25 years ago. There are more than 20 hand-tossed pizza choices here, including Calzones (folded pizzas), as well as roast chicken, pasta, soups and salads. Everything about Lombardo's is family-friendly and without pretension. It's comfortable, busy and kids wander around without a fuss from anyone. Lunch & dinner.
Via Tevere Pizzeria – One of Vancouver's original Neapolitan pizza houses, Via Tevere is located on Victoria Drive in East Van. Prepare to line-up with the locals here, as their blistered, tasty chewy pizzas are wood-fired and delicious; as popular as you'd expect from pizza proprietors who are actually from Naples. Official stamp of approval from Associazione Verace Pizza Napoletana. Dinner only.
Marcello Pizzeria – A full service pizzeria on the Drive for decades, Marcello Pizzeria offers a large menu of wood-oven baked pizzas, lasagna, homemade pastas, soups and salads. Kids really do like the "Sun God" oven that 'spits out' more than 20 varieties of blistered crispy crust pizza, whether it's the basic Margherita or the I-can't-choose-just-one-kind Quattro Stagioni. Lunch & dinner.
Buon appetito!
Claudia Laroye
Claudia lives in Vancouver. She's the mother of two teenage boys, and has a thirst for travel, chocolate, and pineapple margaritas. She writes and blogs as thetravellingmom.ca, offering a modern mom's guide to family travel sanity. She is much too active on Twitter as @travelling_mom.