Redefining Mom: Conscious Rapper Monica Morong
What do you think when you hear the phrase conscious mom rapper? If you're not sure, then you probably haven't met Monica Morong, a.k.a. World Hip Hop Mom. This Vancouver mom of three little girls is working hard to build a career as a hip hop artist on her own terms. We shared a video of her at Leading Moms 2012, visibly pregnant, rocking the mic. We were excited to have the chance to connect with her to talk about how she's redefining motherhood and rap, all at the same time.
Growing up Monica's life was touched by loss. Her younger brother died as a teenager following a battle with a rare genetic disorder. Her paternal grandmother passed away in the same year. Her parents' marriage was strained, and she shares, "I think a lot of people can relate to loss and a lack of love."
Be Conscious of What You're Listening To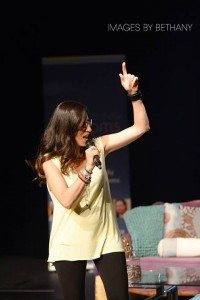 Monica left her career in public relations after her first two daughters were born 18 months apart. Monica says, "After my second child was about two that I was missing contributing to society beyond my role as a mother and I felt called to return to the workforce. I decided to put myself out as an independent PR professional, but it just wasn't resonating. I took a break to rediscover myself and it was the best decision I ever made. And while I was rediscovering the real me we welcomed our third daughter into the world." Monica shares her thoughts on redefining motherhood and career for herself, saying, "My story is one of you can do whatever you want, and have children. You don't have to separate the two."
If you think being a conscious mom rapper means rapping only about parenthood, think again. Monica is redefining boundaries as she explains, "I just happen to be a mom that loves to rap, but it's not my mission to rap about the struggles or the experiences or the joys of being a parent. I want to be – and am – an inspirational rapper and role model that breaks the boundaries of today's hip hop genre. I have a mission to change the world by rapping about current conscious subjects, and encouraging people to really listen to the lyrics of rap songs. I really want people to stop and be conscious and wake up to what they're listening to."
Redefining Motherhood, Redefining Hip Hop
We love that Monica is out there doing her thing, but we still had one question: why rap? She shares, "I grew up listening to hip hop and rap and reggae and I just love the beats. It just really, really resonated with me. After having two girls I realized how challenging it was to listen to a lot of this music." She decided to put a new spin on it. "People love the beats. So take the beats and just shift it a tiny bit, to actually rapping about stuff that can make people feel good and empower them. Not in an in-your-face way, like a mother wagging her finger, but in a cool way."
How does Monica craft her music? She explains, "I am fortunate enough that my husband has this hidden talent of creating beats. I find it helps to have the beat first. We work on it together and oftentimes I give some feedback, and then I write the lyrics." In all things you have to walk before you can run, and learning to rap is no different, as Monica shares, "I thought instead of going the whole distance to writing radio-worthy songs why don't I start by offering the services to women in my circle? The first song I did outside of my own was for Lunapads, rapping about your period and the importance of honouring the feminine cycle. At Leading Moms last year a woman who was attending there, Jill Parker, she has a business called Little Dreamers Consulting and I wrote a rap song for her. It's really fun doing these songs and just letting life flow and happen."
Rapping Moms are Fun Moms
The life of a hip hop artist doesn't seem all that compatible with the life of a mom of three. Monica is redefining motherhood and career in a way that works for her, though. "So far I find, because it is family-friendly content, the kids can really be involved in the process. My girls think it's so much fun that we have a rapping mom. We go to the studio on the weekends, or we'll dance around the house and rap and rhyme. We practice in the car while we're driving around town. My husband has all these beats and we'll just rap to the beats." When she performs, she says, "The deal is if you want me, then you've got to take the whole package. There's five of us, you know."
Monica is going places, and she's working at redefining the way that people look at families. "I feel like people are ready for a mom to take the stage as a rapper and be on the radio. Anything goes, nowadays. You just do what you're passionate about. Why can't a mom rap and have her kids on stage? I always joke around that we want to be the modern day von Trapps, like from The Sound of Music, and inspire people as a family. Families are beautiful. It's okay to show and flaunt your family in a beautiful way." We couldn't agree more.
Thank you so much, Monica, for sharing how you're redefining motherhood and rap, all at the same time!
Monica Morong
*Photo credits – Bethany Schiedel, Images by Bethany, imagesbybethany.com
Amber Strocel
Amber Strocel is a writer, aspiring math teacher, suburbanite, wife and mom of two. She believes in the power of the Internet to connect people, and she believes that numbers are the poetry of the universe. You can often find her knitting, sewing, volunteering, working in her garden, and sneaking chocolate when no one's looking. She blogs at Strocel.com and shares her photos on Instagram as @AmberStrocel.