Redefining Mom: Heather Hawthorn-Doyle is Working with Kids and Animals
We may not work in TV and film here at VancouverMom.ca, but even we know the old adage about how hard it is to work with kids and animals. When we recently met Heather Hawthorn-Doyle – Vancouver mom and television producer and director – and found out that she's doing both, we wanted to learn more. Today we're sharing our conversation with Heather about her new pilot project, and how she's redefining motherhood and television on her own terms.
"I'm a Mom First"
Heather's latest project involved creating two pilot episodes of the hilarious new digital show for kids, Animal News Now, airing now on www.cbc.ca/parents. This "newscast" features animal stories, told by animals and aimed at kids. It's hosted by a child news anchor and their trusty talking canine sidekick, and it covers everything from breaking news to fashion, sports, food and entertainment. You'll hear it all straight from the horse's mouth … literally.
When we asked Heather to tell us more about herself and Animal News Now, she shared, "I have always self-identified as a mom first, and then a television producer and director." With two grown sons, Heather has always had an interest in kids' programming, using her children and their friends and classmates as a test audience. Her show "Make Some Noise" on CBC featured stories about young people working to create positive change in the world. The series won the NHK Japan Award in 2007, as well as the $50,000 Shaw Rocket Prize and the Gemini for best Youth series.
Redefining Television
Heather is teaming up with Kristina Matisic on Animal News Now. You may recognize that name from her work, with Anna Wallner, on The Shopping Bags, Anna & Kristina's Grocery Bag, and Anna & Kristina's Beauty Call. Kristina is one of the Executive Producers of the show, bringing her own TV chops to the mix. Their production company, Worldwide Bag Media, teamed up with Kids CBC to create the digital shorts, which launched online. They're accepting feedback now, and crossing their fingers that enough people watch and love the show to take it to the next level.
Heather shares, "So far our feedback has been really strong. We've also gotten some great creative suggestions. I love anything that gives kids a voice, and that's one of the great things about working with the CBC. They let the people decide for themselves what they want to see." It sounds like Heather and the CBC are redefining television together.
Working with Kids and Animals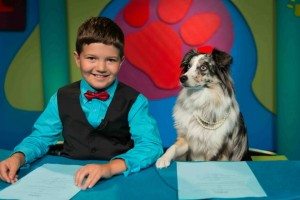 Let's get back to the question of working with kids and animals, though. How hard is it, really? Two children were cast for Animal News Now, a ten-year-old boy and an eight-year-old girl. Heather describes them both as 'fantastic'. She does add, however, "To even say that you're 'directing' a child or animal is hilarious. You just try to make it fun and let them play, and then hopefully you get what you want." The show is fun to watch, so it only makes sense that it should also be fun for the kids to make.
To view the digital shorts and submit your feedback, visit www.cbc.ca/parents/2013/12/animal-news-now-pilot-project-do-you-love-this-show.html. You'll be able to vote on your favourite news team, and play your own part in redefining television. Plus, we're sure your kids will enjoy the shows. What's not to love about that?
Thank you so much to Heather for taking the time to share how she's redefining motherhood and television!
Amber Strocel
Amber Strocel is a writer, aspiring math teacher, suburbanite, wife and mom of two. She believes in the power of the Internet to connect people, and she believes that numbers are the poetry of the universe. You can often find her knitting, sewing, volunteering, working in her garden, and sneaking chocolate when no one's looking. She blogs at Strocel.com and shares her photos on Instagram as @AmberStrocel.