Living on Bowen Island: More than Just a Pretty Place
Ever dreamed of living on Bowen Island? In this article by Mary Kastle, you'll find out what the shift from city to island is really like.
A while back I spent the day in Vancouver and needed to walk all the way across downtown expediently. I passed some folks getting into their van and thought, "Oh great, I'll just ask them for a lift!" I was opening my mouth to speak, when it occurred to me that they would probably think I was crazy, asking complete strangers for entrance into their vehicle, not to mention imposing on their busy schedules. On Bowen Island however, the place I now call home, hitchhiking is so commonplace it's municipally sanctioned. You become so acclimatized to trusting your neighbours and the community-at-large, it feels perfectly natural to reach out or take someone in as needed. That's just one of the positive impacts living on Bowen Island has had on my approach to life and the people around me.
The Upsides and Downsides of Living on Bowen Island
I won't lie; there are plenty of challenges to living on Bowen Island, or any island for that matter. The commute is the most obvious, and considering BC Ferries just announced another round of service cuts, it's certainly not the most convenient of places to establish one's home. But sometimes the commute is great, and the communal effort of overcoming the hassle on a daily basis creates a strong sense of camaraderie. Logistically, it's about the same distance as driving in from Surrey (you can be downtown in exactly 60 minutes from the time the ferry leaves the Snug Cove dock), and 20 minutes of that can be spent lounging in your car reading a book, taking a nap, or catching up with your aforementioned friends and neighbours on the boat. In some ways, living on Bowen has made me incredibly organized. It only takes missing the ferry once to realign your whole internal clock around that little schedule, and subsequently I've become a lot more punctual for all my other appointments too.
Bowen is quiet and some may find that disturbing. When we first moved here, my sister asked me if we were planning to put up curtains on the many windows around our house. "What on earth for?" I asked her. There isn't a single streetlight where we live and it's so pitch-black we had to install night-lights to avoid bumping into each other. "To keep out the dark!" she replied. I laughed. Yes, sometimes the city lights are a comfort. Knowing others are out there. But for those craving a deeper quiet and stillness, Bowen delivers.
Rural Life Changes You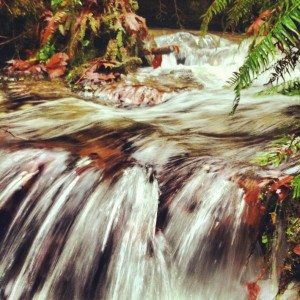 In fact, living on Bowen Island has delivered a lot more than I bargained for. When we first entertained the thought of 'moving to the country' from our stylish abode in East Van, we were constantly on weekend 'getaways' to find a bit of peace. I've discovered however that living this far removed from the hustle and bustle is vastly different from simply visiting it. A shift occurs, but it doesn't happen after a weekend, or a week. It takes weeks, and months, and years, and eventually it changes you. A friend recently recounted that she remembers seeing me drive down Commercial Drive shortly after we had moved to Bowen. She laughed emphatically as she spoke, "You were driving backwards down Commercial and then did a one-handed parallel park before flying into a shop like a ninja!" Ah yes, the early days when I was still trying to have all my city comforts amid my country life. But after a few years of adhering to Bowen's strictly enforced 40km/h speed limit, I now drive through town like a Sunday granny, cars passing me on the freeway constantly, and I cannot fathom what the grand rush is all about.
Bowen is rural and woodsy. Bowen is eclectic and artsy. Bowen has the highest number of children per capita in Canada. Bowen is a great place to raise a family. Bowen's real estate is 20% cheaper than the Lower Mainland. These are all facts you can look up. But what you won't find in a tourism brochure is that living on Bowen Island will change you. It will challenge you to discover your priorities and connect you with a community that is committed to nature, to each other, and to finding a good life balance. These are the priceless parts and I see them reflected in all the courageous faces of the folks that deal with the inconvenience of living here, day in and day out. And I'm honoured to now be among them.
Mary Kastle is a musician, writer, and fashion designer living on Bowen Island with her husband and 13-month old son. Her mama-inspired fashion creation is the Wizard Boots, funky knee-high non-slip baby socks that actually stay on. Check them out at www.wizardbabybooties.com. Mary also blogs about the creative process and posts music and fiction on her website at www.marykastle.com.
*Photo by Saskia Tait – "Bowen Island forest stream in Winter"
Vancouver Mom
Would you like to write for us? We welcome well-written guest submissions with a local interest slant. Share your tips, review local businesses and highlight hot trends for Vancouver moms. Get all the info on our Contributor Page!