Unique Gifts from the Museum of Vancouver
Museum gift shops are a great place to find interesting presents for those hard-to-buy-for people on your list. As well, shopping at a gift shop has the added benefit of supporting a cultural institution. And this year, the Museum of Vancouver is taking a slightly different approach.
Throwing Open the Museum of Vancouver Archives
The Museum of Vancouver threw open their archives to a select group of local businesses to help them develop unique products based on elements of Vancouver history. The funds raised will go towards new special exhibitions, and its school programs that reach 10,000 elementary school students every year.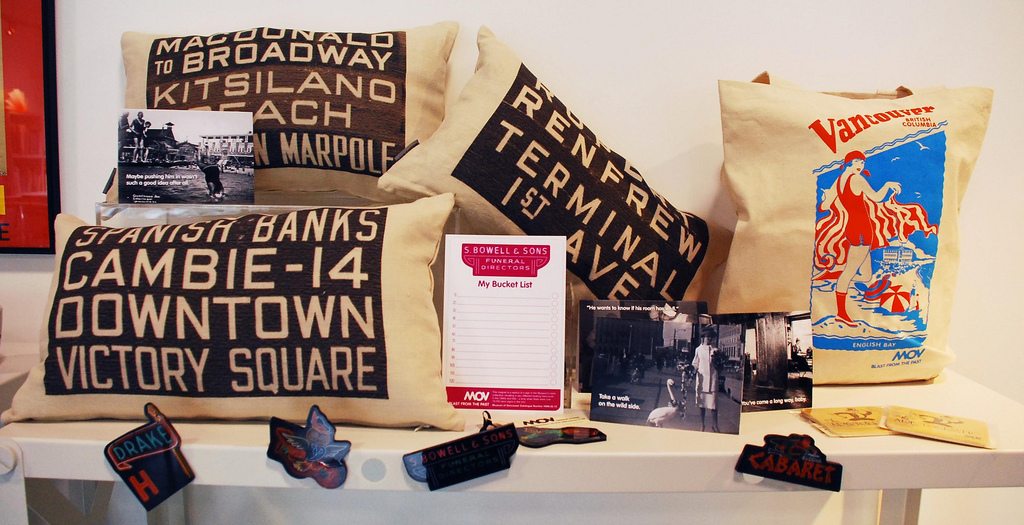 Our streetcar heritage inspired a few products in the line, including throw pillows and rugs from Harvey Burritt's 2nd Century Rug Company. Keychains, magnets and t-shirts feature iconic neon signs from Vancouver's past. Pages from the Marco Polo Theatre Restaurant, the first Chinese-style smorgasbord restaurant and night club to open in Chinatown, make cute placemats that wouldn't fail to start a conversation at any dinner party.
Tea, Beach Bags and Beer
Murchie's Tea created a special blend of Chinese black tea, scented with lychee, to capture the spirit of the integral role the Chinese community has always played in this city's history. Named after a cabaret, Smilin' Buddha is a mellow black tea with distinct fruit top note – but not enough to disturb those with an aversion to 'fruity tea'. Presented in an attractive black canister, it's a limited edition offering, so if you plan to give it as a gift, pick it up soon.
There's a terrific canvas beach bag featuring a travel advertisement for English Bay with a cute 1930s bathing beauty illustration. A set of two beer glasses and t-shirt commemorates the Cascade Brewery that operated from 1909-1919, and created its beer using water from a creek running through the city.
Give a Piece of Vancouver History
Each product comes with a special tag detailing the specific piece in the Museum of Vancouver archives it was inspired by, and a bit of the history behind it. The prices range from $8-$70 for most of the products, with the beautiful hand-woven silk area rugs costing considerably more.  Shops around Vancouver carry the line, including Walrus, Bookmark at the Vancouver Public Library, Country Furniture, Murchie's and Make on Granville Island. Visit the Museum of Vancouver's site for a full listing.
Erin McGann
Erin McGann is the former Managing Editor for Vancouver Mom and Toronto Mom Now. She drinks just a bit too much coffee, is a bit obsessed about sourcing local food, plays the cello moderately well, spends too much time on Twitter, keeps honeybees on a rooftop, and has a thing for single-malt whisky. Erin is working on a novel set in turn-of-the-century Vancouver, which her husband, son and dog have to hear about all the time, and also blogs at Erin at Large.