Five Favourites: Smartphone Photo Apps
There's a saying among photographers that goes something like this: the best camera is the one you have with you. For many Vancouver moms, the camera we always have with us isn't so much a camera as a phone. With smart phone cameras getting better all the time – and more and more great photo apps coming out every day – those little gadgets can do a lot. If you're documenting your kids' childhoods on the go, those apps can make your life a whole lot easier. Today we're sharing our five favourite smartphone photo apps.
Five Smartphone Photo Apps for Vancouver Moms on the Go
1. Instagram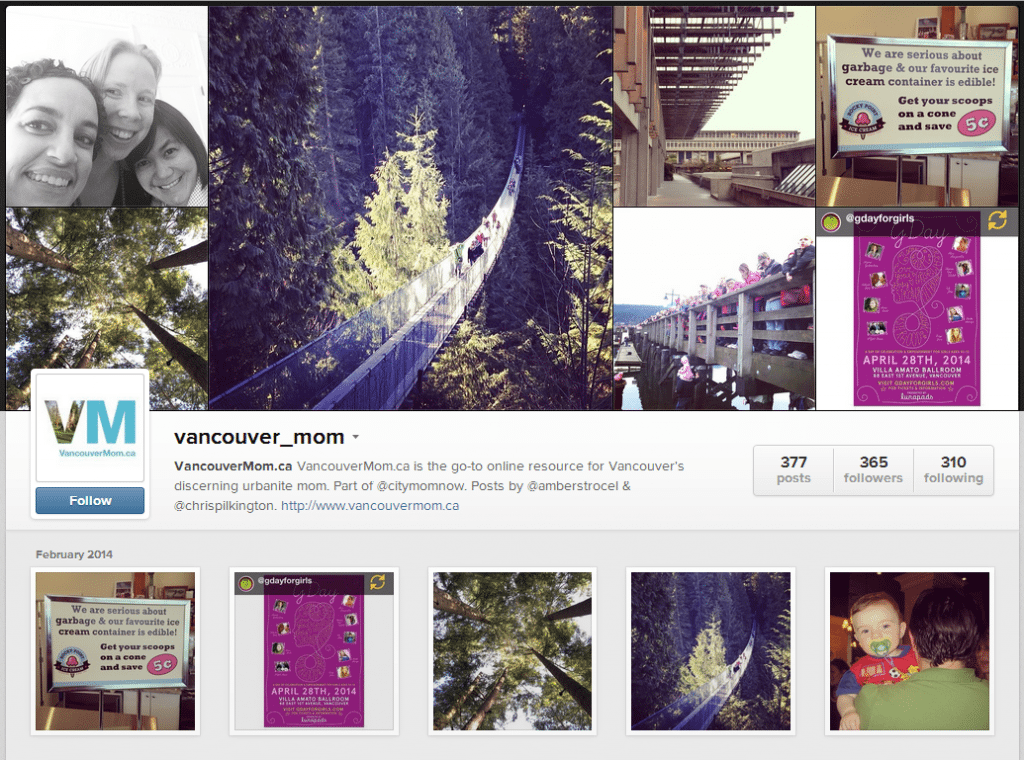 Here at VancouverMom.ca we are huge Instagram fans. In fact, when it comes to smartphone photo apps, this is the one we use most. This free app is available for iPhone and Android. You snap your photo, add a filter if you wish, and share it. Much like Twitter or Facebook, you can follow people and be followed back, like and comment on photos. You can also tag your locations and participate in memes. Plus, you can connect Instagram to other social media services, to seamlessly share your photos with your friends and family. Instagram only handles square images well, and its built-in camera control isn't great. You can use other apps to snap and format photos, though, and import them to Instagram.
instagram.com | Free!
2. Flickr
Flickr has been around for ages, offering an easy way to store and share photos online. Its free smartphone app is available on iPhone and Android, allowing you take photos with your phone, edit them and post them to your Flickr account. With the new pricing plans for Flickr, you can do a lot more with a free account, so if it's been a while you may want to check it out again. Like Instagram, Flickr has a number of filters and allows you to simultaneously post to Facebook, Twitter and Tumblr. You can also save old photos from your Flickr account to your phone, giving you access to your online photo library if you're already a Flickr user. Compared to Instagram it has decent photo editing, and it handles a wider variety of image shapes and sizes. Its social element isn't quite as active, though, and it's not as fast.
mobile.yahoo.com/flickr | Free!
3. VSCO Cam
If you're more interested in creating beautiful photos than in joining another social network, VSCO Cam may top the list of smartphone photo apps for you. We saw the #vscocam hashtag on Instagram and didn't know what it meant until we discovered this app. Like the other two we've shared it's free, and available for both iPhone and Android. Unlike the other two, it offers powerful photo editing and particularly beautiful filters. Its users are committed to taking gorgeous photos with their smartphones, and they use this app to do it. Take photos using the app, or import them from your camera roll. Then you can crop, edit and save them, or share them to social media. If you'd like access to more features like a broader array of filters (they call them presets), you can buy them, but the app works well without them.
vsco.co/vscocam | Free!
4. Camera+
This app stands alone on our list of smartphone photo apps because it's not free, and it's only available for the iPhone. Like the others it allows you to take photos within the app itself, or import them from your phone's camera roll. However, unlike the others it offers a lot of little extras for the in-app camera, like a timed photo option and the ability to choose different exposure and focus points. The photo editing options are fairly sophisticated as well, and it gives you the option of sharing photos to social media, as well as via text message and email. You can also print photos or create a web link to your photos. There's also an iPad version so you can edit your photos on a bigger device if you like. If you like a little more photo control, Camera+ is worth adding to your list of smartphone photo apps to check out.
campl.us | $1.99
5. Snapseed
This app is less of a camera app, and more of a photo-editing app. Like most of our other favourite smartphone photo apps, it's free and available for iPhone and Android. It has a broad array of very artistic filters and controls, and you can adjust your photo with a high degree of precision. Once you've edited your photos, you can share them via social media, print them and so on. It's a little overwhelming when you first open this app – its editing tools and filters are definitely more sophisticated than, say, Instagram's. However, once you play with it it's easy to use, and its interface is fairly straightforward. It has tablet versions as well, plus a Google+ version.
www.snapseed.com | Free!
We've shared our five favourite smartphone photo apps – what about yours? Leave us a reply and tell us what we missed!
Amber Strocel
Amber Strocel is a writer, aspiring math teacher, suburbanite, wife and mom of two. She believes in the power of the Internet to connect people, and she believes that numbers are the poetry of the universe. You can often find her knitting, sewing, volunteering, working in her garden, and sneaking chocolate when no one's looking. She blogs at Strocel.com and shares her photos on Instagram as @AmberStrocel.