Blog Series: What Kind of Mother do you Strive to Be?
Article by Amy Lee, sharing a blog series featuring some of the Top 30 Vancouver Mom Bloggers, sharing what kind of mother they strive to be.
What Kind of Mother?
What kind of mother do you strive to be? Some of us 2012 Top 30 Vancouver Mom Bloggers have gotten together to answer this question. The result is a blog series that gives a whole new insight into who we are as mothers, and how much we all have in common.
We've opened our hearts and talked about our triumphs and failures, our hopes and dreams, and how we want to love and raise our children. Even though the eleven of us who wrote come from very diverse backgrounds, we've all made similar mistakes, experienced similar frustrations, celebrated similar milestones and felt the same joys raising our children.
We Are Not Alone
Reading the stories in this blog series made me realize that I'm not alone in this journey – that the mother next to me also "wanted to leave the house, run far away from her crying baby/needy toddler," that she also believes children "are like cups that need to be filled daily with kind words, loving actions and loads of hugs and smiles," that she also strives to "always has time for my kids….even when I don't."
Some of these stories will make you laugh, some will make you think and others will make you cry. We shared our journey with you because we believe that we actually have more in common than we have differences. We believe that as mothers, we should "join together to support each other," because "having a child is not easy. And being a mother – a good mother – is one of the hardest things I have ever done."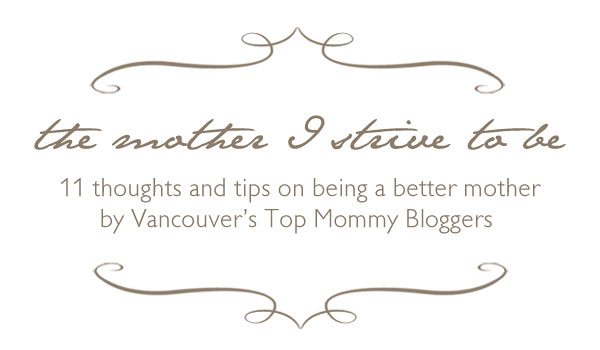 The Blog Series
Below are the eleven Top 30 Vancouver Mom Bloggers who participated in this blog series. If you prefer, you could download our Mother I Strive To Be eBook which contain all the blog posts.
[unordered_list style="bullet"]
[/unordered_list]
Amy Lee appears to be a Vancouver children's photographer…but she's not…not really. She uses photography to celebrate the relationship between a mother and each of her children. Her 'photographs' are tangible expressions of love – to remind you and your children how much you are cherished and how much you matter to each other. As mothers, isn't that what we want at the end of the day? You can see her mother and child photographs at The Connection We Share.
Vancouver Mom
Would you like to write for us? We welcome well-written guest submissions with a local interest slant. Share your tips, review local businesses and highlight hot trends for Vancouver moms. Get all the info on our Contributor Page!