Yoga for Kids of all Ages at YogaButtons
Article by Katie Smith, who's got the scoop on yoga for kids of all ages in Vancouver.
Down dog, pigeon, frog, cat, cow … if you've practiced yoga before you will know what I am talking about. I'm describing your average 90 minute practice of yoga. While to me getting into 'pigeon' means the reward of open hips, to my son it means something entirely different. After visiting YogaButtons, Vancouver's newest studio dedicated to yoga for kids and families, I don't know if I'll ever take myself so seriously again.
Props, Toys and Imagination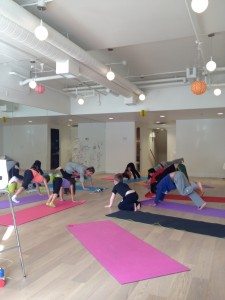 Owner Carolyn Lundi envisioned a place that focused on the importance of child-like play, building confidence, self-esteem and self–awareness through yoga for kids. While that sounds ideal to most parents, it was vividly brought to life watching my five year old son stretch, play, dance, jump and laugh all within his first 60 minute class. The teacher brought out a series of farm animals, and as the kids enthusiastically named what they were she would teach them that pose. Then they would rearrange the order and call out which animal they wanted to do next, totally unaware that they had just worked themselves through their first flow of the day.
Using props, toys and imagination, a full class of five to eight year olds were fully transported to a place of laughter and ease. It was like watching kids be kids, no competition or parents hovering from the sidelines. You are welcome to either join the class or let your child participate on their own. The self-consciousness that can come from the feeling of 'being watched' melted away and you could see the kids truly let go and enjoy themselves.
Real Yoga for Kids, Play Included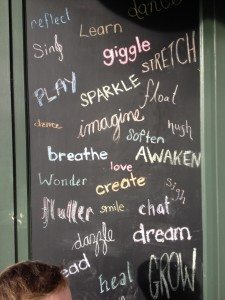 This was, by all means a 'real' yoga class, but it was paced a little differently and led by the children themselves. The teacher had an amazing ability to take her cues from the kids and use their input and energy towards learning and moving. At one point my son was rolling on the floor with his mat and just as I was about to remind him that's not what he should be doing Carolyn laughed and said, "Oh, perfect we call that the sushi roll, it's a move we do in class!" A mixed feeling of relief and joy came over me. I could get used to spending more time here.
Open just a few months, YogaButtons is gaining a popular following already. With a full class schedule seven days a week there is something for everyone. Starting from infants all the way to tweens, the classes are tailored for their audience. You can even take a BigKidButtons class that's just for adults. Or, if you are looking for family time, the all ages class Hatha class is by donation and in support of local community charities.
Familiar and Inspiring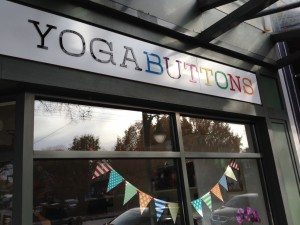 When I walked into YogaButtons it felt as familiar as my favorite yoga studio and as inspiring as a blank canvas. With just the right mix of color and openness walking in off the street front you are transported to a warm and friendly space. Immediately my five year old, who had never taken a formal class before rolled out his mat and explored the studio. It had the familiar bustle of the neighborhoods favorite local hot spot with parents and kids shuffling in and out.
Some of the benefits of YogaButtons classes:
[unordered_list style="bullet"]
Inclusive and non-competitice
Helps to develop focus, breathing, concentration, listening and relaxation skills
Physical fitness, strength, coordination and balance
Mats are provided
[/unordered_list]
Time Well Spent
At the end of class the teacher asked the kids to lay still on their mat. With the sound of waves playing and the practice of being still in place the teacher taught the kids savasana. As they stirred from being still she blew bubbles above their head and it was time to go. Time well spent.
For more information on yoga for kids of all ages at YogaButtons, including membership and class rates, visit their website at www.yogabuttons.com. The drop-in rates are $10 for kids and $12 for adults. YogaButtons is located at 2525 West Broadway in Vancouver.
Katie Smith is a mom of two and lover of all things Vancouver, as well as one of our Top 30 Vancouver Mom Bloggers for 2012. She ran her first half marathon this summer, and while training she made it her goal to run at least one block like Pheobe did in Friends – arms flailing and feet dancing, just to make sure life stays fun! You can follow the fun at www.worldbysmith.com or via twitter at @worldbysmith.
Vancouver Mom
Would you like to write for us? We welcome well-written guest submissions with a local interest slant. Share your tips, review local businesses and highlight hot trends for Vancouver moms. Get all the info on our Contributor Page!