Vancouver Mom Tech: Langmobile App Review
Last year Apple announced that the number of apps in the App Store had reached 900,000. As parents we know the magic of a kid-friendly app when the kids are stuck in the car or tantruming at the restaurant. While entertaining apps are a dime a dozen there is a new wave of apps specifically geared to learning through parent/child interaction. Langmobile has created a language learning app for kids from 0 to 5.  According to Langmobile through the app, "… parents are given tools to lead activities that empower kids to acquire new languages. In other words, this is not about simply parking a kid in front of an iPad for hours on end."
The question is, how many parents will download an app that isn't just an easy form of entertainment?
LangmobileFeatures
Each language lesson on the Langmobile app includes song, videos and workbooks. Parent's can choose the language they want their children to learn and then a word to start with. There is a song and video to go along with each word which can be watched in the app. After this parents need to hook up to a printer for the remaining lesson. From the app parents can download and print song lyrics, a colouring page, and a play time page. The play time pages are used not only for assisting with language development but also fine motor skills. Included in the lesson are games and craft time activities and finally a Words to Practice page.
Learning the Word "Coeur"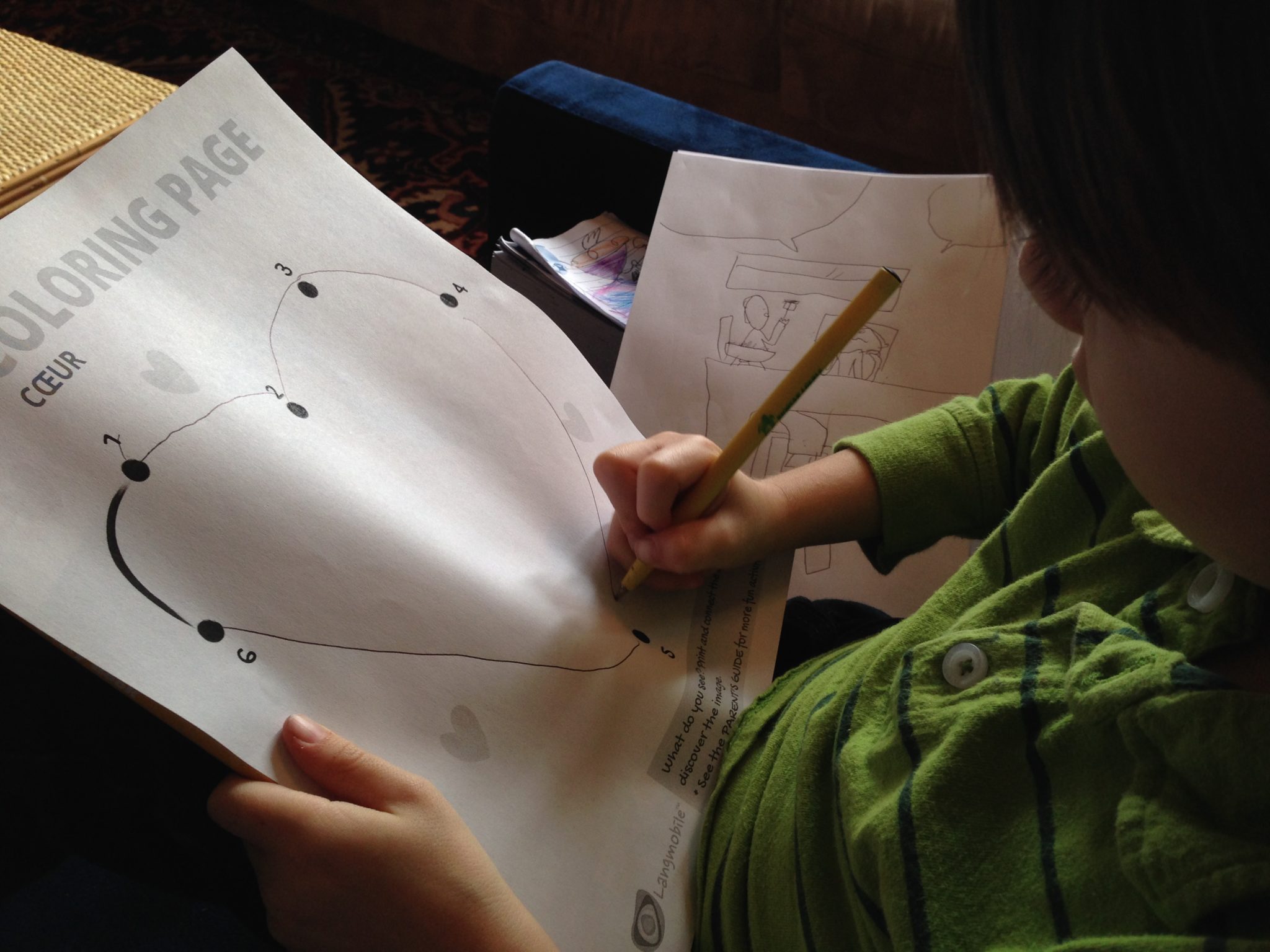 I tested out the Langmobile App with my four-and-a-half year old to see if I could teach him heart in French. We started with the song and I was mildly disappointed that it was a very short clip and I had to strain to hear the pronunciation of the word coeur. We watched it several times and my son was shy about repeating the word after me. He became far more engaged in the activity when we moved onto the colouring page, and while he did the connect the dots heart I continued to repeat that heart was coeur in French.  My favourite part of the app was the craft time activities section which involved cutting out hearts and giving them faces and punching holes in the heart to poke our fingers through and dance them around.
Final Thoughts
The Langmobile app is not an app for entertaining your kid in the backseat. It takes effort to print off the activity sheets and get organized to go through the language lesson with your child. I found the video was not very interactive or effective in teaching the word but that the hands on activities were fun to do together. I appreciated that the app was a creative way to spend a rainy afternoon with my son and that we were learning together. It is not always easy to come up with attention getting activities for my children and the Langmobile app held my son's interest for a good half an hour.
I would recommend the hands-on learning provided by the Langmobile app but since very little of the lesson was done on my smart phone (I had to email the activity sheets to myself and then print them from my computer), it felt more like a website service then an "at your fingertips" app.
So did he learn the word heart in French? I wasn't sure because he wouldn't repeat it after me during the lesson. However, the next day his grandma came across our activity sheets and asked him what they were for. He said, "I was learning the word coeur." Well, I never!
Langmobile App
Michelle Gadd
Michelle Gadd is an urban dwelling, Vancouver housewife and mother of two rambunctious boys. She has a passion for discovering, and writing about, ways to engage kids in city culture. Michelle created www.elasticpantcity.com as an outlet to write about life, from parenting to city living, fashion to frugality, food to faith, no subject is off the table. Michelle invites readers to take a glimpse inside her life and be inspired by the beauty of art in the every day.