Waterslides are irresistible for kids, and a great way for adults to unleash their inner child. Vancouver has some fun ones, so grab the floaties, and head to these swirling, twirling slides around the city.
Top waterslides in Metro Vancouver
Bridal Falls Waterpark
If you're scorching in the valley, pay a visit to Bridal Falls waterpark in Rosedale. Steph at @threetravelingtots gives us the lowdown on this mountainside water park.
Here's what you can expect to find at the park:
2 splash pools, with a whale tunnel and pelican slide, for the littlest tots
3 little kid slides where parents are welcome to ride with their children
1 tube slide for little kids
8 medium to large water slides with a minimum height requirement of 42 inches – Lennon, who is 6 and comfortable in water, was able to manage these no problem
1 more 'intense' slide with a minimum height requirement of 48 inches
Heated water
Bathrooms & change rooms available
Concession stand & small shop with necessities (like sun hats) available
Lots of tents and trees for shade – these are first-come; first-serve so arrive early to snag one
Lots of picnic tables
Bridal Falls Waterpark is open daily from 11 am – 6 pm.
Tickets are $29 for an all day pass for anyone who is sliding, and $12 if you won't be sliding. Last hour $7.
Aldergrove Credit Union Community Centre outdoor pool and waterpark
This incredible pool and waterpark delivers the most bang for the buck with tickets ranging from free for 0-3s to $9.38 for adults.
Features
Pacific Zone: 25 m pool, leisure pool and hot tub under a huge canopy
Roller Soakers waterslides with incredible views of the entire park
Breaker Bay tidal pool with beach entry and great waves
Canyon Creek river channel with spray features and tipping buckets
Big Top splashpad for younger guests with waterslides and plenty of water play features
Lighthouse Lookout, rope swing, sauna and steam room are closed. 
>> Aldergrove Aldergrove Credit Union Community Centre outdoor pool and waterpark
Cultus Lake Waterpark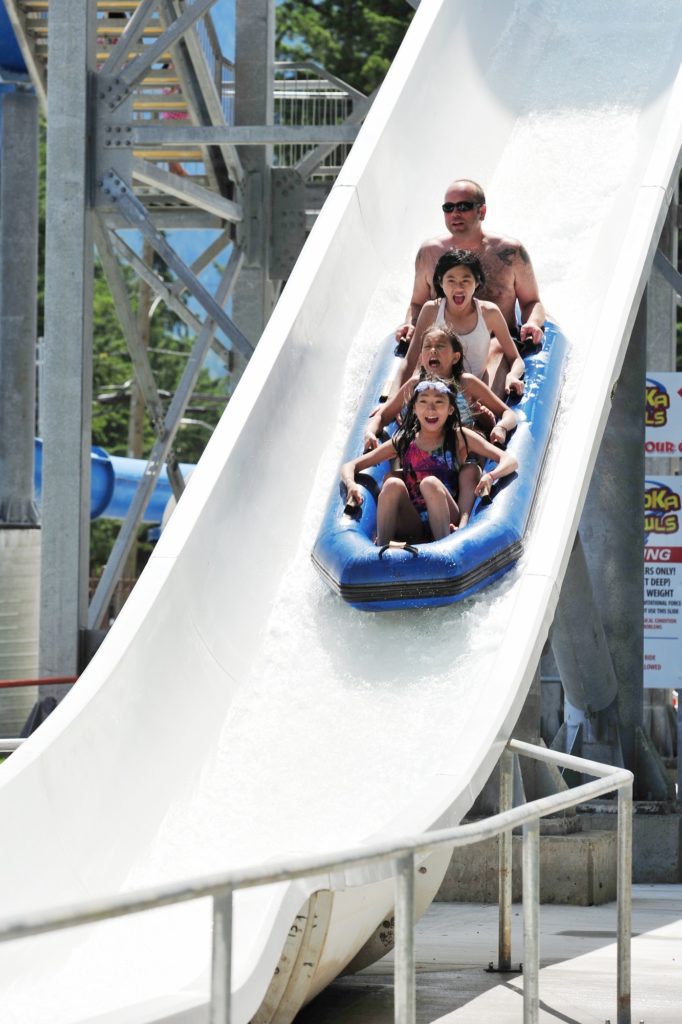 A family outing to BC's largest water park is well worth the trip. With rides for all sizes and temperaments, this 35+ year-old park has something for everyone. The Bazooka Bowls, Rattler, Tubular Terror and Valley of Fear should satisfy the risk-takers! For the little ones, there are plenty of gentle slides from Pirate's Cove and the Kiddie Castle to the Turtle Pool. And for grownups, there's WIFI and five hot tubs.
Cultus Lake Waterpark is open daily from 11 am – 6 pm. Tickets range from $21 to $38 but worth every penny. Parking is $10.
If water slides are all a bit too intimidating, we've got plenty of options for watery fun! 
Top 10 spray parks in Metro Vancouver!
Big Splash Water Slide Park
Twist, splash, loop-de-loop and scream your head off at this revamped waterslide extravaganza, which sprawls across 7-acres and features renovated body slides, tube slides and kids friendly slides and splash pad. Located in Tsawwassen, it's the closest big water slide park to Vancouver. Tickets range from $25-$35 and parking is $5.
Harrison's floating waterpark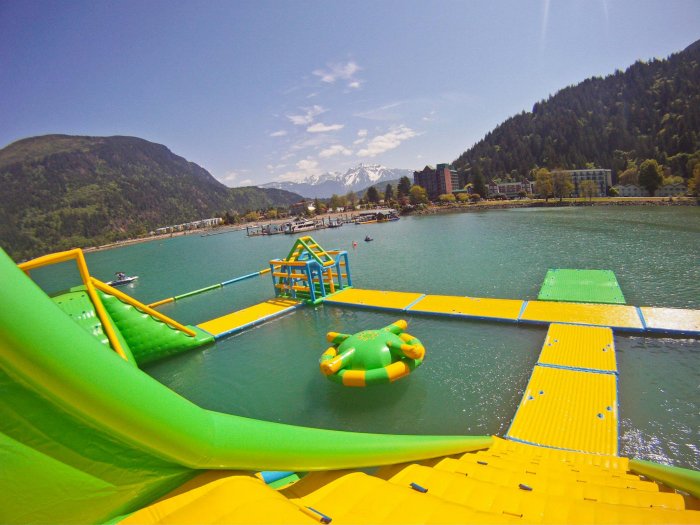 Quite possibly the only water park in BC located on a lake, Harrison's home game version of "Wipeout" is located on Harrison Lake just in front of the Harrison Hot Springs Resort & Spa (which makes warming up after sliding super handy!). This floating fun park offers madcap adventure and fun for the entire family. Tickets are $33-$38 for a two-hour pass.
Temporarily Closed
English Bay Water Slide
This iconic slide has an almost 100 year history! If the kids are strong enough swimmers and brave enough for chilly ocean waters, this is a must. Go at sunset and high tide for an unforgettable experience. Free.
Granville Island Water Park

Nothing beats a free water park. This one has two giant slides and multiple tubes and fountains for hours of family entertainment. For your crawlers and wobblers, the park also offers a designated teeny-tot water section for splashing. Open seven days a week from July until Labour Day in September from 10 am to 6 pm. But open on weekends right now! Yes I figured. Please note again this year, there is no water slide or lifeguards due to pandemic restrictions. Free.
1318 Cartwright Street, Vancouver
Harriet Fancott
Harriet Fancott is the Editor and Social Media Manager for Vancouver Mom. She has over 20 years experience in the arts, tech and mom-based blogging arenas. She lives in East Vancouver with her husband and son where they enjoy exploring all that Vancouver has to offer from festivals and events to playgrounds and beaches to sushi and ice cream (although not together).