Holiday Shopping: Felt Books for Little Ones
Holiday shopping for your baby, toddler or preschooler? Guest contributor Lorrie Holmes suggests a felt book.
My favourite type of gift has always been one which requires a much larger investment than money. I'm talking about receiving something that is clearly given with lots of thought and feeling. Better yet, one that's even home-made. Okay, I might be pushing it on the home-made part, but it would be nice!
Holiday Shopping with Soul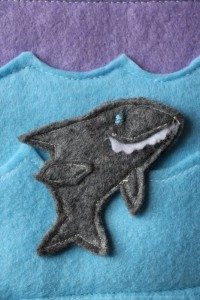 If you're looking for something special, thoughtful, and yes, also home-made this Christmas, look no further. I'm about to introduce you to the perfect little treasure for any new babies or even toddlers in your lives – preschool aged children are also included. Artist and artisan, Kathy Holmes Tenta, has just the thing. The perfect gift, made specially to order. Her custom made felt books are bound to charm any parent while exciting your youngsters with all the personalized touches made specially for them.
These soft and cuddly little felt books begin with your child's first initial sewn right on to its personalized cover. Within these pages, your child will find a customized character waiting for them, hiding behind a tree or maybe inside a boat. Each book comes with one personalized character – perhaps the family pet or favourite household item like their well worn blankie or stuffie? To top it off, this adorable little package is perfect for cuddling up with at nap time or to take along on outings. Soft, portable, fun and full of little pockets for hiding the characters inside. Yes, Kathy has thought about everything here with these multi-purposed little treasures. And it's no surprise.
Show Your Love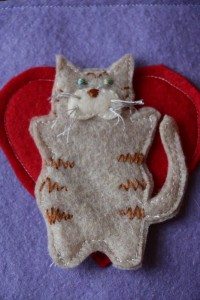 Anybody who knows Kathy also knows that she is a gift giver. And, she doesn't just like to go holiday shopping to choose gifts, she also loves to make them. I'm not talking about big extravagant items, rather something that might be tiny in size but huge in meaning. Ones with gestures that last a lifetime as her gifts are definitely keepsakes. "It's how I show my love and appreciation," Kathy explains.
As an artist, Kathy showed and sold her own paintings at group shows and festivals in White Rock and Vancouver from 2003 to 2009. Since becoming a mom, she's had to find other ways to enjoy her creativity on a regular basis and so far, she's been loving the immediate results she's seeing from her newest creations. "Having a toddler means that I have to squeeze time in at 'naptime' and after my son goes to bed to do things for myself," Kathy pauses then continues, "It's a creative outlet that has replaced painting for me, for the time being anyhow. Most of my friends and family have received a hand-made card from me with a 'doodle' sketch of them doing their favourite thing or being hugged by 'doodle' versions of their family. There have been many things that I have created in the past that friends and family say, 'you could sell those!'… and these felt books were just one of them."
"I Like Seeing the Children Enjoying Them"
Kathy has had such a positive response to the original four books that she gave to friends for their babies, resulting in her wanting to share them with more people. Lucky for us, as Kathy explains, "They are unique, personal, and thoughtful gifts… my favourite kind to give!"
When asked what Kathy likes most about these books she offers, "I like seeing the children playing with and enjoying them. I also love hearing from their families about how much the child loves the book and how much fun it is to explore together as a family." Now speaking from experience as a mother, Kathy continues, "I also like that they are easy to stuff into your diaper bag, clip to your stroller or carseat, and read before bedtime – or even leave in bed!" Another great feature is that these books are soft, light, easy to pack, and even washable: "Gentle cycle, cold and for best results, hang to dry," Kathy suggests.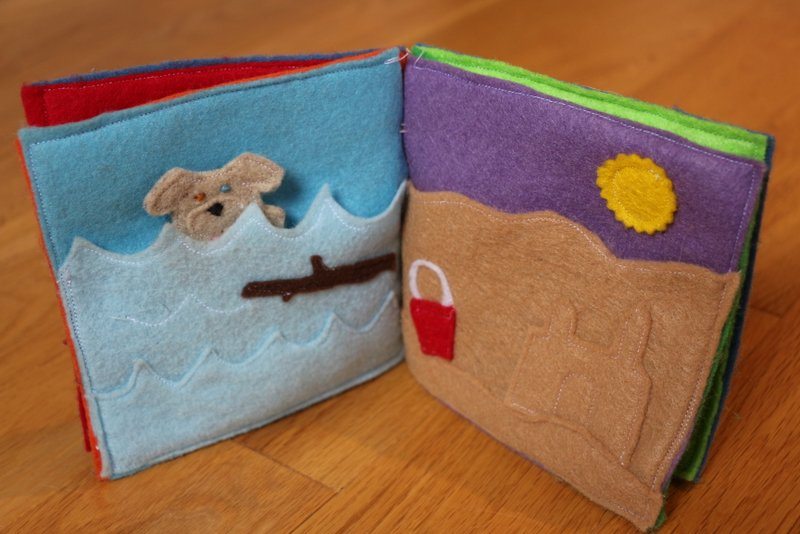 See Also
Where is Crumbs?
Reflecting up the feedback that Kathy's received thus far, she further offers that, "Little babies are enjoying the soft touch, bright colours, and exploring all the pockets. Toddlers love looking in each pocket for their favourite character. With my own two year old son, he brings his book to me and I hide his personalized character of our family dog, Crumbs, in a pocket and then I give it back to him. He then goes about his methodical searching. I think he will soon progress to hiding Crumbs for me as well, and we can then further enjoy making up stories about Crumbs as we go, including discovering why he is hiding, etc."
Kathy has been told by moms of older siblings that they have enjoyed the books just as much – telling stories about the adventures of the main character, or hiding these characters for their younger siblings to find.
To learn more about these personalized felt books, Visit Kathy at www.facebook.com/kathyandflick or swing by her Etsy shop and do a little holiday shopping at www.etsy.com/shop/kathyandflick.
Lorrie Holmes runs art, music and writing programs for kids from preschoolers to preteens at her creative arts studio, Lyrical Note, in Delta.
Vancouver Mom
Would you like to write for us? We welcome well-written guest submissions with a local interest slant. Share your tips, review local businesses and highlight hot trends for Vancouver moms. Get all the info on our Contributor Page!