Five Spring Fashion Trends for Your Kids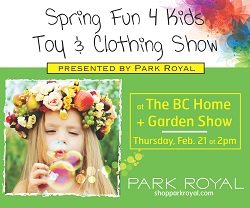 All it takes is one warmish, sunny day in February for the 's' word to start crossing Vancouverites' lips: spring. With crocuses starting to pop up around the city, and the sun staying up longer and longer each evening, it's not hard to see why. With the change in season, many of us are also looking forward to a change in wardrobe. Gone are the darker, heavier clothes of fall and winter. Here now are the lighter, brighter clothes for warmer days. And with kids constantly outgrowing their clothes no matter the season, this is a great excuse to look for some great spring pieces. Here are five spring fashion trends for your kids that you may want to check out as you look for clothes for your little ones this season.
Five Spring Fashion Trends for Vancouver Kids
1. Bright Colours

GAP Kids, $39.95
When you think spring you often think pastel, but not this year. This season's palette is bright and bold, filled with technicolour hues. Think yellows, corals, teals and red. Eye-popping neons are making a comeback, too. In pants, tops, outerwear, skirts and dresses, the pieces are fun and sure to catch your eye. Bright colours are practical for kids, as well. They don't show the stains as easily as lighter colours or whites, which is always a plus. Plus, your children will be easily visible from across the playground as they get out and enjoy the warmer days ahead. Safety first!
2. Embellishments

H&M, $12.95
Sequins, ribbons, fabric flowers and adorable little bow ties are adorning kids' clothes this season. This is one of our favourite spring fashion trends, because a little bit of embellishment really makes an ordinary T-shirt or dress pop. The look adds dimension and interest to what your kids are wearing. At the same time, the clothes themselves are still comfortable and well-suited to playing. You're just kicking the cuteness factor up a notch (or three). If you sew, embellishing a plain T-shirt from last year would be a fun little DIY project to refresh an old piece for a new season.
3. Retro Cool

GAP kids, $26.95
When it comes to fashion, everything old is new again, and a great vintage piece is where it's at. If you don't have real vintage, though, faking it always works. And this spring, kids' fashions have a definite vintage flair. Think retro graphic tees, weathered denim, skinny jeans, colourful flat shoes, and those bold neon hues we mentioned earlier. If you're a Vancouver mom of a certain age, you'll remember these trends very well from the first time around. The good news is that they're just as fun this time. This is your chance to re-live your own youth, as you play with spring fashion trends for your kiddos.
4. Playful Patterns

GAP Kids, $39.95
This spring you'll find colourful checks, polka dots, stripes and bold florals on kids' clothes. The colourful skinny jeans of last year are back, but many of them now feature leopard spots or hearts in bright hues. Skirts have mixy-matchy layers of coordinating patterns, and dresses do, too. These pieces are fun, but they're also comfortable and practical. And those patterns can come in handy once again for camouflaging the stains that kids have a way of getting on everything they wear. Plus, if your two-year-old insists on mixing patterns, it will just look like you have a little trendsetter on your hands.
5. Layer Up

Old Navy, $13.76
Spring days can vary from warm and sunny to cool and damp – sometimes in the course of a few hours. This makes easy layers a necessity, especially for kids. Look for sweatshirts, jackets and zip-up hoodies sporting the graphics, patterns and colours that are hot this spring. After all, when you're dressing kids, you don't just want them to look cute. You want them to be ready to get outside and play, no matter the temperature. If they look good doing it, that's just a bonus. That means being able to add or remove layers as the weather changes – because we know it will.
No matter the season, and no matter what's in style, with kids it always comes down to choosing clothes they will wear. That means comfort and flexibility are a must. Thanks to the bold colours and mix-and-match look of the season, if you have some bright pieces, your kids will look fashionable no matter what suits their fancy.
This article was sponsored by Park Royal. They've got you covered with the Spring Fun 4 Kids Toy & Clothing Show. This is a great opportunity for parents to bring their little ones out for a fantastic afternoon of fun and fashion. Taking place at the BC Home + Garden Show's first annual Family Day on Thursday, February 21, 2013 at 2:00pm, cute kiddies up to age 10 will hit the catwalk decked out in the season's coolest styles, and will also show off the latest and greatest in must-have games and toys. Hosted by The Beat 94.5's Nira Arora, this event is sure to be stylish and entertaining for the whole family. Parents will also have the chance to WIN a $100 Park Royal gift card so they can get their kids ready for spring. You don't want to miss out on the trendiest kids show of the year!

Amber Strocel
Amber Strocel is a writer, aspiring math teacher, suburbanite, wife and mom of two. She believes in the power of the Internet to connect people, and she believes that numbers are the poetry of the universe. You can often find her knitting, sewing, volunteering, working in her garden, and sneaking chocolate when no one's looking. She blogs at Strocel.com and shares her photos on Instagram as @AmberStrocel.