A solution to cloth diaper challenges!
Full-time cloth diapering is the ideal for lots of families – a lighter load on the environment and fewer diaper rashes. If you have a diaper service, that takes the constant laundry cycle out of the mix too.
What to do about daycare
As your child gets older, however, it gets a bit trickier. Most daycares won't take on the added work of cloth diapering. Do you switch entirely over to disposables? Is it worth it to keep cloth diapering for the times you're home? Even a few cloth diapers keeps some disposables ones out of a landfill, so there's that. It's not just daycare – there's long-haul flights, camping trips, staying with family out of town – all those situations in which it's impractical to carry a full cloth diapering kit with you.
Biodegradables
That's where biodegradable disposable diapers can save the day. The convenience of a disposable diaper, with the environmental benefits of decomposing quickly in landfills means there's a viable middle ground between disposables and cloth diapers.
Mix it up
Thankfully, you need not give up your super handy diaper service. Recognizing the need for mixed diapering needs, local diaper service Happy Baby Cheeks offers their customers the ability to receive a number of biodegradable diapers as well as cloth diapers. Their new biodegradable diapers are made of a special vegetable-based material from renewable sources, produced by a Canadian company. Unlike lots of other disposable diapers, these ones are fragrance and chlorine free, some of the main culprits when it comes to irritating baby skin.
So not only can you dump the dirty cloth ones in a pail to be taken away by the diaper fairy, you can get your better-for-the-planet disposables delivered too.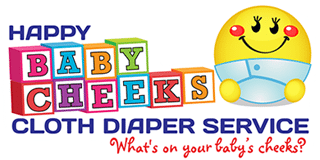 This article was sponsored by Happy Baby Cheeks Cloth Diaper Service. We aim to supply a superior product that works for all families while keeping the well-being of our environment in mind.
Erin McGann
Erin McGann is the former Managing Editor for Vancouver Mom and Toronto Mom Now. She drinks just a bit too much coffee, is a bit obsessed about sourcing local food, plays the cello moderately well, spends too much time on Twitter, keeps honeybees on a rooftop, and has a thing for single-malt whisky. Erin is working on a novel set in turn-of-the-century Vancouver, which her husband, son and dog have to hear about all the time, and also blogs at Erin at Large.