Get your suits on! Pools and splash pads and some water parks are opening this summer! Hurrah!
Via the City of Vancouver (June 22 2020) The Vancouver Park Board is opening four outdoor pools, 10 spray parks, and staffing nine Vancouver beaches with lifeguards this summer.
Kitsilano, New Brighton, and Second Beach pools will open and lifeguards will staff beaches for eight weeks, beginning July 13. Maple Grove pool will also open, but might be slightly delayed while staff configure the online booking system.
Arrive swim ready and leave valuables at home and book your session online -> https://bit.ly/3iSlmwO

Spray parks will begin opening across the city June 27 at the following parks: MacLean, Chaldecott, Harbour Green, Grandview, Hastings, Oak, Stanley, Prince Edward, Pandora, and Garden.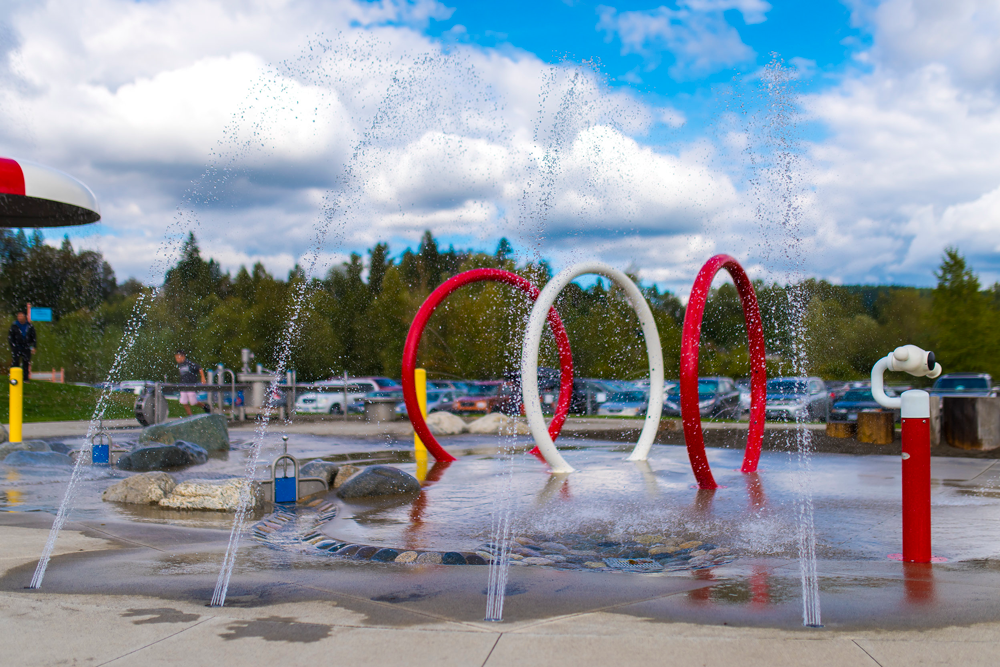 Lifeguards will patrol and supervise designated swimming areas at nine beaches—English Bay, Jericho, Kitsilano, Locarno, Spanish Banks East and West, Sunset, Third, and Trout Lake.
Swimming zones at beaches will be marked by new red and yellow flags (instead of buoys that were used in the past), which indicate the area will be supervised and patrolled by lifeguards between 11:30 am and 8:30 pm every day through to September 7.
New safety protocols have been developed for outdoor pool usage and are aligned with Lifesaving Society Canada's recently released guidelines. Enhanced lifeguard protocols have also been developed in conjunction with WorkSafe BC.
Outdoor pools will reopen for a combination of designated lap swimming sessions and public swimming sessions. Patrons must arrive "swim ready," as change rooms will not be open and physical distancing protocols will be in place at entrances and exits and throughout the pools' facilities. Washrooms will be open for users.
Casual swimmers can book a 90 minute swim block, while lap swimmers can book for a 45 minute swim period. There will be a 30 minute buffer between swim periods during which time the facilities will be sanitized and prepared for the next group. The pools will reopen with reduced maximum capacities, in alignment with new protocols around decreased bathing loads.
Admission to pools will be managed through a combination of an online reservation system and in-person drop-ins, all with contactless electronic payment. Leisure Access Pass holders will be provided with access to the reservation system. Park Board Flexi passes and cash will not be accepted.
Snorkels and kickboards will not be permitted and there will be no rentals of swimming goggles or towels.
Lifeguards and staff will complete ongoing spot cleans on all equipment, facilities, and high touch areas.
New guidelines at pools
 Line marking and delineating 7'x7' (2.1m x 2.1m) physical distancing pods on pool deck.
 Wider lanes for length swimming.
·Directional signage, new pool rules, and signage.
Lifeguards will wear personal protection equipment when on duty.
New guidelines at beaches:
Physical distancing requirements of 2 metres are mandatory for everyone on beaches (lifeguards and community).
Change rooms will remain closed, although bathrooms are open.
When lifeguards are performing first aid, only the patient and the lifeguard will be allowed in each first aid room at a time. One parent/guardian from the same household will be allowed to accompany a child.
Beachgoers are to keep a minimum of 2 metres distance from a lifeguard's chair.
 Lifeguards will wear personal protection equipment when on duty.
The Park Board will not be deploying rafts at beaches, as there are many obstacles for maintaining community safety and for lifeguards to manage.
Ten water wheelchairs will be available on a first come, first serve basis at beaches and can be reserved at vancouver.ca. Non-slip beach mats are available at Kits and English Bay beaches to allow people with walkers, wheelchairs, and scooters to enjoy the beach experience.
In recent weeks, the Park Board has reopened golf courses, VanDusen Botanical Garden, tennis and pickleball courts, skate parks, synthetic sports fields, basketball and volleyball courts, disc golf, roller hockey, multisport courts, playgrounds, and pitch and putt.
The Park Board continues to review the feasibility of reopening other facilities and services and will make adjustments to its operations based on the latest information provided by Vancouver Coastal Health, the Provincial Health Officer, and industry partners.
For more information about the status of services and facilities impacted by COVID-19, please visit: vancouver.ca/covid19.
Harriet Fancott
Harriet Fancott is the Editor and Social Media Manager for Vancouver Mom. She has over 20 years experience in the arts, tech and mom-based blogging arenas. She lives in East Vancouver with her husband and son where they enjoy exploring all that Vancouver has to offer from festivals and events to playgrounds and beaches to sushi and ice cream (although not together).