Happy Lunar New Year, Year of the Ox!
Lunar New Year, like all the holidays—is a time for family and togetherness. With a growing thirst to learn about our own cultural heritage and traditions, especially among millennials, our take on this 15 day holiday has evolved to fit our current lifestyles. Yet, the commonality lies within the details of the traditions surrounding this holiday, which we hope to share and pass down to our children. 
Eight Vancouver Millennial moms share their favorite Lunar New Year traditions.
Red is the colour 
Yvonna of @glamouraspirit_, mom of one, shares her favourite Lunar New Year traditions. She likes to decorate her home and dress up in traditional clothes (as above) called "qi paos" and "cheong sam." Red is undoubtedly the colour of the season, and is considered to bring good fortune and to ward off evil. Plus, who can resist taking adorable photos of your little ones to treasure for the future?
Learning about culture through books and toys
One of the things that I am most passionate about is literacy development in children. I, @buddycons, mom of two, keep a book and toy rotation of seasonal items. Leading up to a specific holiday, we would prepare our children for the upcoming celebrations through books and toys. Here we have our lion marionettes and one of our favourite CNY board books, "Bringing in the New Year" by Grace Lin @pacylin, which follows one Asian family and their preparations before Chinese New Year. We love spending time after bathtime, reading and learning through this tactile approach. 
Offering festive treats to family and friends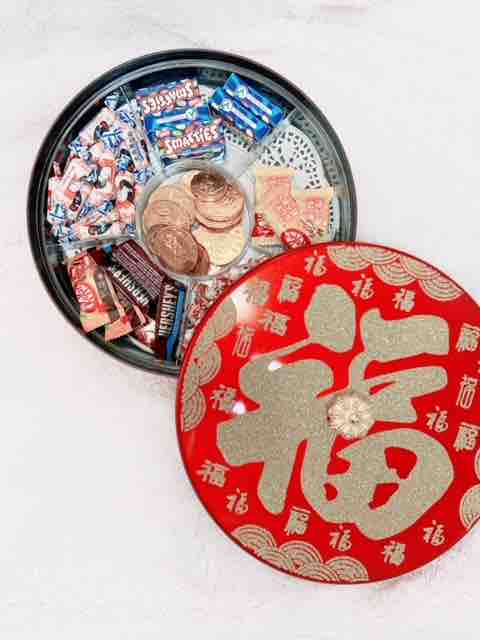 Belinda of @mamakiang, mom of one, shares her most memorable recollection growing up is the Chinese embossed treat box (全盒) "quan he", which would include candies and savoury fried snacks that each offer their own lucky meaning. These treats are shared when paying visits to friends and families' homes during Chinese New Year—a tradition that she hopes to continue each year when we are able to visit each other's homes once again. 
Catching up with the relatives near and far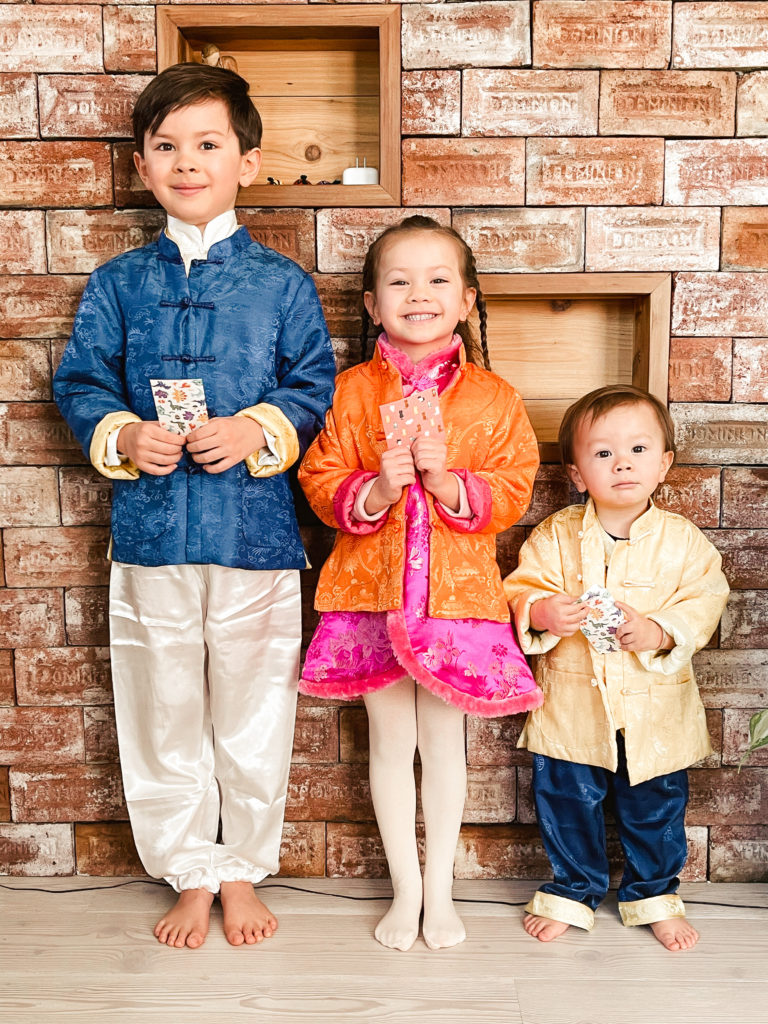 Justine of @the.summers.life, mom of three, shares her favourite tradition is to use this time to visit with family and friends. As she has family in parts of Asia and Europe, she is grateful for the ability to connect over Zoom meetings, especially in a time where face-to-face interactions are far and few between. Her children are seen adorned in traditional clothing as they "bai nian" which translates to greet each other and wish each other good luck and fortune. 
Reunited over great food with special meaning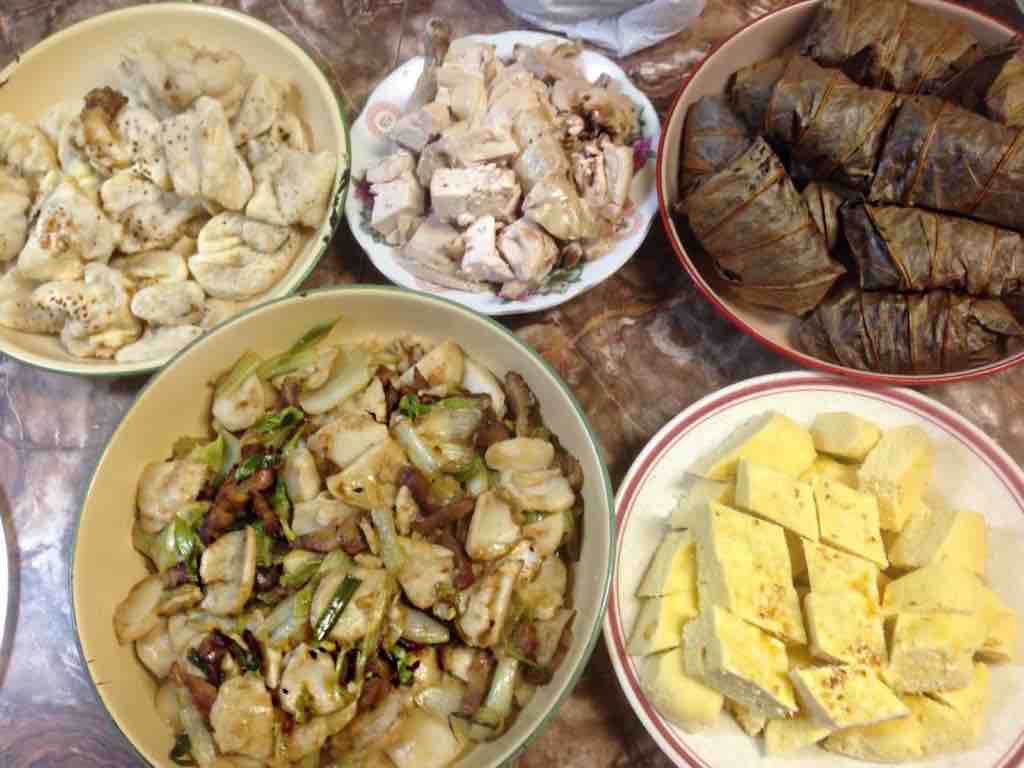 Jennifer of @jenguyen19, mom of two, shares her favourite tradition is reunion meals with her extended family. Traditional foods pictured are pan fried "nian gao" glutinous rice cake, lotus wrap rice, fried dumplings "gai loong" all lovingly handmade and each translates to a special meaning relating to wealth and prosperity. Other lucky foods to eat during Chinese New Year would be fish (鱼) "yu" which sounds like "surplus" and sweet rice balls (汤圆) "tang yuan" which represents reunion and being together through its shape and play on words.
Paper lantern crafts for the Lantern festival 
Julie of @jultsan, mom of two, makes lantern crafts at home as celebrated on the 15th day of the Chinese lunar month, is the Lantern Festival that traditionally marks the end of the LNY.  In Eastern society, where Lunar New Year is highly celebrated, families will go out to admire the moon, send flying lanterns, fly bright drones and share another meal with family to mark the end of the festival. Julie shares how simple construction paper can transform into these festive DIY lanterns. 
Visit a LNY "Flower Market", watch a Lion Dance,
outdoor celebratory events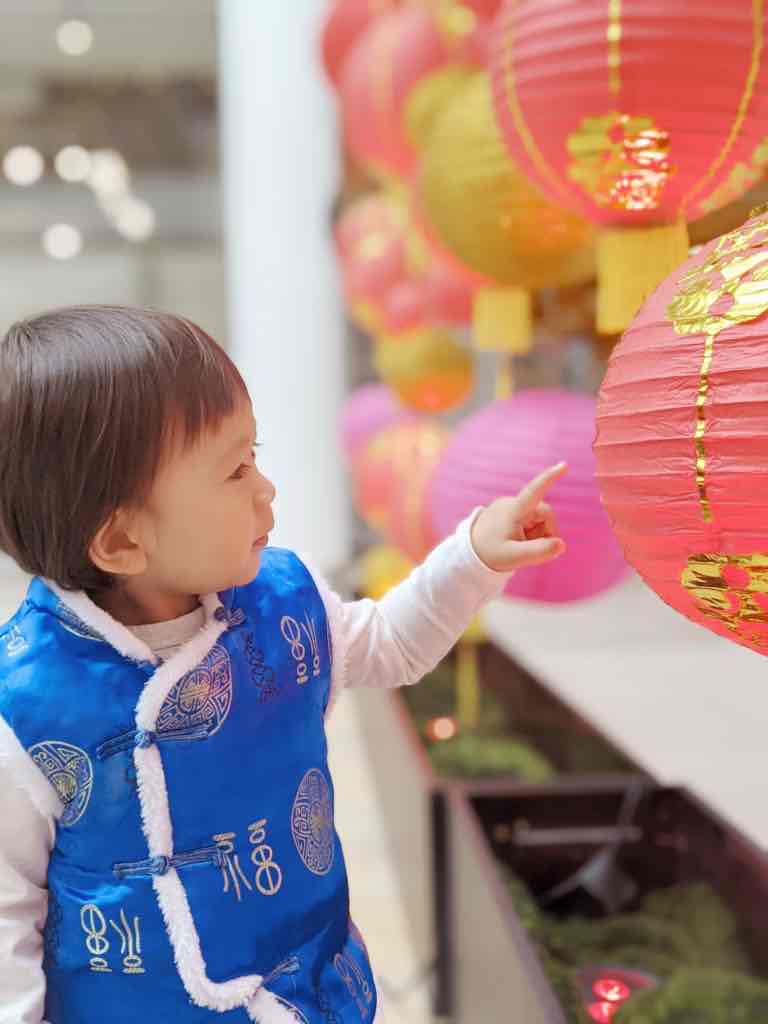 Yvonne of @everydaypracticalmama, mom of 1 and 1 on the way, shares many traditions from decorating the house with origami, paper lanterns and cherry blossoms to the big spring clean to "sweep" away the bad luck that her mother has always practiced. With many of the Chinese New Year and Lion Dancing public events cancelled this year, she still finds a way to offer her son some holiday spirit. Here she is with her son wearing CNY attire as they admire the festive new year lanterns at @thecityoflougheed.
Giving of red pockets, red packets, red envelopes… (红包) and traditional sayings
Lastly, Luci of @livelaughluci, mom of 2, shares that her parents "always said to never look down on a penny." Filling these red pockets "lai see", with any cash domination—including the penny has taught her what it means to be prosperous and abundant, while responsible at the same time. She now looks forward to giving red envelopes, a tradition that many married couples practice in response to children sharing well-wishes and greetings, such as "gong hei fat chou" which means "wishing you great happiness and prosperity" as a symbol of transferring fortune from elders to kids.
What are some of your favourite memories or traditions of the Lunar New Year, please share them with us. Wishing you all a happy, health and prosperous year of the Ox.
Connie Hobbis
The author behind @buddycons, Connie writes about her detailed adventures with her kids around BC (& beyond), believer of 'presence over presents' in motherhood & literacy development in children. She shares tips on traveling with ease with kids, home organization & gentle minimalism with having less. She lives in the Metro Vancouver area with her husband & two kiddos. Before becoming a mom, she worked in the Financial Industry and is a two-time award winning People Leader. Follow her adventures & updates on Instagram @buddycons.