We know that outdoors is one of the safest places to be with the kids during this pandemic, and also a great way for them to expend some pent up energy. If you'd like a mini-destination, here are a few winter outings in both Health regions.
>> Spring Walks perfect for mom and baby
Maplewood Farm, North Vancouver
This cute little demonstration farm tucked away down a side street in North Vancouver. is all the things a farm should be according to children's storybooks: cows, chickens, ducks, goats, horses, pigs, and a big red barn. Maplewood Farm is centred around the little people who can pat the goats, feed the bunnies and wander around the duck-filled pond all while getting in some fresh air and woodsy walks. You must pre-book and bring a mask.
Redwood Forest, Surrey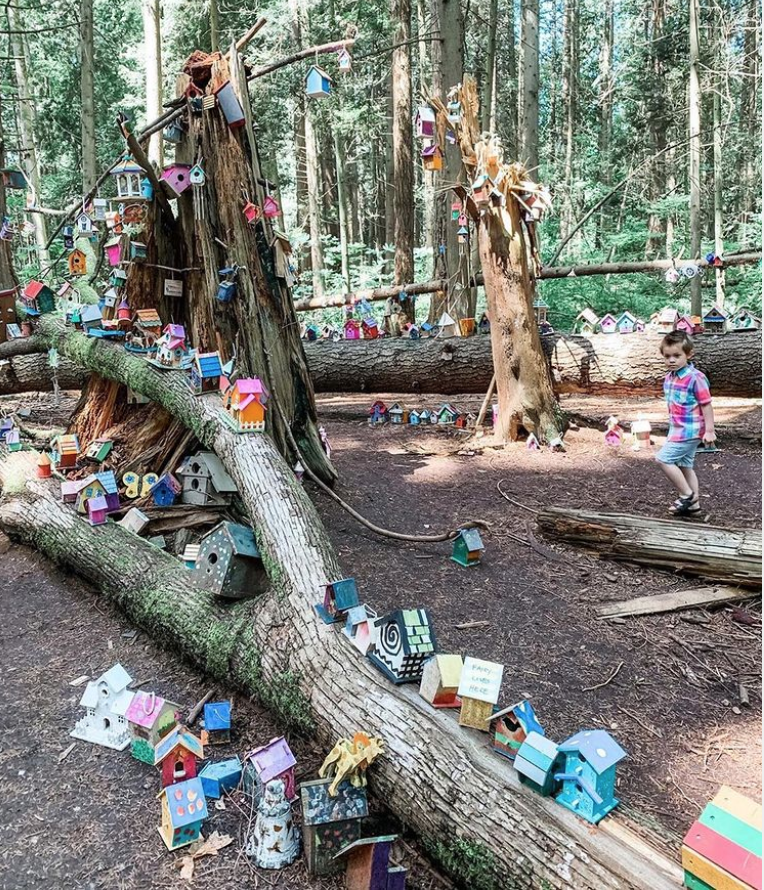 Redwood Park boasting a large forest of exotic trees (including a large fairy doors= installation that kids love), over 5 kilometres of scenic nature trails, a wheelchair-accessible playground and several rustic picnic shelters, the park has something for everyone to enjoy.
17900 20 Avenue, Surrey
>> Getting kids out in the rain and snow
Terra Nova, Richmond
Kiddos will love the magnificent slide and zipline at this million dollar playground. Beautiful views of the mountain surround the playground. Pro tip: Go for a walk or a bike ride along the dike or drive into Steveson for a treat.
2340 River Rd, Richmond
VanDusen Botanical Garden, Vancouver
Find your way through the hedge maze. Discover what's in bloom. Check out the BC Habitat Garden and spot local birds such as herons, hummingbirds, chickadees and owls!
Richmond Nature Park
Visit Richmond Nature Park for adventurous family fun! Explore the bog through special scavenger hunts. New this year: the Woodland photo booth. Choose a wacky animal prop, snap an unforgettable family portrait and create a take-home twig picture frame.
>> Top Bogs to visit in the Lower Mainland
Historic Fort Langley
Travel back to 1840. Try barrel-making, watch the blacksmith work, and shape your own piece of metal at the Jr. Blacksmith Shop. Go to the Big House and use a nib pen and ink to sign on with the Hudson's Bay Company at Fort Langley. 17 and Under are free.
>> Fort Langley
Penzer Park, Langley
Bring the kids to Penzer Park for some parkour. This 10,000 square-foot space is one of the largest in Canada. Anyone can play here, from jumping on the rubberized surface, swinging from bars, climbing over wooden walls and avoiding the 'lava'. There is also a paved pump track for bikes.
4847 200 Street, Langley
>> How to enjoy the beach in winter
The North Shore Mountains
Whether you want to slap on some boards or just frolic in the snow, the three North Shore Mountains are open for skiing and snowboarding as well as snowshoeing, sledding, tubing, skating and light walks.
Harriet Fancott
Harriet Fancott is the Editor and Social Media Manager for Vancouver Mom. She has over 20 years experience in the arts, tech and mom-based blogging arenas. She lives in East Vancouver with her husband and son where they enjoy exploring all that Vancouver has to offer from festivals and events to playgrounds and beaches to sushi and ice cream (although not together).