Million Dollar Playgrounds you Must Visit
Have you been to one of the million dollar playgrounds around Metro Vancouver? This isn't your typical tot lot – each one of these are unique, state of the art, play all day kind of playgrounds. And yes, one or two may have squeaked in under the $1 mill mark, but the experience for the kids is, well, priceless.
Best Playgrounds in Metro Van
Terra Nova, Richmond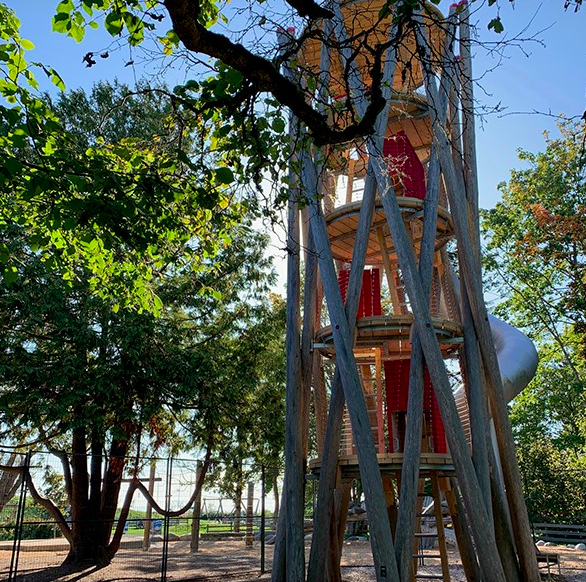 Kiddos will love the magnificent slide and zipline at this million dollar playground. Beautiful views of the mountain surround the playground.
Pro tip: Go for a walk or a bike ride along the dike.
2340 River Rd, Richmond
Lions Park, Port Coquitlam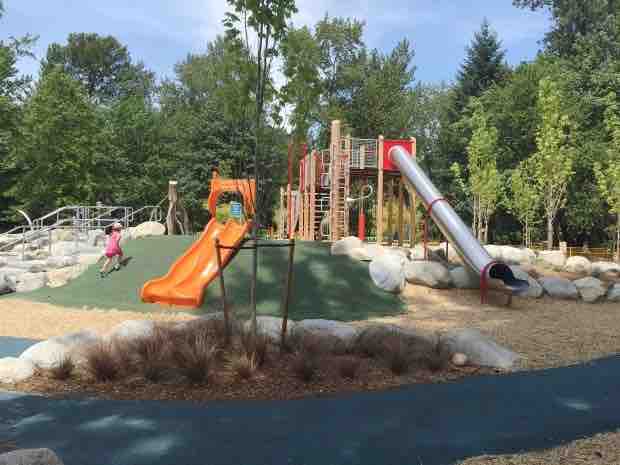 This newly updated park was built to suit for all ages. Little ones can swing in the infant swings while older kids can climb the giant tires, rope pyramid, test out the zip line and something that isn't often seen at a park, musical instruments. There's also a water park!
Pro tip: Pack bathing suits for the kids.
2300 Lions Way, Port Coquitlam
Creekside Park Playground, Vancouver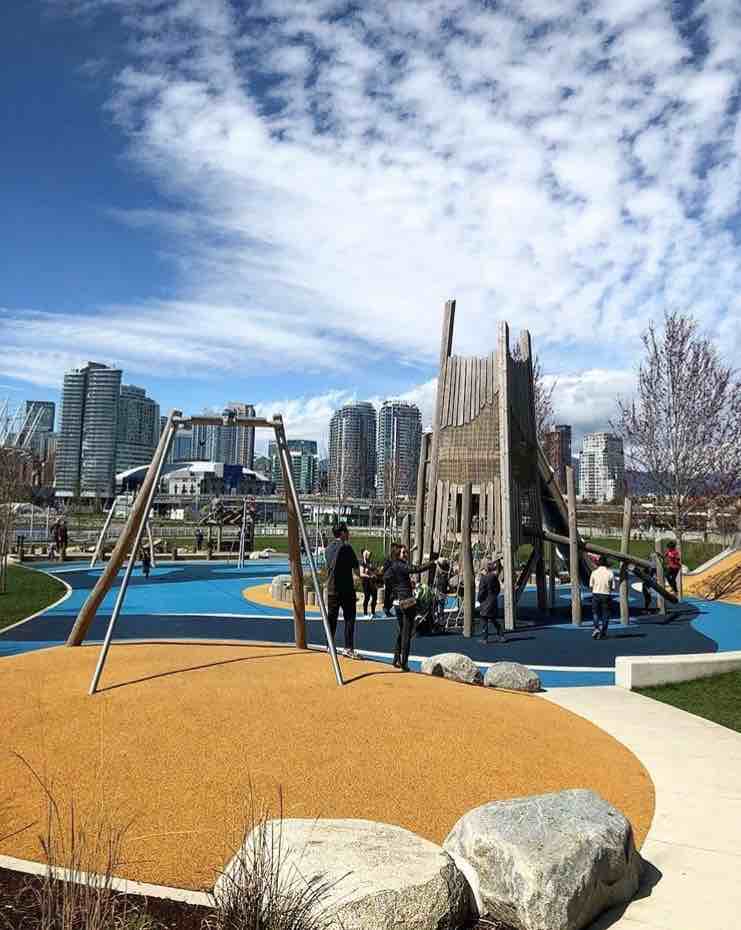 Creekside is Vancouver's largest playground located next to Science World. It has the perfect balance of trees and play area which includes a play hut, sand and water area, jumbo tube slide and a climbing tower. The park is also accessible to kids who use wheelchairs.
Pro tip: Follow up a visit to Science World with a run around the park.
1455 Quebec St, Vancouver
Hastings Park AKA Slidey Slides, Vancouver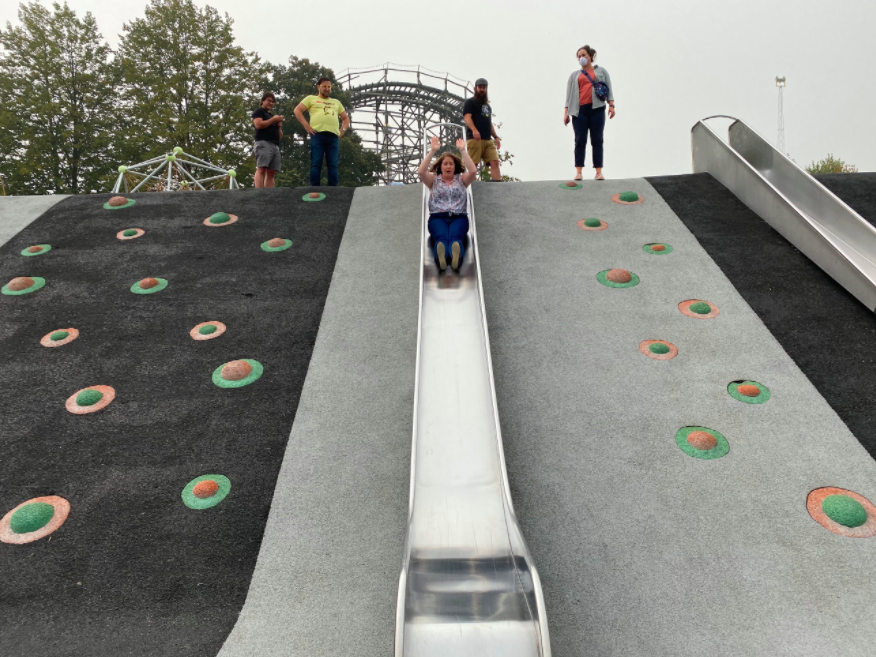 Nothing traditional about this playground. This urban park has parkour, table tennis, beach volleyball, skate park. Practice your bike skills on their pump tracks or go for a jog on the rubberized tracks. There is also outdoor fitness equipment that is free to use. Or if you prefer to seek tranquility, check out one of the garden spaces.
Pro tip: Bring workout clothes and make use of the equipment while the kids play! Or go for a jog around the 600M track at Empire Fields.
3311 East Hastings, Vancouver
Unwin Park, an accessible playground, Surrey
This new park is a win! It's a wheelchair accessible playground, which also means it is perfect for toddlers. Here are some of the highlights via Steph at Three Traveling Tots.
Accessible carousel
Unique tower climber
Toddler climbing structure and slide
Giant musical chimes and drums
Face-to-face swing
Variety of slides, including a roller slide
Pro tip: Come summer, be sure to pack a swimsuit: There's also a spray park and pool, bathrooms, sports fields and pathways within the park.
Penzer Park, Langley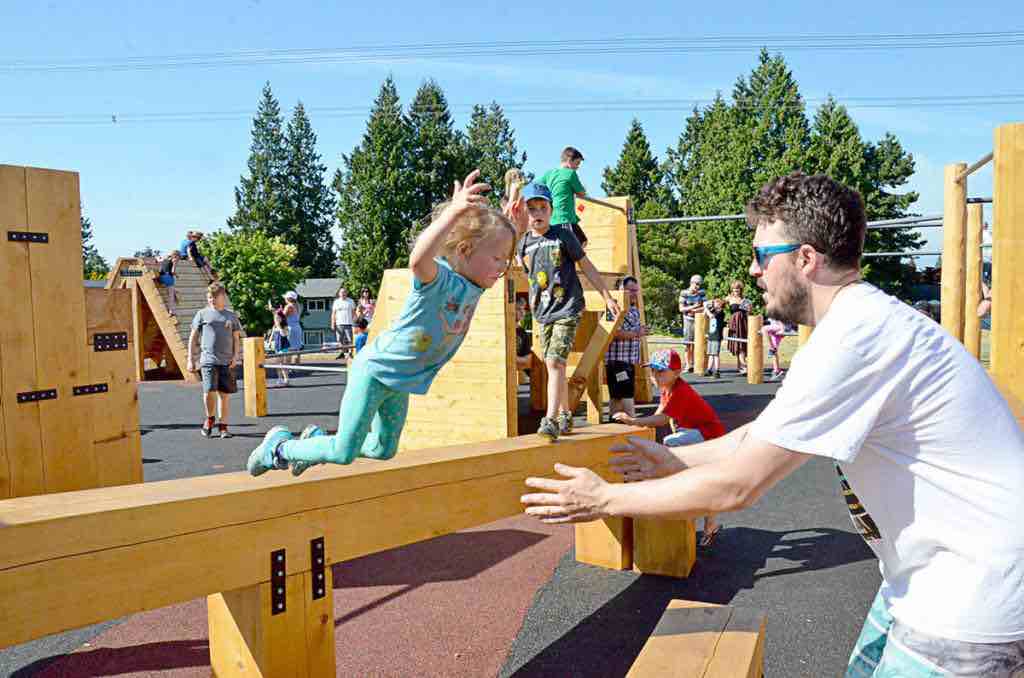 This 10,000 square-foot space is one of the largest in Canada. It uses local materials such as yellow cedar from Vancouver Island. Anyone can play here, from jumping on the rubberized surface, swinging from bars, climbing over wooden walls and avoiding the 'lava'. There is also a paved pump track for bikes. 
>>10 of the Best Playgrounds to Visit This Year
Pro tip: Head to Fort Langley village for ice cream afterwards.
4847 200 Street, Langley
Charleson Park, Vancouver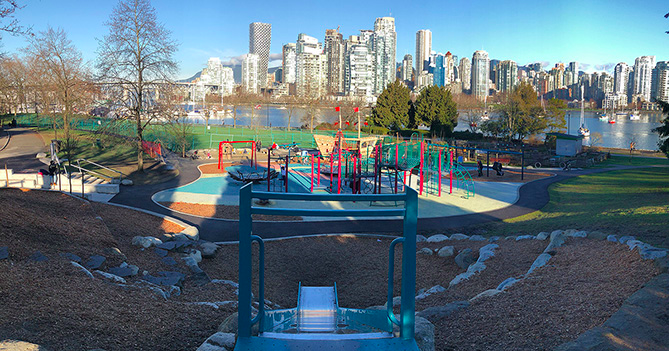 Overlooking False Creek, this recently renovated playground is the perfect place to spend a spring day. There are in-ground trampolines, a brand new spinner, and awesome new slide. Pause the play to count boats and take in the beautiful skyline view.
999 Charleson Street, Vancouver
Moodyville Park, North Vancouver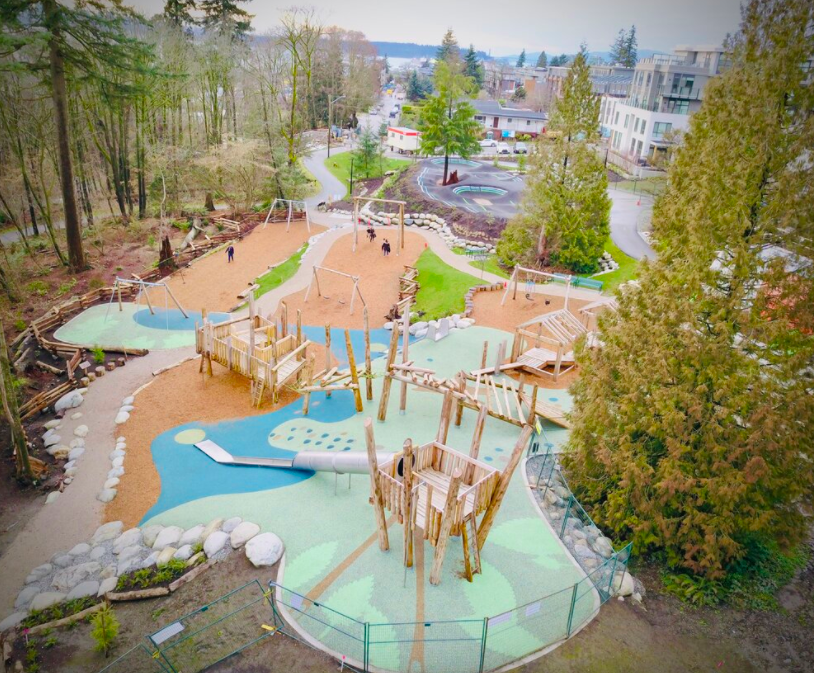 There are impressive wooden climbing structures, two zip lines and a huge sandpit area with big excavators and dump trucks for little ones to explore. Some of the structures require supervision as they are quite high up. However, one of the best features is the toddler and grown-up swing set. There's something for everyone here, no matter your age.
759 E 3rd St, North Vancouver
Sapperton Park, New Westminister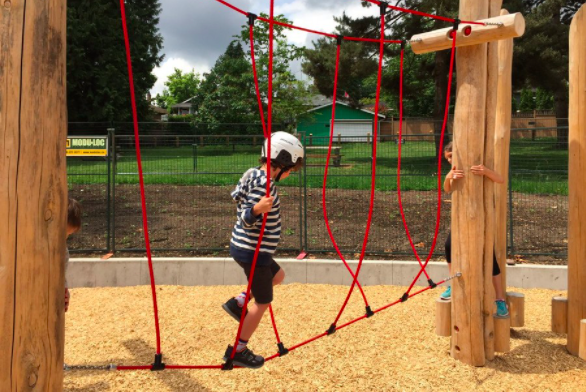 Located across from Royal Columbian Hospital, this park is worth a visit. There are climbing structures, a spray park, and a path to rip around on bikes. This park is huge, and there is plenty of green space to kick a ball, and picnic tables to rest for lunch.
351 E Columbia St, New Westminster
Douglas Park, Vancouver
Located off Heather Street and 22nd in the heart of Vancouver, this playground got an amazing makeover a few years back. One of the best things about this park is the toddler playground, it helps minimize being trampled by older kids. There's a zip line, in-ground trampolines, and plenty of green space to run.
801 W 22nd Avenue
Reg Lok Von
The blogger behind Nourish Through Movement, Reg Von Lok writes about DIY and style, nourishment through movement and integrates it all with motherhood, family and life's curveballs. She lives live in the Metro Vancouver area with my husband and two girls.