The snow is finally gone. Days are getting brighter and longer — it's starting to feel like Spring! 
If you are tired of taking your kids to visit the same old playground this week we are featuring the best Langley playgrounds. Langley has some of the best playgrounds around and whether you live locally or are in Vancouver, these playgrounds are worth the drive. There is something for everyone — from your tiny tots to your more adventurous older kids. 
Here are a few incredible must-visit playgrounds to check out this year:
1. Aldergrove Credit Union Community Centre
This playground is bright, fun and has a beach theme. The height of structures makes it extremely eye-catching to those little and big! Children can climb up several levels and explore different areas. There are huge twirly slides to enjoy. 
Although there are a few activities for younger tots, such as small slides, but this playground is HUGE! It is definitely a fun place for older children to explore. It's better to skip this one if your kiddos are super small.
Bonus: It is next to Otter Co-op Outdoor Experience which is an incredible water park with pools, slides and even a lazy river, which is the perfect  adventure to bookmark.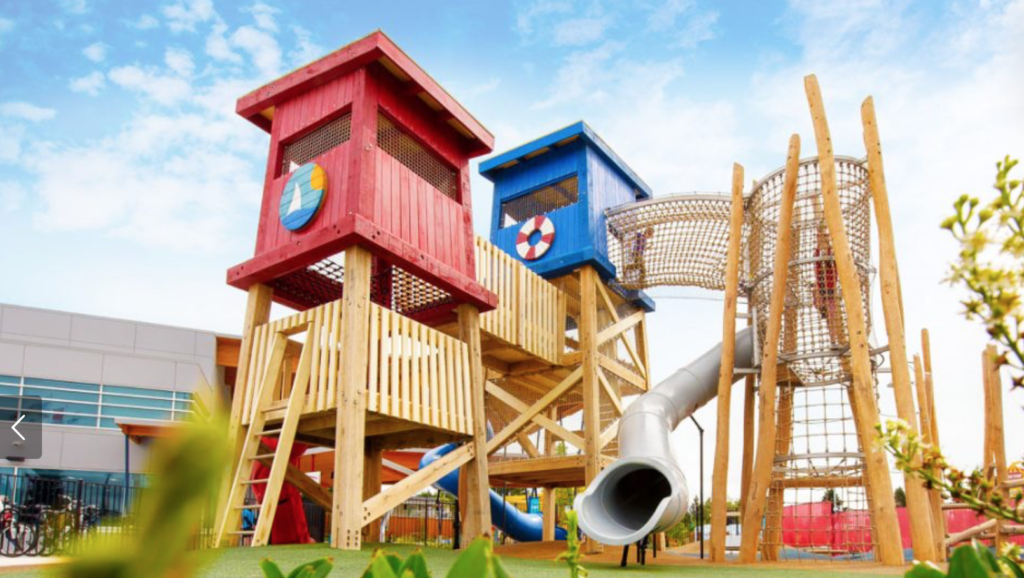 For more information: >>Credit Union Community Centre
Address: 27032 Fraser Highway, Langley
2. Willoughby Community park 
This playground is HUGE and so much fun — it feels as if you are in a giant tree house. There are different levels to climb up. It has a humongous swirly slide and many smaller slides.
There is a small play structure that is perfect for younger kids and the huge play area guarantees endless fun for older children. And the absolute best thing about it – it's fenced in! 
Address: 7782 200 St. Langley Township. It is located next to the Langley Events Centre. 
3. Williams Park Playground
This playground is so beautiful. It feels as if you are truly playing in nature. Natural looking wood beams are used to make the majority of the playground. There are also some rope climbing areas and some tree stump looking climbing spots. There are definitely a lot of fun things to do at this unique playground. 
Address: 68 Avenue and 238 Street, Langley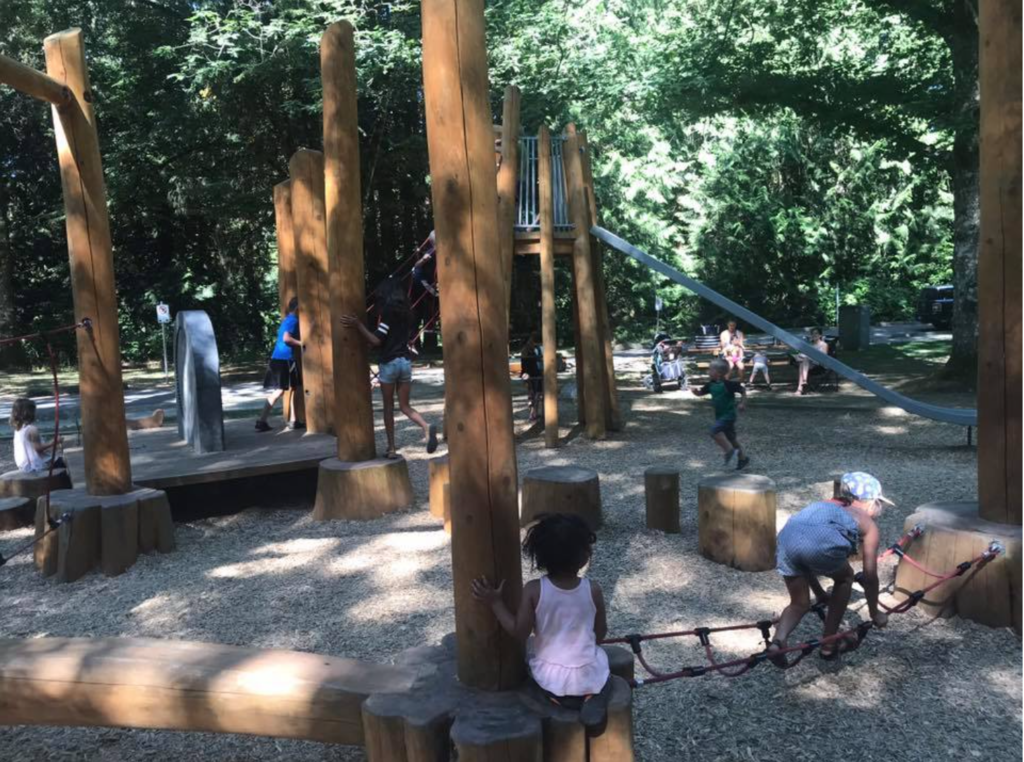 4. Brydon Park Playground
This is a super modern fun playground for kids of all ages. There is a huge play area for older kids and a fun mini version for younger children to explore. There are so many fun climbing activities including walls and ropes. This is definitely a fun place to check out.
Address: 198 Street and 53 Avenue, Langley
5. Douglas Park
 Modern, amazing and fun! Located in downtown Langley, this playground is huge and has a lot of unique features for your kids to enjoy. There is even a giant circle climbing ball. Your kids can climb in it, climb on it, all around it – there is tons of fun to be had! There is also a triple slide which is so much fun for your kiddos to race down with friends or siblings. A huge plus is there are several coffee shops close by, so you can grab a coffee before heading to the playground and relax while your kids have a great time playing.
Address: 5403 206 Street, Langley 
6. Iris Mooney Park 
Calling all car lovers — this playground is for you! This playground features a unique blue race car. Your kiddos can climb in and pretend they are racing around town. There are also several traditional climbing structures and slides to play on. Your family will definitely have hours of fun at this playground in Langley.  
Address: 4640 209 A Street, Langley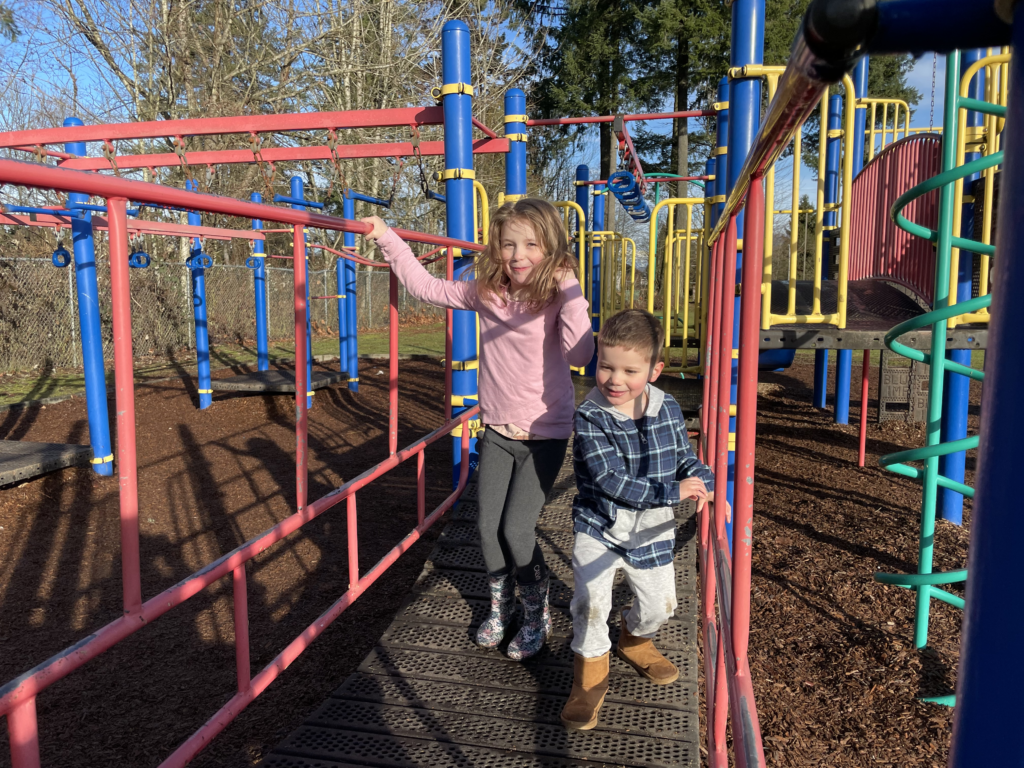 7. Murrayville Outdoor Activity Park 
This playground has fun climbing structures, slides and so much more. It's definitely worth visiting this year.
Address: Located at 221 Street and Fraser Highway, next to W.C. Blair Community Centre (22200 Fraser Highway, Langley)
8. Dumais Park 
This playground features so many unique climbing structures, including circles to climb, squiggles, ropes and even a super fun rock wall. 
Address: 208 Street and 57 Avenue, Langley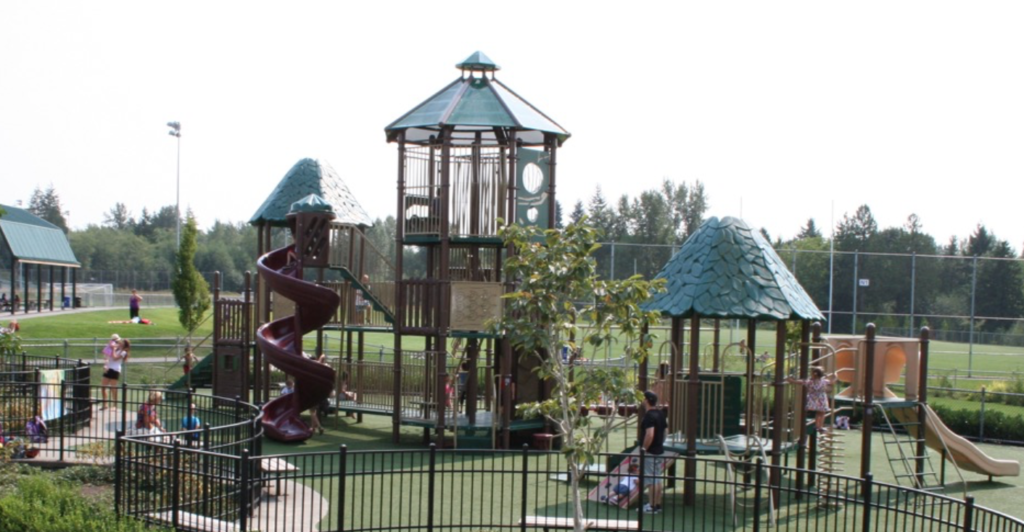 9. City Park Playground (aka the Dinosaur Park)
This park is a dinosaur-lovers dream. There is a giant dinosaur head high above the play area, rock climbing walls and structures, numerous slides and so much more. This is a great playground for all ages. 
Address: Located at 207 Street and 48 Avenue, Langley
10. Linwood Park 
This playground is incredible! It has a seated zip line — how fun is that! This is a unique feature your kids will absolutely love to try out. This playground also features swings, slides and a unique climbing feature with circles to hang on to and spheres to step on. 
Address: 201A Street and Michaud Crescent, Langley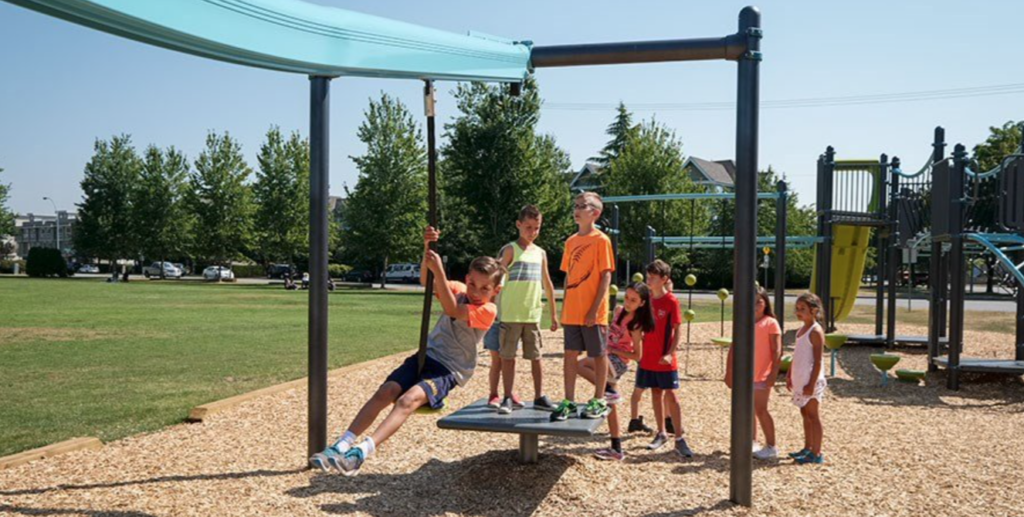 11. *Bonus Playground – but you have to pay* – The Greater Vancouver Zoo 
The Greater Vancouver Zoo has a hidden gem of a playground. Your children can spend hours at this playground and then go explore the zoo and visit some pretty cool animals. Tigers, bears, giraffes and so much more! 
For more information: >> The Greater Vancouver Zoo
Note: Closed Tuesday and Wednesday
Address: 5048 – 264th Street, Aldergrove
For more information and details on Langley parks visit:
What is your kids favourite playground to visit in Langley? Let us know! Tag @Vancouver_mom on Instagram in all of your park photos for your chance to be featured. 
Kera Skocylas
Kera is a full-time mom with three kids. She lives in the suburbs of Vancouver and recently started Kids Cuddles Coffee, a 'mommy-news' blog. She loves going on adventures with her kids all over the Lower Mainland. She has a passion for writing and the news. Before becoming a mom she worked at CBC radio and at a local newspaper. Follow her on Instagram @kidscuddlescoffee