Hip, hip, hop, hooray – springtime, cherry blossoms, Easter bunnies and events are finally here! With so many cancelled events over the last two years, it's egg-stra exciting to see seasonal events and activities open up again for families to enjoy. Whether you're looking for Easter themed celebrations, or just want to get out of the house during the upcoming Easter long weekend, this list is for you. Keep checking back as we update this great list of things happening throughout Greater Vancouver!
Easter Cookie Decorating Kits
April 1-17, 2022
The Bench Bakehouse
1641 Commercial Drive, Vancouver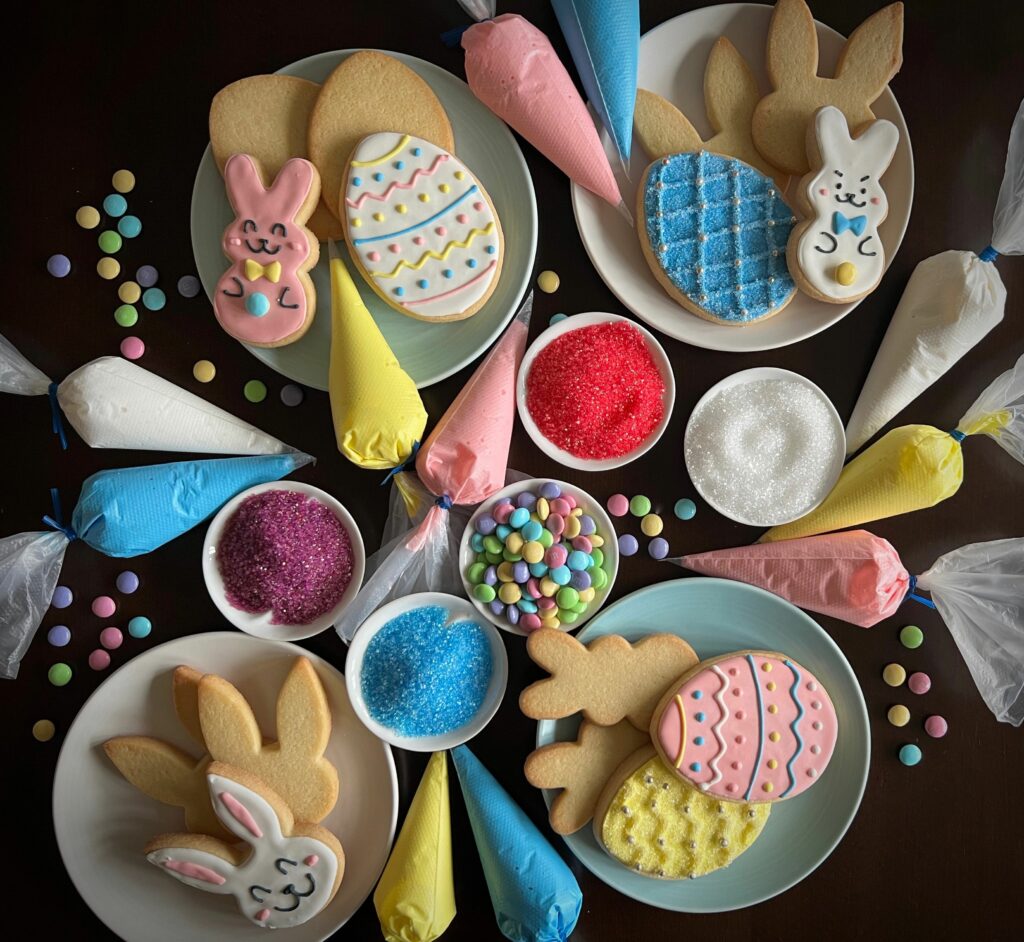 There's never a bad time to decorate cookies – and Spring is no egg-ception. Starting April 1 you can order an adorable pre-packaged cookie decorating kit from one of our favorite local shops, The Bench Bakehouse. Each package from The Bench Bakehouse includes six cookies in three fun seasonal shapes, beautiful spring colored icing and decorating sugar, plus M&Ms that you know will get sampled as part of the creative process!
All items ordered by 4:30 PM can be picked-up at the store 24 hours later, so you can get started on these right away! These items will be available right up until April 17 (until quantities last) making them a great Easter event and treat.
>> Order Cookie Decorating Kits From The Bench Bakehouse
Vancouver Aquarium Scuba Bunny
Vancouver Aquarium
April 2-18, 2022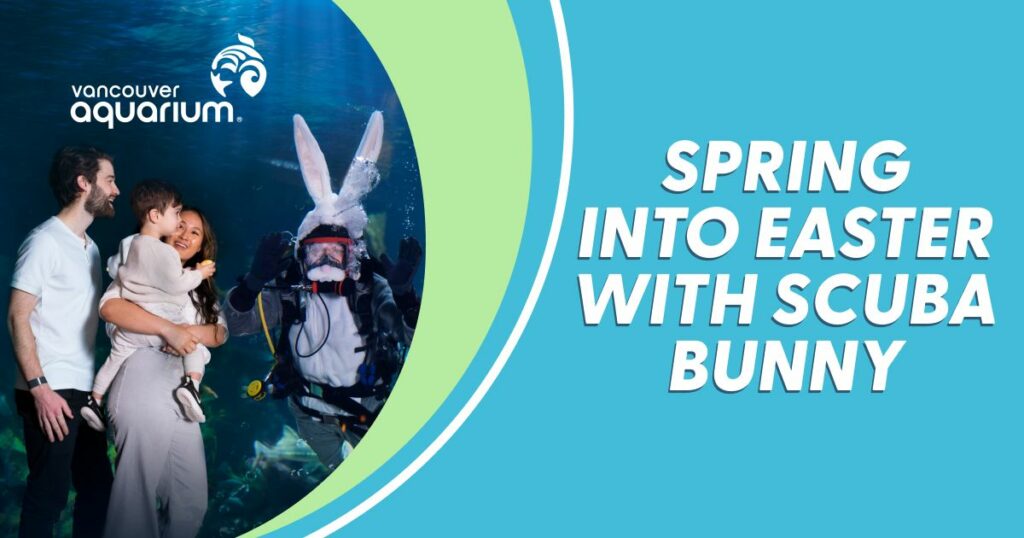 Did you know that bunnies can swim? Fun fact: rabbits can swim and the Easter Bunny is no exception! For the first time ever, see Scuba Bunny swimming among colourful fish and other aquatic creatures on his daily dives at 1 pm, April 2 through 18.

While you're at the Vancouver Aquarium you can also immerse yourself in a new 4D Experience®, The Great Salmon Run, or participate in a Sea Search Scavenger hunt. Follow the trail of blue eggs and answer trivia questions on your quest to win a prize!
Easter Underground Tour at the Britannia Mine Museum
April 9 & 10, 2022
April 15-18, 2022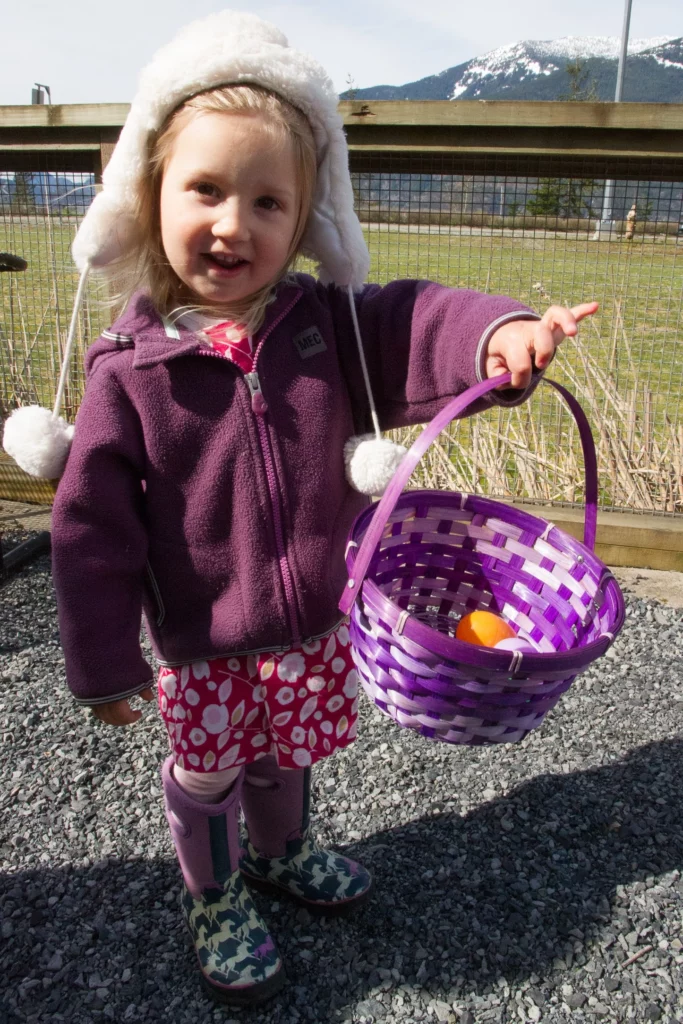 Is your kid all about rocks, gems and stones? For the people who worked in Britannia's mine, every day was like an Easter egg hunt with all they would find! Learn about the tools miners used and the treasures they found by visiting the Museum for a special Easter underground tour and celebration..
Event tickets include a special seasonal underground tour and access to the BOOM! Experience in the historic Mill. After the guided experience, kids can complete a self-led scavenger hunt with your help. Successful scavengers who successfully find all of the mineral clues on site can earn a special geological prize.
The Machine Shop will also include a temporary display showing off artifacts from the Museum's mineral collection.

Advance bookings for this Easter event are strongly recommended.

>> Easter Underground Tour at the Britannia Mine Museum
Candle Decorating with Lethal Lites Candles
Lonsdale Quay Market, 145 Chadwick Ct #220, North Vancouver
April 15-18, 2022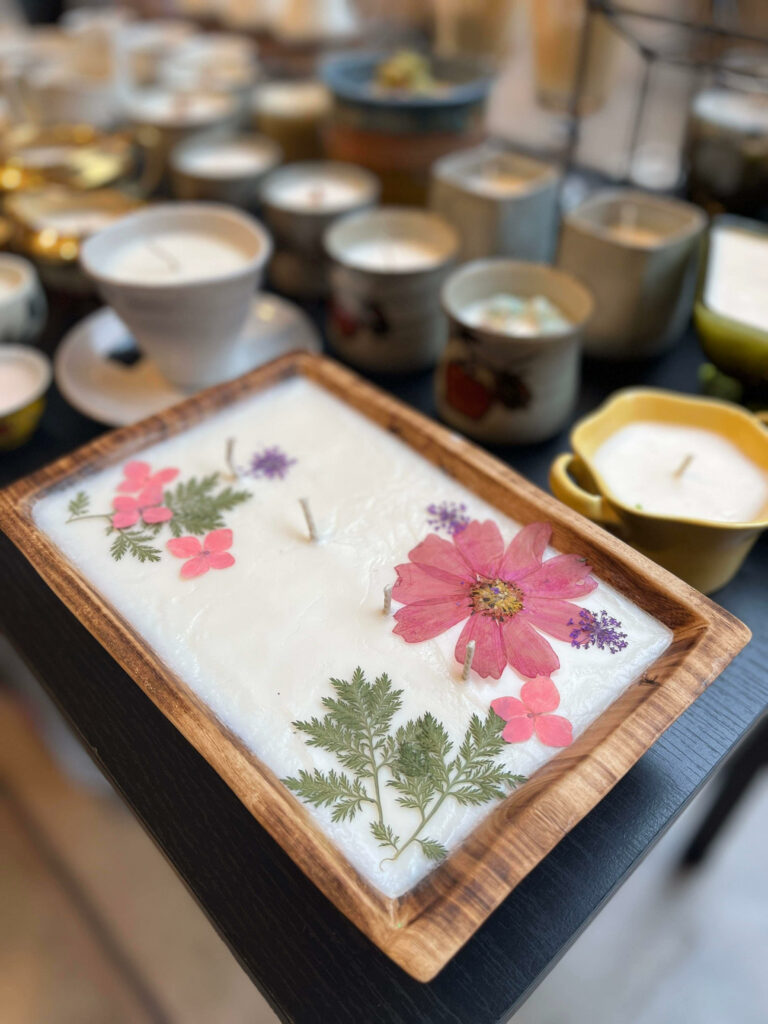 Learn and create with this neat experience offered by Lethal Lites Candles at the Lonsdale Quay Market. This is the perfect opportunity for older kids who love to design or anyone who loves to get creative. Choose from a selection of bases for your candle, the shape and decorative add-ons like pressed flowers. Play around with the layout and then hand it over to the professionals to see it all melt and meld together. Walk away with your one of a kind soy candle to display or gift this season.

This activity is most suitable for kids 7+. Any use of the candle for other than decorative purposes should be supervised by an adult.

>> See Lethal Lites Candles to contact for special occasion bookings or more info.

Baby Animal Easter Days at Maan Farms
April 15-17. 2022
9:30am-4pm
Maan Farms at 790 McKenzie Rd., Abbotsford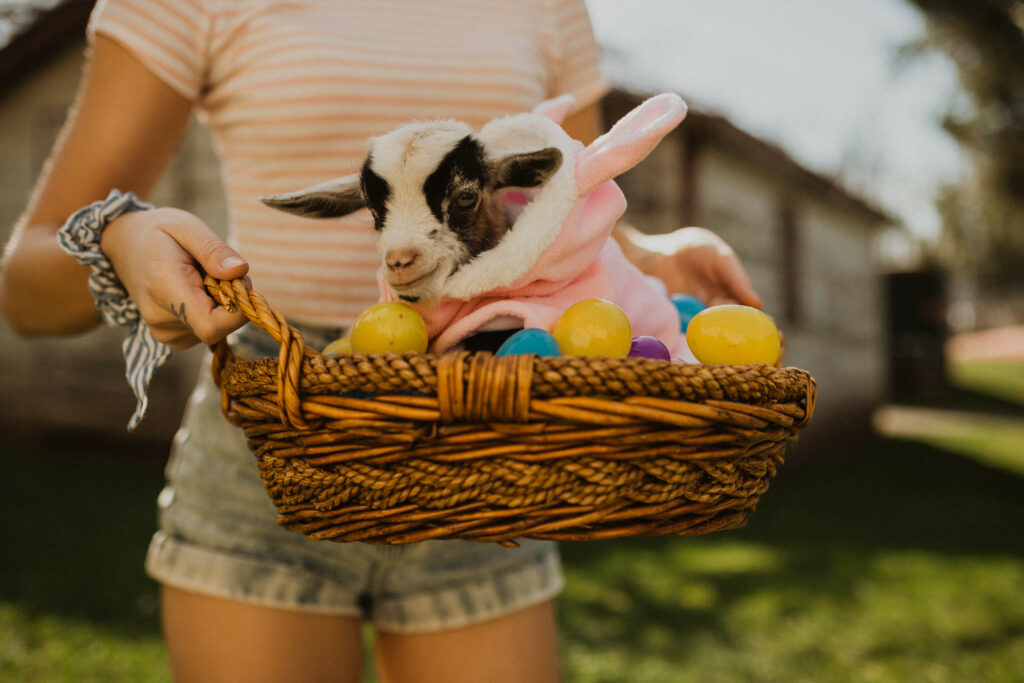 Maan Farms will be delivering an Easter event that has it all! Baby Animal Easter Days (or BAE Days) are all about the kids and family friendly farm time with a seasonal twist. Each ticket includes access to storytelling, interactive time with the baby animals (bunnies, ducklings, chicks, calves, goats and pigs!), an Easter egg hunt, a visit from the Easter Bunny and admission to all seven attractions at Barnyard Adventureland. There is delicious food and special treats on site for purchase including carrot cake, mini donuts, egg-cellent ice cream and savoury dishes like chickpea and butter chicken rice bowls too. Support local when you come out for this family favourite Easter event on the farm!
General Admission Ticket:
Walking age and up: $18.50 online | $21.00 at the door
Parents: $14.50 online | $15.50 at the door
V.I.P. Ticket: $40.00 online and $45.00 at the door
VIP ticket holders extra benefits include animal food for feeding, six mini donuts (for humans!), one glass of Maan Farm's berry wine or non alcoholic strawberry lemonade, and a 'comeback pass' with a savings of $16.00 per ticket.
>> Get Tickets for The Easter Egg Hunt at Maan Farms
Easterfest at Taves Family Farms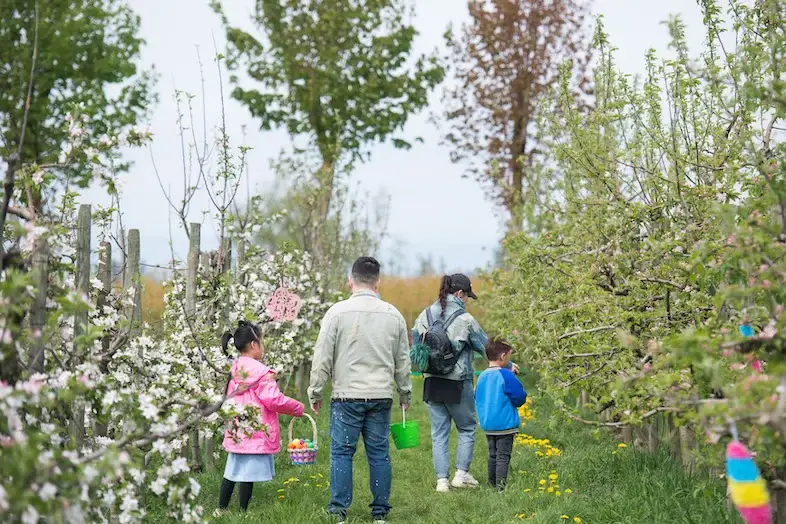 Come enjoy Easter at Taves Family Farms this long weekend! With farm activities, peddle carts, jumping pillows and a petting barn, this is sure to be a memorable stop for the whole family. Start your adventure with a hay ride down to the Bunny Trail to embark on an Easter egg hunt and keep your eyes open for an egg-stra special egg along the way.

Online registration is now closed. Tickets may be available at the gate or you can text: 778-240-8887
Easter Bunny Photo Time
April 15, 2022
12pm-4pm
Sapperton Plaza
East Columbia Street, New Westminster

Capture the magic of your little one meeting a life sized bunny! Hop on over to Sapperton Plaza for a photo with the Easter Bunny this weekend. Enjoy live music and scrumptious treats! Printed and digital photos available. This is a by donation event.
Egg-citing Stanley Park Train Ride
Stanley Park
690 Pipeline Road, Vancouver
April 15-18, 2022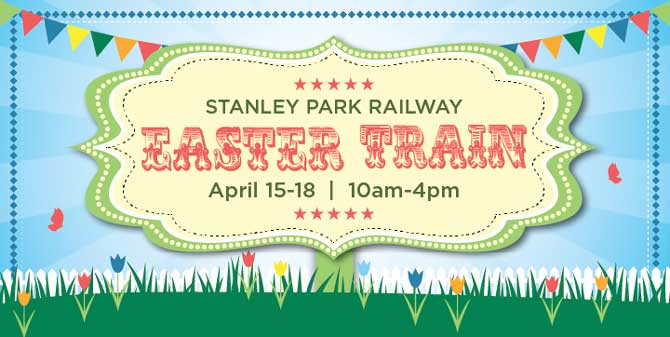 For those who love a transportation adventure, hop aboard the Stanley Park Railway Train for an egg-citing ride through the forest and look for cotton-tailed inhabitants!
After the train ride, kids can have fun meeting the Easter Bunny and exploring the Bunny Burrow Maze.
>> Stanley Park Railway Easter Train Ride
7th Annual Big Easter Run
April 16, 2022 at 1pm 3941 Point Grey Road, Vancouver
Jericho Beach park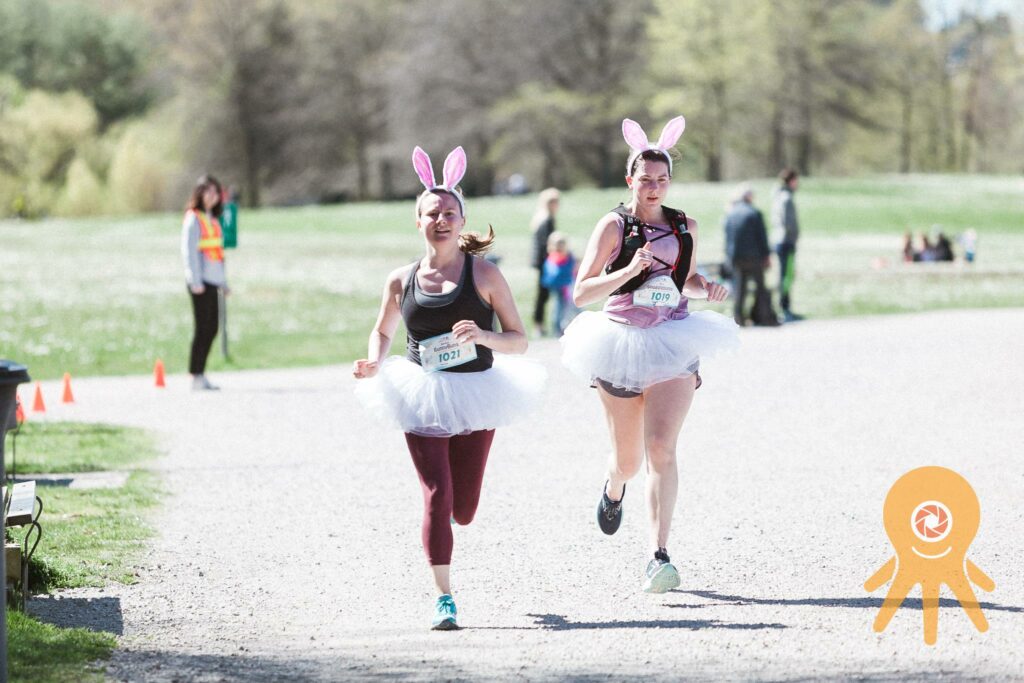 Spring time is a great time to get outside. The hoppiest run of the year returns for kids and adults alike at Jericho Beach Park in Vancouver! This holiday themed run and Easter event offers something for every age and stage. Catch local sightings of bunnies as you run or hop your way along the picturesque Jericho Beach Park route.

Enjoy tunes from a local DJ, participate in an egg hunt (1-3km participants only) or pick up something special from one of the local vendors on site. Choose from a 1km Little Bunny Run / Walk (1pm) or the 5km/10km Big Bunny Run /Walk (2pm). Bunny ears and springtime fashion welcomed for this egg-citing event!

For those not ready or able to join the run in person – there is a virtual option as well.
*Pet and stroller friendly
>> Sign up for the bunny run and egg hunt here.
Indulge With Popina Canteen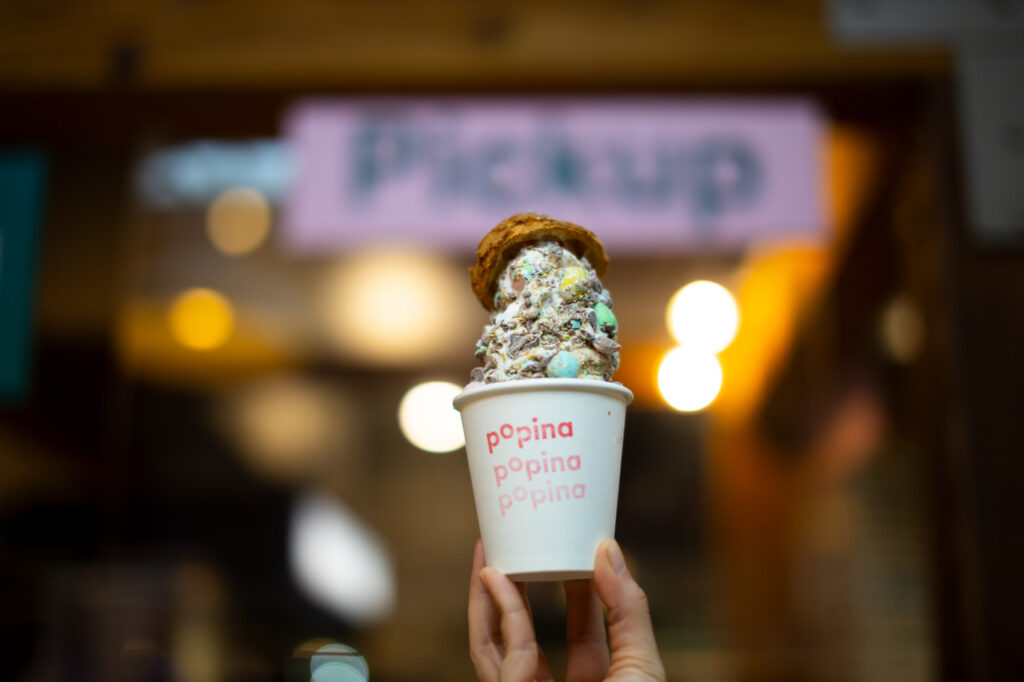 Egg-spect something delicious! Perfectly timed for Easter, this waterfront quick service eatery is bringing back its most popular Puffcream to date: the Mini Egg Puffcream. For a limited time only, Popina's freshly baked cream puffs, filled with a swirl of original-recipe Birchwood Dairy vanilla soft-serve ice cream, will be loaded with Mini Eggs. Each one of Popina's signature Puffcreams is priced at $8 ($6 for kids).
Visit Popina Canteen (Granville Island Public Market) or Popina Cantina (Granville Island Net Loft)—but it's only available through Easter!
Renee Janzen
A connector by nature, Renee loves to bring people together and is fueled by thoughtful conversations, family style meals and perfecting details. Hikes for the views, thinks variety is the spice of life, and is always up for an adventure with her husband and their two young daughters. A fulltime marketer by day, Renee recently moved back to the North Shore where you can find her busy with work Zoom calls, home renos, and enjoying the great outdoors with her family.