Have a budding film or television actor in the house? Looking for a creative Summer Camp in Metro Vancouver? The friendly squad at Shoreline Studios can help your young performer hone their craft and all with the highest COVID protocols in place. Their Crafting the Actor camp is an acting workshop for the screen geared to kids of all levels, aged 7 to 18.
>> Shoreline Studios acting camp
Their week-long workshops introduce students to what it takes to become a working film and TV actor. Kids will train with top-working actors in town to learn different approaches and gain practical, comprehensive experience and knowledge in a fun, safe and supportive environment. Not only that, Shoreline helps young actors build their confidence and find their individuality.
What your kids will learn at Shoreline's Acting Workshop for the Screen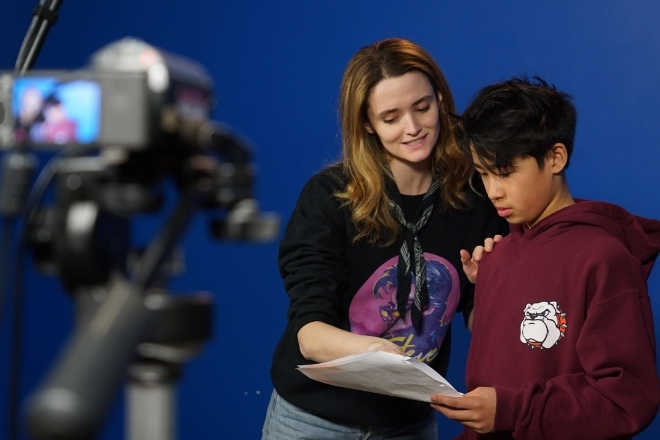 Scene Study
What are the choices? How do you make the choice that is uniquely you, that supports the story, that sparks your soul? You'll find out.
Audition Etiquette & Technique on Camera
Learn the audition process and how to work the room. From commercials to kids' sitcoms and drama, create rich, emotionally-connected characters.
Voice-Over
How do you portray anything and everything with just your voice? Shine with your own unique take on characters, bring them to life! Plus, these gigs are the best – where else can you go to work in your PJs?
Cold Reading
Learn how to work on your feet and follow your instincts when developing character, while discovering and understanding key story elements. Lastly, but not least, the little moments make the difference so we're going to make sure they count.
Improvisation
Build active listening skills, solve problems creatively, and how to work with a scene partner.
Character Work
Step into another's shoes and learn perspective. You'll learn all the little bits that need to come totgether to produce a fully-rounded character.
Voice, Body and Movement
When you're playing the guitar, you gotta make sure it's in tune. Well, the same goes for when you're acting; your body is your instrument so make sure you take care of it.
Shoreline Studios Summer Camp
Dates: July and August
Locations: Shoreline Studios, 1425 Charles Street, Vancouver
Website: www.shoreline-studios.com
Shoreline is Canada's longest running casting facility and a staple in the Vancouver film and television industry.  Offering many services including part-time acting classes, studio rentals, a full service audio department and career development to name a few.  We work to bring professionalism in an easy and stress-free and fun environment. www.shoreline-studios.com
Vancouver Mom
Would you like to write for us? We welcome well-written guest submissions with a local interest slant. Share your tips, review local businesses and highlight hot trends for Vancouver moms. Get all the info on our Contributor Page!