VM Recommends: A Staycation in Richmond
Looking for that super-close-to home-but-feels-like-a-holiday getaway? You can't beat an overnight or two in Richmond. There's so much to do and eat. Here's VancouverMom.ca's must-do list for a summer staycation in Richmond.
What to do on your Richmond Staycation
Where to Stay: River Rock Casino
If you want that resort experience, you can't beat the River Rock Casino. It feels super luxurious, and it's got everything a family could want from comfy well-appointed hotel rooms to a pool (complete with epic waterslide) that the kids will never want to get out of! And that's not all. We're talking all-you-can-eat buffet, an outdoor patio lounge with a view (and a green space for the kids to run around), a relaxing spa, a waterfront boardwalk. Oh, and it's minutes on foot from the Richmond Night Market and the Canada Line.
Protip: Save the pool for the evening, and watch the kids sleep like logs afterwards.
Adventure 1: Visit the Richmond Olympic Experience
Located at the Richmond Oval, a visit to the ROX is a must. The kids will learn a lot about the winter Olympics without realizing it. Half arcade, half museum, the ROX gives new meaning to the term interactive. Almost every exhibit and station is hands-on fun. Feel the rush as you fly off an Olympic ski jump, paddle down a white-water kayak course, carve the perfect line in a sit-ski slalom race or zip along at incredible speeds on an Olympic bobsleigh track.
Protip: Wear athletic gear, you might work up a sweat!
>> The Rox
Adventure 2: Visit the Richmond Night Market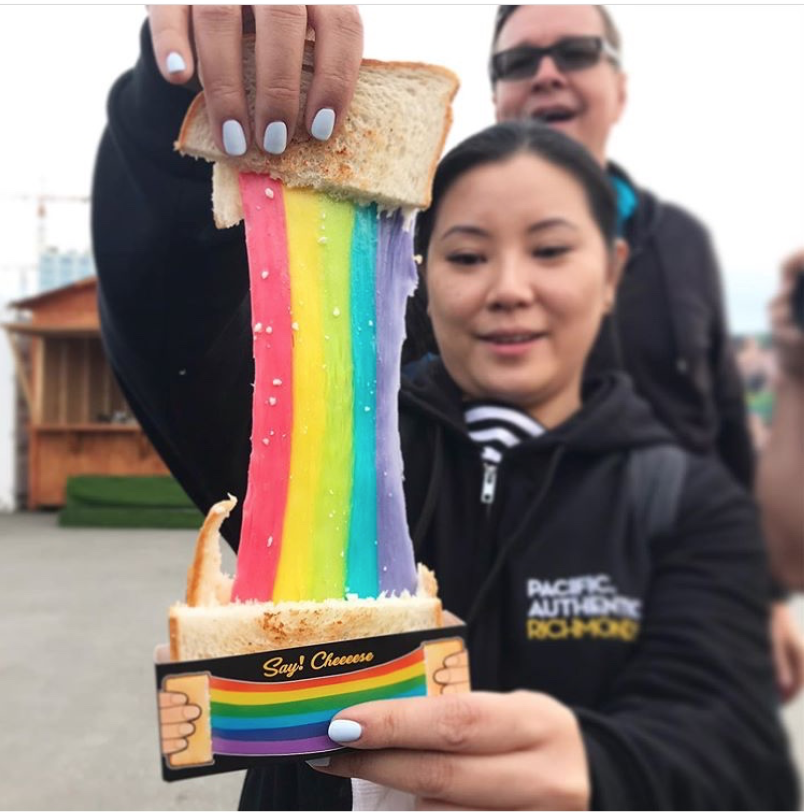 Jam-packed, chaotic, colourful, madcap fun, this take on an authentic Asian market is a dazzling, trippy adventure into a world of wacky Instagrammable (and tasty) food, bubbly drinks (who's a BBT fan?), kooky Ts, phone covers, socks, and a whole lot of people. The kids can burn off energy in the candied themed bouncy castle, or take a turn on the Spider ride.
Protip: Go mid-week. get an express pass, and know your kids. This is not for the easily overstimulated.
Adventure 3: Visit Steveston Village
You could easily spend a day in Richmond's charming fishing village. Grab a coffee at Rocanini, hit the boardwalk and wander past the traditional fishing boats. Wander over to the Georgia Cannery for a glimpse at Steveston's trawling past. Hungry? Sit on the Pajo's patio for some famous fish and chips. Then amble along the path to Garry Point Park to watch the kite fliers and cargo ships. Cap it off at the beach with an ice cream.
Protip: If you're feeling energetic, rent bikes and cycle along the dyke to Terra Nova playground
>> Five things to do in Steveston
Where to eat: The Dumpling Trail
If there's one thing Richmond is famous for, it's an abundance of Asian food. But where to start? A trip down the Dumpling Trail is the perfect way to have your dumpling and eat it too. This itinerary of 20 restaurants serves some of the best dumplings this side of the Pacific. They're crispy, chewy, and stuffed with everything from soup to meat. Noms.
Protip: Bring an empty stomach.
This post was based on a gifted experience at the River Rock Casino.
Harriet Fancott
Harriet Fancott is the Editor and Social Media Manager for Vancouver Mom. She has over 20 years experience in the arts, tech and mom-based blogging arenas. She lives in East Vancouver with her husband and son where they enjoy exploring all that Vancouver has to offer from festivals and events to playgrounds and beaches to sushi and ice cream (although not together).