8 reasons to hop on the new Evergreen line this winter (and all year round!)
The new Evergreen Line from Coquitlam through Port Moody to Burnaby just opened on Monday and it opens up a whole new world of cool stuff to check out in the Tri-City area. Commuters are thrilled about the huge time savings, and the rest of us are kinda pumped about how the new line gives everyone a chance to explore areas of Metro Vancouver that we rarely get to see. So bundle up your little ones for a fun ride on the new Skytrain line into uncharted territory, and explore some of these cool spots.
1) Coquitlam Centre and Santaland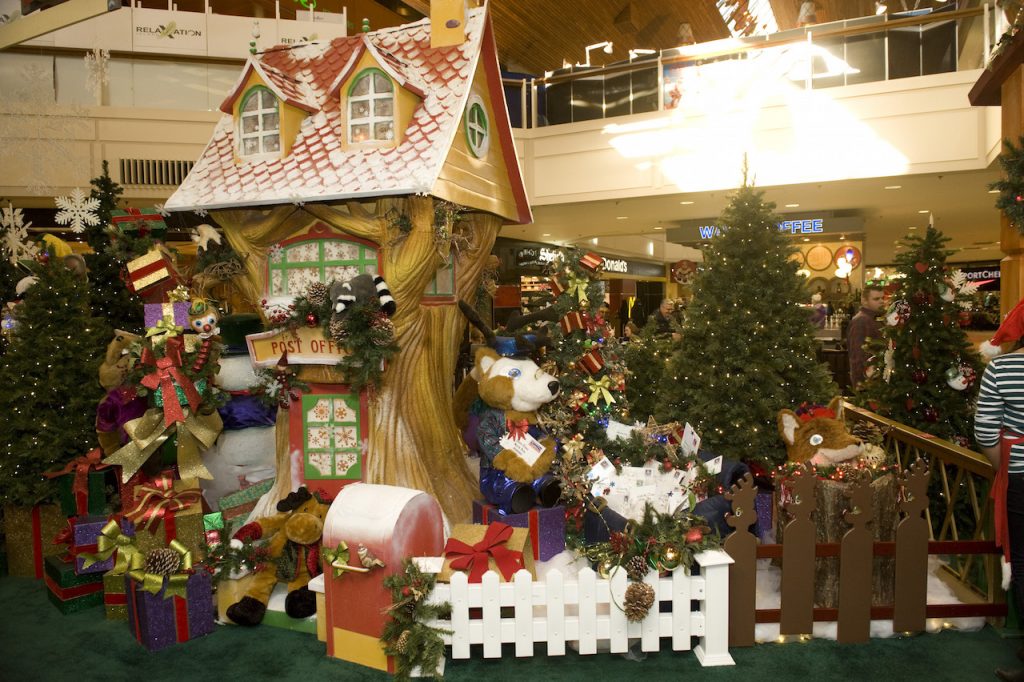 Coquitlam Centre is the largest shopping centre in the Tri-Cities. A short stroll from Lincoln Station, Coquitlam Centre offers a variety of different retailers for all ages. Better yet, Coquitlam Centre is family-friendly and offers fun holiday activities for kids, such as Santaland and Elf School, where kids can become an honourary Santa's Elf.
Coquitlam Centre also has a spacious and relaxing 'Parents Room' located adjacent to the Kids Play Park that accommodates a washroom, nursing stations, changing stations, and a secure children's play area with a TV.
EVERGREEN LINE STOP: Lincoln Station
2) The Lights at Lafarge 
More than 100,000 twinkling lights will illuminate Coquitlam's Lafarge Lake in a free magical outdoor display that all ages will love. It's one of the largest free outdoor light events in the Lower Mainland, and this season it will be even bigger and brighter than ever before.
EVERGREEN LINE STOP: Lafarge Lake-Douglas
3) Christmas Classic Movie Night and more at the Evergreen Cultural Centre
Do not miss out on Evergreen Cultural Centre's quality list of holiday events, including a free family xmas movie screening on December 19, plus concerts like a Swedish Santa Lucia Processional and much more. Seriously, check out their schedule.
EVERGREEN LINE STOP: Lafarge Lake-Douglas
4) Port Moody's Newport Village & Village Toy Shop
Newport Village is a sweet little area to war up with some hot chocolate at some cafes, eat a delicious dinner, and check out the wonderful independently-owned little toy shop, the Village Toy Shop.
EVERGREEN LINE STOP: Inlet Centre Station 
5) Rocky Point Pier Santa's Christmas Ships
On December 12th at 7:30pm, Santa's Christmas Ships will cruise the Inlet in Port Moody and their twinkling lights will be visible from Rocky Point Pier. To keep you warm, the Tri-City Rotaract Club will provide hot chocolate by donation.
EVERGREEN LINE STOP: Moody Centre Station
6. Queenston Park & Lions Park
While heading to a playground might not be the first thing that comes to mind during the winter months, these beautiful playgrounds deserve your year-round attention.
Located in Coquitlam, Queenston Park is Metro Vancouver's newest playground. It's built into the side of a steep hill and includes unique features such as a "spider web" and ropes to assist in climbing up to the top.
Another great option is Lions Park in Port Coquitlam. This newly-renovated park has something for kids of all ages with a tall chute slide and zipline for the older kids and lots of swing and sandbox options for the younger ones.
EVERGREEN LINE STOPS:
Queenston Park: Lafarge Lake-Douglas Station and then take the 191 Bus to Princeton Ave / Dayton St
Lions Park: Lincoln Station and then take the 160 bus to Shaughnessy St / Lions Way
7. Port Moody Recreation Complex Activities 
The Port Moody Recreation Complex has a little bit of everything for all ages. Whether it's drop-in gymnastics on Fridays or skating and hockey lessons during the winter months, staying entertained is never a problem.
Have a six to ten year old that needs to burn off a little extra energy this holiday season? The Recreation Complex is hosting a Christmas Candy Workshop from 3:45pm – 5:00pm on December 15th where kids will make cookies, candy melts and other goodies!
EVERGREEN LINE STOP: Inlet Centre Station
8. Wave Pool at the City Centre Aquatic Complex
Just steps away from Lafarge Lake-Douglas Station is the City Centre Aquatic Complex. From swimming to fitness activities, the City Centre Aquatic Complex is fun for kids of all ages. Kids will love the free form area which includes a wave pool, lazy river, waterslide and other fun water activities.
EVERGREEN LINE STOP: Lafarge Lake-Douglas Station
This post is sponsored by Coquitlam Centre
Coquitlam Centre is the largest shopping centre in the Tri-City area. With retailers including Hudson's Bay, London Drugs, Sears, Sport Chek, H&M, Best Buy, Walmart, Aritzia, Sephora and Lululemon.
Heather Maxwell Hall
Heather Maxwell Hall is a Vancouver-born-and-raised writer and journalism school grad who loves the arts, her little family, and the Pacific Northwest. She cultivates good vibes by going on long walks, taking pictures, and discovering new things.