3 cool kid friendly events happening in Vancouver right NOW
There's a reason we live in the city! There are so many amazing kid-friendly events and activities, from arts and culture, to mom and tot meetups to dazzling light shows. Check out these three family friendly events especially geared to the little ones.
3 cool kid friendly events happening NOW

Where: 750 Hornby Street
When: Every Sunday (Does not include Dec 25 or 31)
Cost: Free!
Did you know that every Sunday * the Vancouver Art Gallery has free admission for kids under 12 accompanied by an adult (10am-5pm)? This gives you and your kids access to the Vancouver Art Gallery exhibitions and their Family Program, which run from 12-4pm. The Family program is designed for kids 5-12 years of age and allows for art creations, experiences and explorations that are inspired by the current exhibits. With a different theme each week, your kids get to discover their creative sprits in many ways through the use of paints, pastels, sounds and textiles.
Where: 4186 Main Street, Vancouver
When: Happening now! Dec 5 – Jan 30 –Tuesdays 11-12pm (no class Dec 26)
Cost: Sessions are by donation with proceeds going to Earth Bites, a school gardening program.
Dance, yoga and delicious treats – a real recipe for a great afternoon! Rocky Mountain Flatbread Co. is hosting a super cool Mom & Tots series that you don't want to miss. Dance Instructor and Holistic Registered Nutritionist Carla Budd guides the group through wiggles, twirls, and stretches all designed for 0-5 year olds (and their mamma, pappas or caregivers). After you've worked up your appetite, you get to finish the session off by making a tasty and nutritious treat! Treats include items such as: carrot chips, nut free granola, hummus (recommended to bring snacks for tiny tots or those who may not be able to enjoy solids yet).
Class space is limited. To reserve your spot, call 604-566-9779 or email: [email protected].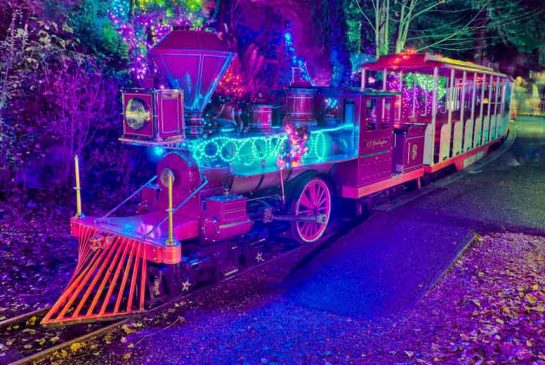 Where: Pipeline Road via Georgia Street Park Entrance
When: Happening now – until Jan 6
Cost: Entrance by donation with proceeds going BC Firefighter's Professional Burn Fund.
Matinee train – all ages $6, Santa Photos – $10, for Night-time train.
Twinkling lights, holiday music, train rides and a festive feeling that fits the season is what you'll find at Bright Nights in Stanley Park. The beautiful and holiday themed light displays at Bright Nights have been dazzling babies, tots and parents alike for 20 years now! Dress for the outdoors and if you're feeling a little chilly, heat up with some of the warm food options on site: hot chocolates, stews, chili and churros are just some of the family faves. For those with little ones who are due for bed just after dark, consider a daytime visit and enjoy the matinee train ride or a photo op with Santa (additional cost).
Renee Janzen
A connector by nature, Renee loves to bring people together and is fueled by thoughtful conversations, family style meals and perfecting details. Hikes for the views, thinks variety is the spice of life, and is always up for an adventure with her husband and their two young daughters. A fulltime marketer by day, Renee recently moved back to the North Shore where you can find her busy with work Zoom calls, home renos, and enjoying the great outdoors with her family.