Holiday Photo Tips: Capture Memories to Last a Lifetime
Article by Syx and Taryn Langemann, sharing photo tips to help you get some great shots of your family over the holidays, or any time.
The holiday season is upon us! Our camera batteries are charged and our memory cards are empty. We're ready for the twinkling lights, brightly wrapped presents and priceless expressions. This is the time of year that we hope to create photographs that will last a lifetime. No matter what kind of camera is in your hands there are three main photo tips that you should keep in mind.
Holiday Photo Tips
Great photos are created with great composition, amazing light and persistence (Yes, this will require a lot of patience, so you might want to spike your egg nog!).
Let's Talk Composition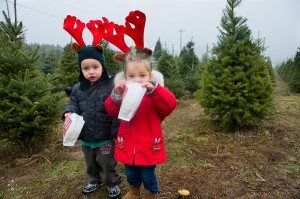 Whether you are taking pictures of people or a holiday scene, being creative with your composition is going to make all the difference. That's why it's one of our top photo tips.
First, off centre your subject and showcase the scene in the background. Pay special attention to stuff that may appear to protrude from your subject's head. Then, try moving in close and letting your subject fill the frame making the photo all about them. Creating your own scene is worth the time. If you have to move the couch out in front of the tree to get the best shot of your kids do it. Once you take a shot from the front, try changing your position. Shoot from different angles – get low, get high – you'll be surprised at how different things look.
It's All About the Light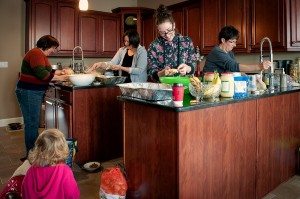 Source out any natural light you can find. Move your family's festivities near a window. With your back to the window and the light filling the room, this is the best possible light you can have. It's what professionals are always trying to recreate.
If you don't have a natural light (this is Vancouver, in the winter, so you won't) then find another light source! Try turning on all of the lights in the room. Take shades off of lamps or bring out a 'student' lamp from the bedroom.
A common mistake people often make is using their flash when they shouldn't. As a general rule using flash indoors (in terms of the tiny on-camera flashes that most cameras have built in) produces light that is too flat and too harsh. However, some cameras are capable of "flash exposure compensation". This will actually turn down the power of your flash, which gives you the little extra light you need without being too overpowering. Most point and shoot cameras also have a setting called Night Portrait, which also takes the flash down a notch (this does mean you will have to take your camera out of auto mode, scary).
Shoot Shoot Shoot!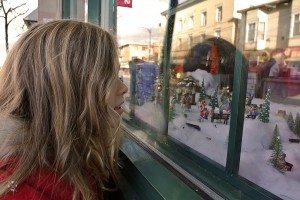 There's a lot to be said for persistence. If you are shooting children, for every 40 photos you take, there might be one that works. Kids move, blink, talk and don't pay attention when you want them to. Watch them, work with them and keep your finger on the trigger or else you're going to miss the moment. Be ready for their natural expressions while opening gifts, seeing the holiday lights lit up and so on – don't miss the magic of those candid shots. The same rule applies with groups of people. Over shoot it, and you'll be glad you have options.
In terms of photo tips, the best piece of advice we can give you overall is to remember that you are the director of your scene. Don't be afraid to take control! Paying close attention to details and removing irrelevant clutter from the frame (like the two wine bottles in front of grandma) will push your photos beyond "snapshot", creating images and memories that your family will talk about forever.
Syx and Taryn Langemann are parents and photographers who understand your photographic problems. Syx has worked for 20 years as a photographer and instructor and has spent the last three years teaching Taryn the fine art of this crazy world of photography. Taryn spends her days cleaning cereal off the floor, drawing dinosaurs and photographing it all. They live happily in East Van in what the neighbors have dubbed the 'naked baby hippie house' and they're okay with that. Find their family and wedding photography at www.syxandtaryn.com.
Taryn Langemann: aphotographerswife.com | @tarynlangemann
Syx Langemann: www.blackframestudios.ca/blog/ | @blackframesyx
Vancouver Mom
Would you like to write for us? We welcome well-written guest submissions with a local interest slant. Share your tips, review local businesses and highlight hot trends for Vancouver moms. Get all the info on our Contributor Page!