Healthy Jewellery for the Whole Family from Mala Collective
Mala Collective is a Vancouver-based business that offers some truly unique jewellery. They sell malas – also called prayer beads – made from rudraksha beads and gemstones. The handmade malas are fair trade and sustainably harvested, and created by Aum Rudraksha Designs in Bali, Indonesia. The beads are traditionally used in meditation and prayer, but Mala Collective views them as a reminder to live more consciously (we could all use that). Now that they've expanded to offer a 'Little Pieces' line for kids, the whole family can enjoy the combination of eco-friendly fashion with an invitation to breathe a little deeper.
Trying out the Jewellery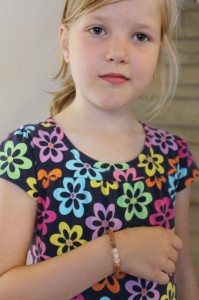 We recently had the chance to check out a bracelet from Mala Collective's 'Little Pieces' collection. At a time when there are all sorts of headlines about lead and other hazardous chemicals in some children's jewellery, this is a piece that you can feel good about your little one wearing. On top of that, the rudraksha seeds that the malas are made from are thought to provide a calmer mind, body and spirit. The bracelet we tried out also has rose quartz, which is reputed to help reduce anxiety, open the heart and increase self-esteem.
My eight-year-old daughter tried out the bracelet. I don't know if it actually made her calmer or less anxious, but why not give it a shot? In any case it definitely made her happier, because she really loves it. I have a bracelet of my own, so the matchy-matchy bit was fun. Her bracelet was made with smaller seeds, though, and clearly made for a smaller wrist. She really enjoyed the idea that the beads were sized perfectly for her, and she liked the gemstone accent. I liked knowing that the jewellery is healthy and ethically-produced.
Get Your Hands on a Mala
The Little Pieces collection from Mala Collective is priced from $23.50 to $49.50. You can shop online at malacollective.com.
If you'd like to get your hands on some grown-up pieces, you can head online, too. If you prefer an in-person shopping experience there are a number of locations around Vancouver that carry the malas, including Yoga Buttons, the Lululemon Lab, Semperviva, YYoga, Nicole Bridger Designs and Chopra Yoga Center.
Mala Collective
Amber Strocel
Amber Strocel is a writer, aspiring math teacher, suburbanite, wife and mom of two. She believes in the power of the Internet to connect people, and she believes that numbers are the poetry of the universe. You can often find her knitting, sewing, volunteering, working in her garden, and sneaking chocolate when no one's looking. She blogs at Strocel.com and shares her photos on Instagram as @AmberStrocel.