Kid-Friendly Vancouver Dining Guide: 21-30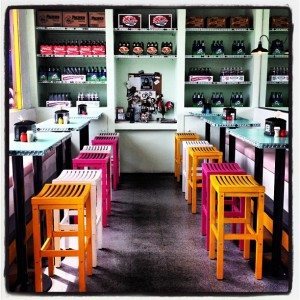 Answering the question of where to eat in Vancouver with children can be challenging. Little ones have a hard time sitting still. They make noise, they can be picky eaters, and they don't like to wait for their food. Of course, there are lots of family restaurants in the city to choose from, but sometimes you want to branch out. After all, you're a grown-up. You deserve grown-up food that's interesting to your palate, at least once in a while. What is a Vancouver mom who wants a parent- and kid-friendly Vancouver dining experience to do?
Where to Eat in Vancouver with Kids
Here at VancouverMom.ca we view answering this question of one of our specialties. Our fourth birthday is coming up this week, and in the years that we've been publishing we've reviewed dozens and dozens of restaurants. Some of them are great date-night options. Some of them offer traditional family fare. Many more, however, offer a unique twist on where to eat in Vancouver with children. We like to call them the secretly kid-friendly Vancouver restaurants. Standing out front you might not guess that they have a stash of crayons under the counter or a shelf of children's books in the back. Once you're in the know, however, you feel like you've discovered something.
Over the next few weeks we're going to be sharing 50 of our favourite kid-friendly Vancouver restaurants in our kid-friendly Vancouver dining guide. We're listing them alphabetically. You'll find great cafes, fabulous gelaterias, finer dining choices, great breakfast, ethnic food and a whole lot more. But let's not delay any longer – here is our third batch of 10 restaurants in our kid-friendly Vancouver dining guide.
Kid-Friendly Vancouver Dining Guide: Restaurants 21-30
[ordered_list style="decimal"]
[/ordered_list]
If you're just catching up, check out the first 20 restaurants in our kid-friendly Vancouver dining guide here: 1-10 | 11-20. And stay tuned! There's a lot more kid-friendly Vancouver dining to come.
Amber Strocel
Amber Strocel is a writer, aspiring math teacher, suburbanite, wife and mom of two. She believes in the power of the Internet to connect people, and she believes that numbers are the poetry of the universe. You can often find her knitting, sewing, volunteering, working in her garden, and sneaking chocolate when no one's looking. She blogs at Strocel.com and shares her photos on Instagram as @AmberStrocel.