Green Vancouver: Family Style Edible Garden
Like the idea of cultivating your own edible garden? Go green this St. Patrick's day as guest contributor Barb McMahon shares her tips.
Over the past four years, I have been overseeing the growth and development of a school garden program at Forest Grove Elementary in Burnaby as a parent and community partner, Sprouting Chefs. As our edible garden has grown and thrived over the last few years, many parents have asked: "How do you do this? What's the secret? Everything looks so healthy and huge!"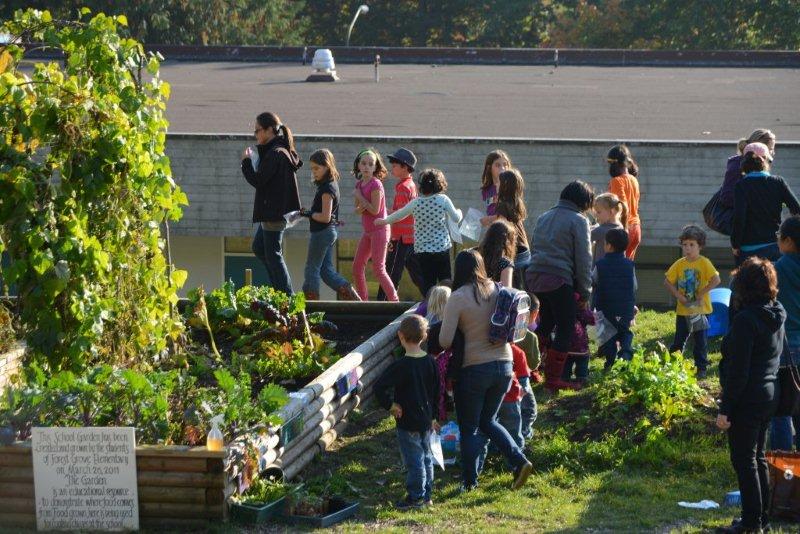 Have Faith in Yourself
What I have come to learn after graduating from the Gaia College Organic Master Gardeners course is nature needs little from us, actually. The more we 'leave the leaves' for example, the better the soil does, having an organic mulch to retain water over the rainy months. Plants need more from the air than they need from the ground, so adding a chemical fertilizer with high concentrates of NPK or Nitrogen Phosphorus and Potassium isn't as necessary as it is to add compost and organic matter.
When it comes to the first step of building your own edible garden, the big thing I hear from parents or teachers in a classroom is, "I have a black thumb and I can't grow anything." That mindset is actually where we need to start. Forget soil nutrient content, seeds or what lumber you need to use, if you don't have the faith that you can grow anything then most likely, you won't. After all as the famous quote says: "All you need is the faith of a mustard seed to move mountains." Try it. Just have the tiniest bit of faith and that simple little shift will go really far…in gardening and in life!
Five Tips for Starting an Edible Garden
1. Have Faith
This is repetitive if you read the above but if you have scanned down here first, the principle is simple: have faith that you can grow food that is nourishing for your family. Start with the intention that what you are doing is for the benefit of you and your family. That will be the best thing to have in your mind every time you think of your edible garden. In turn, it will help you to remember to water, add some compost or weed your garden. You're tending to it for the best interest of your family.
2. Start Simple
A nice big 500 square foot garden is the ideal for any avid food growing gardener. It will provide a ton of food year round when rotated properly and grown properly. Is this necessary to start? No. Start with some lovely potted herbs that you buy from a good nursery or farmer's market. Chat with the person who grew it and find out what the herb needs. Put it in your window sill and snip as you need it. Feel how good it feels to use the herb in a meal that you cook with your family and that feeling will inspire you to try other edibles in a container…maybe salad greens, kale or beautiful rainbow chard.
3. Ravishing Radishes
If you are beyond small potted container gardening and want to start from seeds, try growing something that produces greenery and something you can eat in about four weeks – radishes. So many varieties are available and some are not as spicy as others. Even if they are, it's a great way to get your kids to develop their palates. Growing radishes with kids has been amazing. Not all of the kids like them, but all of them have tried them because they grew them. That should be a rule when you're growing and edible garden with kids. If they grew them, they should try them then decide if they like them.
4. Choose Your Veggies Wisely
My top veggies to grow from seeds: carrots, peas, beans, beets, rainbow chard, spinach, kale, broccoli and salad greens. Nine times out of ten, most kids will try at least one of these amazing plants if they grew them themselves. There are a variety of methods for growing each, but most of these seeds can be started in April and will yield something by early summer.
5. Steer Clear
If you want to avoid discouragement, steer clear of tomatoes, squash and corn in your edible garden. If you're feeling daring, have the space and time to research what these plants need (squash needs a lot of space…sometimes 20 ft, I kid you not), then by all means, go ahead. But tomatoes as an example need a lot of support. They need literal support structurally, as well as help to avoid the dreaded blight, an airborne disease both tomatoes and squash can get on their leaves. Corn needs space too…and warm soil..and lots of sun. Again, if you want to give it a go, then by all means. But if you want to avoid disappointment and start simple, try these next year when you get your confidence and your green thumb!
If you would like personalized help that results in your own customized edible garden manual, connect with me so I can help your Sprout your own Chefs.
Sprouting Chefs
Vancouver Mom
Would you like to write for us? We welcome well-written guest submissions with a local interest slant. Share your tips, review local businesses and highlight hot trends for Vancouver moms. Get all the info on our Contributor Page!