Get on a (Beautiful) Bike
There are a few perks that come with my role as Managing Editor of VancouverMom.ca. Connecting moms to this fabulous city is by far the biggest. Getting to run giveaways and contests, handing out great prizes, is another big plus for me. And a really fun side perk is being able to attend events and try products so that I can share them with you. Recently, I had the chance to do just that, when Opus Bike allowed me to ride the beautiful Ivanna Urbanista for two weeks in April.
Getting Back on a Bike
It's been almost 20 years since I had a bike of my own. While I enjoy cycling, I have never been an avid cyclist. Living in the suburbs and working from home as I do, my current lifestyle isn't exactly bicycle-friendly. However, recently my eight-year-old daughter graduated from her tiny trainer bike to a fully-fledged 12-speed. She's fast on that thing, so it's not enough to just run along behind her anymore. It became all too clear that I needed a bicycle of my own to keep up with her. Enter the Urbanista.
The Urbanista has the styling of a retro, single-speed cruiser bike, but looks can be deceiving. It's surprisingly lightweight, and it has seven speeds. The gear shift is a thing of beauty. It's an internal gear hub, which shifts silently and seamlessly, even when you're at a dead stop. There's no lag time at all. Opus says that every 2000 km it needs a quick service to keep it working, which obviously didn't come up in my two weeks of riding. But I was really impressed by the simplicity of the technology, which shifts with a simple twist of the handle.
The other thing that was completely new for me was the kickstand. Instead of leaning to one side, the bike came equipped with a kick-stand with two props, which suspends the back wheel slightly off the ground. What this means is that your pretty, pretty bike is far less likely to fall down in the dirt or get scraped on the sidewalk. As someone who is out of the loop in the ways of cycling, I found this novel and also kind of delightful.
Fenders, Reflectors and Baskets, Oh My!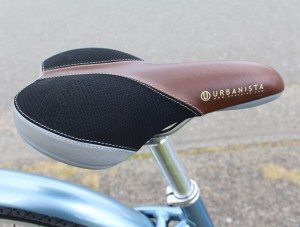 The Ivanna also comes with fenders to keep your back from getting splattered on a wet Vancouver day, reflectors to keep you safe, and a little basket on the front. Plus, in spite of my inexperience as a cyclist, I found the seat to be quite comfortable. The Ivanna isn't cheap, but it really is a charming bike. The best recommendation that I can give it is that I was so sad to give it back that I emailed my contact with Opus to ask if they could pass along a list of local bike shops that carry it. You can find a list of dealers yourself on the Opus website.
As for keeping up with my daughter, that was easy once I was on the beautiful bicycle. It was a workout, yes, but I was able to match her speed. Keeping her safe was another story. Check back later today for some suggestions when it comes to teaching your kids bicycle safety, so that you can ride together with confidence.
Opus Bike
Amber Strocel
Amber Strocel is a writer, aspiring math teacher, suburbanite, wife and mom of two. She believes in the power of the Internet to connect people, and she believes that numbers are the poetry of the universe. You can often find her knitting, sewing, volunteering, working in her garden, and sneaking chocolate when no one's looking. She blogs at Strocel.com and shares her photos on Instagram as @AmberStrocel.