Where to Eat in Vancouver: Vancouver Foodie Tours
Waiting in line, wondering whether that restaurant you passed was better than this one, surreptitiously scrolling through reviews online under the table: these are things I don't love about going out to eat. What if you could experience four or five great places in a row, that each have a table set for you on arrival, as well as a tour guide telling good stories along the way? Vancouver Foodie Tours is just that. I had the chance to go on their Guilty Pleasures Gourmet Tour recently, and it was a treat.
Vancouver Foodie Tours: A Great Date Night Experience
As a local who goes out to eat fairly often, I wasn't sure this was going to be all that great, but I was pleasantly surprised. If you're feeling like you haven't seen the inside of anything fancier than White Spot in a few years, Vancouver Foodie Tours could be a great date experience.
We started at Kirin on Alberni Street, and it's easy to see why this place has been collecting Best Chinese and Best Dim Sum awards since the early 90s. Our guide, Andrew, led us in to a central round table, and poured out the jasmine tea. We heard about the history of the restaurant, and a few tricks to ordering dim sum. Some of the other people on our tour had stories to share as well, and that's obviously a great part of these experiences. About 40% of people who take these tours are locals, and each tour accommodates up to 12 people.
A Prawn Dumpling to Remember
After a prawn dumpling that redefined that whole food group for me, we moved on to Urban Fare. I wasn't sure what would be waiting for us at a posh grocery store, but a long table was ready, with tastings of BC wine, cheese and chocolate. We had a guided wander around the store, checking out the extensive cheese section and chatted to the well-informed store manager.
A short walk down the street brought us to Italian Kitchen, and again a central table was ready for us. I could get used to this kind of service, I have to say! More BC wine, and a tasting selection of the restaurant's signature dishes including burrata and their famous meatball. The beautifully creamy burrata stole the show in my mind. Back down the street, we commandeered a large section of the lounge at Market by Jean-George. Ginger lime margaritas greeted us, with a taste of their take on salmon nigiri and a single mini burger brought in with a flourish. The head chef came out to share a few words too.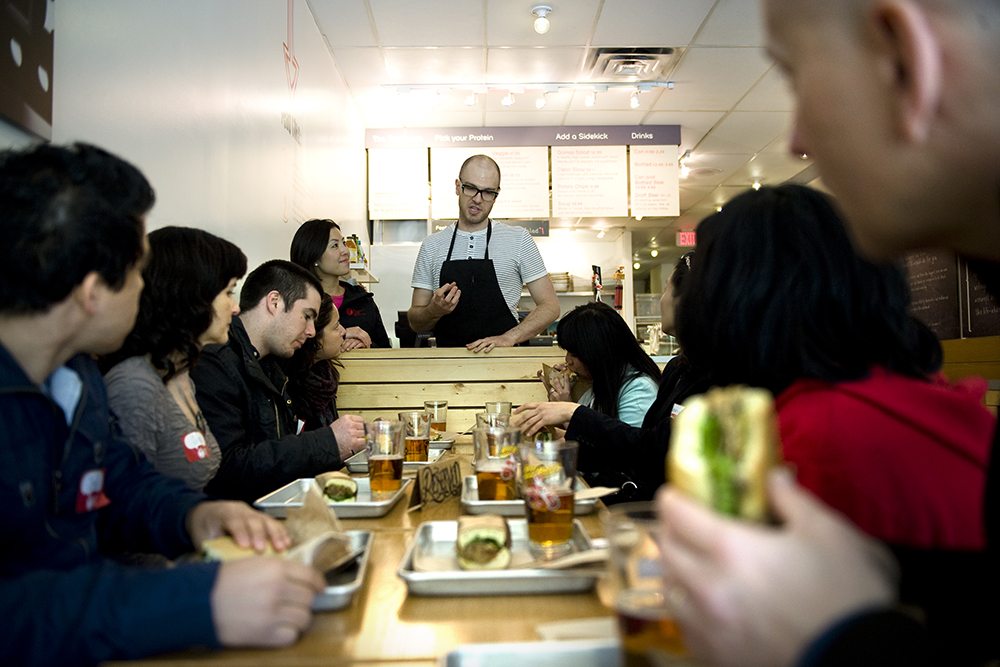 Meeting a Gelato Evangelist
Our final stop was Bella Gelateria, well known for their mind-bendingly good gelato and very long lines. We stood in a circle on the sidewalk, watching an improbable number of people in the back of the small shop labouring away on their icy treats. Our guide disappeared for a moment, only to reappear with founder and gelato evangelist James Coleridge. We had a great talk with him, and our guide talked the staff into bringing out a giant bucket of caramel they make from scratch every day, and a fistful of spoons.
The Guilty Pleasures Gourmet Tour runs on weekdays in the afternoon, which is awkward in terms of a date night option, but it's what allows large groups in and out of these very busy restaurants. Our guide was full of stories, and his inside knowledge and connections seemed to make a little extra appear everywhere we went. Chefs and restaurant managers came out to chat with us, and it was nice to be able to ask a few questions in the lull before the dinner rush.
Vancouver Foodie Tours wouldn't be something you could bring small people to, but it would make a lovely afternoon activity during a staycation, or a day off together. I could imagine giving tickets to grandparents as a gift, and it would make a great suggestion for visitors from out of town. Vancouver Foodie Tours also runs a food truck tour and a Granville Island Market tour, both of which I am seriously tempted to book this summer. It's worth noting that the $20 alcohol pairings supplement was well worth the cost.
Vancouver Foodie Tours
Erin McGann
Erin McGann is the former Managing Editor for Vancouver Mom and Toronto Mom Now. She drinks just a bit too much coffee, is a bit obsessed about sourcing local food, plays the cello moderately well, spends too much time on Twitter, keeps honeybees on a rooftop, and has a thing for single-malt whisky. Erin is working on a novel set in turn-of-the-century Vancouver, which her husband, son and dog have to hear about all the time, and also blogs at Erin at Large.