You Say: Kids and Creativity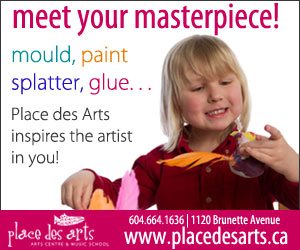 There are so many ways that kids love to get creative, from drawing to dancing to making music, and from painting to sculpting to acting. We thought it would be fun to check in with our fellow Vancouver moms, to find out what creative pursuits their kids enjoy the most. And so, our next You Say feature was born.
You Say what Creative Pursuits your Kids Most Enjoy
On Facebook, the Mini Pop Kids shared, "We are obviously biased to singing and dancing!"
Karina Eva said that her kids love, "Reading, dancing, painting, skating…"
Ricky Shetty said, "Our daughter loves playing with daddy's business cards – lol!"
Ai Ling weighed in, saying her kids love, "Crafting and playing with home made dough. It goes for hours in this household."
Sharilyn Kuehnel said that her family enjoys, "Dancing, story-telling, painting, and any sort of crafting that involves googly eyes!"
Erin Dodd shared that her son loves, "Play dough! He's three and just loves it."
BORNSAGE said, "Making objects out of cardboard boxes!" You really can't beat a good cardboard box.
We also did a flash quiz for this You Say feature, asking what creative pursuit your kids love the most. Dancing was the clear winner, with singing and acting tied for second place. One anonymous reader who responded to the flash quiz shared, "My daughter is a born performer, and she just loves having an audience!"
What about your kids – what are their favourite creative pursuits?
This article was sponsored by Place des Arts Art Centre & Music School. Have fun and bring home your very own masterpiece! With 40 years of experience, Place des Arts provides quality arts education for all ages and abilities in visual art, music, dance, theatre and creative writing. Small classes ensure individual attention. We inspire the artist in everyone!
www.placedesarts.ca | Twitter | Faceboook
1120 Brunette Avenue, Coquitlam, 604.664.1636
Amber Strocel
Amber Strocel is a writer, aspiring math teacher, suburbanite, wife and mom of two. She believes in the power of the Internet to connect people, and she believes that numbers are the poetry of the universe. You can often find her knitting, sewing, volunteering, working in her garden, and sneaking chocolate when no one's looking. She blogs at Strocel.com and shares her photos on Instagram as @AmberStrocel.