Kid-Friendly Fraser Valley: Willow Video
Willow Video Games has many options for your family's home entertainment needs. They are BC's largest reseller of new and used video games, DVDs and Blu-Ray Discs. The Langley location is right across from Willowbrook Mall, on the White Spot side. Willow Video also has locations in Guildford and Abbotsford
Recycle Your Old Movies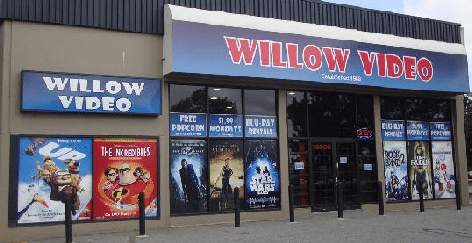 Do you have used or new DVDs or video games lying around? Bring in your unwanted games and movies to trade them towards other titles, or simply trade them in for cash. It is a great way to teach the kids to do a little bit of de-cluttering. You never know what treasures you might have on your shelf for another family. Do call ahead to confirm what they are currently buying and remember to ask how to save the tax too!
Reuse
Not only is it great to save money by buying gently used movies and video games, they also have a 30 day warranty for all discs. Titles start at just $1.99! You never know what you might find for sale, like a hard-to-find Disney DVD or a retro game for an older gaming console. They also have specialty services for your used discs.
Reduce
Willow Video has a large selection of movies and games to rent as well, starting at under $4.00. There is a great 2 for 1 weekly rental section. That is an easier way when you can't decide on one movie. From the Kids section to the latest Video Game consoles, they have everything for the whole family. Included on their rental shelves is a great selection of retro games to share with your kids, like Sega, Atari and more. Go in often to get the latest deals.
Specialty Gifts, New Entertainment and Services
You may also find your favourite video game characters featured on wallets, backpacks and other merchandise. This is a great place to get a unique gift for a loved one. They offer a special service of disc resurfacing to save your favorite movies or games. They also have very competitive prices on new movies and video games compared to big box stores.
This is an easy quick stop for your family's Movie and Game night. No need to download when you all can have fun at this entertainment store.
Willow Video Games
www.willowvideogames.com | Facebook
2 – 19609 Willowbrook Drive, Langley, 604-530-5324
Danielle Christopher
Danielle moved to Langley with her husband when she was expecting their first child. It was a move of convenience eight years ago, and they can't imagine living anywhere else. They fell in love with the neighborhood and the community around it. Danielle's personal blog (MotherlessMoments.com) was nominated for Vancouver Mom Top Blogger 2013. She writes about being motherless and raising a child with autism. Find her on Twitter: @DanielleASigne