Mom & Baby Drop-In Activities to Check Out This Winter
Even before the walking starts – life with a baby is BUSY! Just getting out the door is a win and getting to pre-determined places on time: gold star, please. On top of the regular crazy, baby's feeding and napping needs seem to be the ruler of all supposed schedules. If nap schedules or non-schedules are keeping you from signing up for weekly mom and baby classes (because how many times do you want to wake a sleeping baby?), keep these awesome mom and baby drop-in options on your "hustle and go" activity list.
Mom & baby drop-in activities to check out this winter
There's a reason the regularly scheduled classes at Chorus & Clouds always sell out right away – this cozy space is a gem for little budding explorers, music makers and toddler artistes! The talented and creative Jess Schellenberg runs an afternoon drop in every Friday where music, art making and discovery centres will totally delight little ones with all types of interests. The atmosphere fosters discovery, learning, and positive re-enforcement. Expect interactive songs like Slippery Fish with felt companions, interactive stories or the special treat of Jess on her ukulele during as you start or finish the class off with a special circle time.
Insider tip: Show up 10-15 minutes before any of the regularly scheduled Chorus and Clouds classes are meant to start. If a family doesn't show up and there's space, Jess often gives you the okay to join as drop in (class fee applies).
0-5 years
197 East 17th
Cost: $17/ child – spaces are limited
Fridays at 3:30pm (suggested arrival 3:15pm) – check calendar for closures
Join the amazingly positive and friendly Lee Ann Steyns on Wednesdsays for a 45-minute crash course in "baby sign language". What you'll learn is actually basic American Sign Language, which Lee Ann does an amazing job of making non-intimidating by incorporating lots of singing, vocab, song sheets and repetition. Each week there is a different theme or topic, toys for babies to engage with between songs and signing, and a relaxed atmosphere where you can meet other moms & babes.
What's to love most: Babies can often sign long before they use words or speak. Keep the sign language going at home and you'll be amazed at how your little one starts to communicate with you.
0-24 months
YogaButtons Kids Yoga Studio, 2525 West Broadway
Cost drop-in: $16 / family – includes worksheet with songs & signs covered that day
When: Jan. 9-Mar. 13 / Apr.  3-June 19
Some days you just need a little more space, toys that aren't yours (for the babe). Welcome to parent and tot gym time at the Roundhouse Community Centre. This option is easy on the wallet. With toys galore, pushers, foam blocks and a bouncy castle – there's something for all wee ones. The best part is there are options almost every day, so one of these times is bound to work out. And it's only $2.75 a pop!
Nearby attraction to check out: All aboard! Check out the Engine 374 Pavilion right next door to the Roundhouse. Open year round, daily, from 11-3pm in the winter, little ones will be amused by the automatic trains in the display case and older kids will love the big train.
See Also
0-5 years
Roundhouse Community Centre
When:  M: 1:15-3:15pm, T: 9:15-11:45am, W: 12:30-2:30pm, Th: 9:15-11:45am, Sat: 9:15-11:45am
Cost: $2.75 / drop in | $21 / 10 visit pass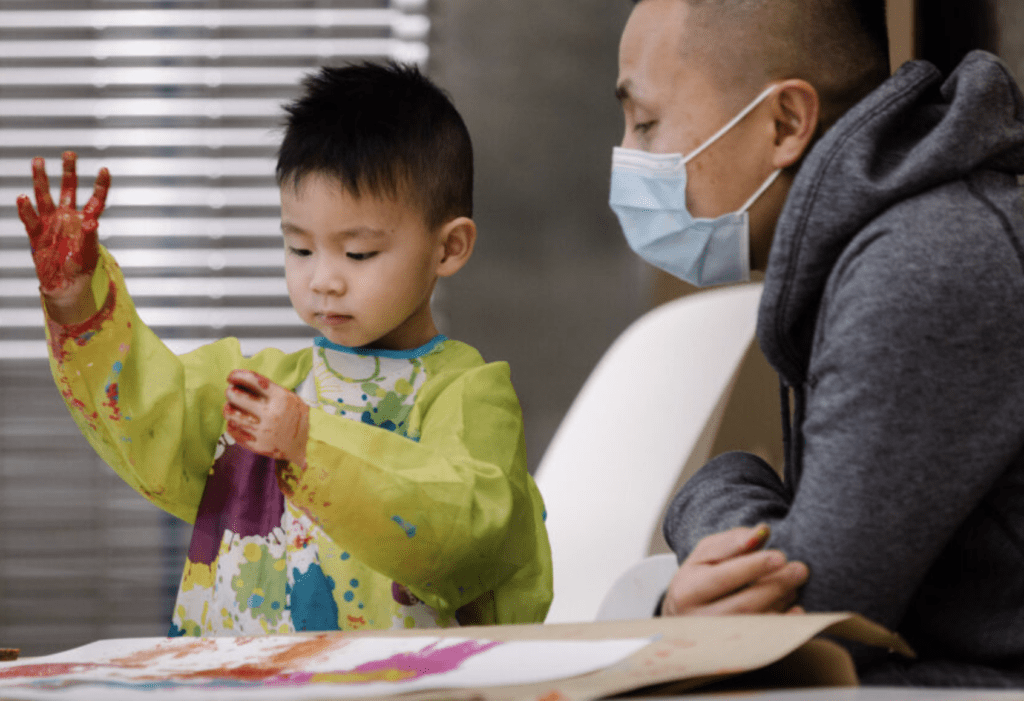 Join your little ones in the Arts umbrella studios for a class together. Parent & Me classes introduce younger students to a learning environment. This class is great for little artists but it also teaches important motor skills. Classes are taught by working artists experienced in ECE. It's fun, and messy – and you don't have to do the clean up. Caregivers and/or parents are invited to attend.
2-3 years
1400 Johnston St. Granville Island
When: schedules and class types vary
Did we miss your favourite place? Let us know in the comments so we can add to our growing list.
Renee Janzen
A connector by nature, Renee loves to bring people together and is fueled by thoughtful conversations, family style meals and perfecting details. Hikes for the views, thinks variety is the spice of life, and is always up for an adventure with her husband and their two young daughters. A fulltime marketer by day, Renee recently moved back to the North Shore where you can find her busy with work Zoom calls, home renos, and enjoying the great outdoors with her family.