Four Places to Take Your Toddler for Music Classes in Vancouver
Are your days of playing Mozart to your belly over? You're now ready to move to the next level and experience music in person – together.
Moving and grooving are great ways to continue motor and language development. We've got four great places in Vancouver for toddler music classes.
Chorus and Cloud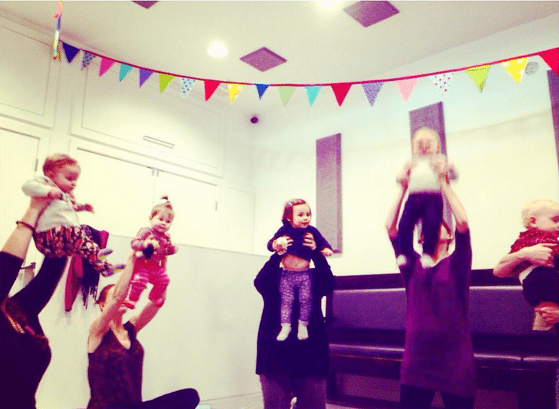 Chorus & Clouds is a super cute arts and music studio located on East 17th Ave in Mount Pleasant. Classes for little people from 0 to two years, and two years to five years cover music and movement, and focus on fun. Check out their whole family Magical Music Saturdays each month for a session of music-making, followed by hanging out and making friends.
197 East 17th Ave, Vancouver
Gymboree Play & Music
For ages 6 to 16 months, toddlers wil experience music from all around the world– music from both past and present, near and far! From The Beatles to Bach! In Music 1, children will delight in the sound of instruments, and "singing" through musical baby talk. They'll enjoy being sung to, experiencing new sounds and the anticipation of surprise!
1548 W Broadway, Vancouver
Vancouver Academy of Music
Not just the land of hyper-accomplished teen musicians, the VAM also has an extensive early years program. Starting at 3 months, children learn songs and games that encourage them to feel music in their bodies, play and sing together in groups, and more. There are practice rooms all around as well, it's neat to hear advanced students rehearsing, you can even peek in when they leave the doors open.
1270 Chestnut St, Vancouver
Mozart School of Music
From classic Orff and Kodaly music classes for tots, to piano, strings, woodwind, brass, and voice instruction, the Mozart School of Music has lots to choose from. The Orff classes in particular are built with lots of progression in mind, so if your little person gets bored by doing the same songs over and over, these classes might be a good choice. Kodaly classes get right in there early at preschool and kindergarten age to teach pitch, and the interplay between melodies – it's a great place to start if you want to get your kids learning violin or cello.
3396 Shrum Lane, Vancouver
Share your favourite places for experiencing music together by using #vancouvermom
Erin McGann
Erin McGann is the former Managing Editor for Vancouver Mom and Toronto Mom Now. She drinks just a bit too much coffee, is a bit obsessed about sourcing local food, plays the cello moderately well, spends too much time on Twitter, keeps honeybees on a rooftop, and has a thing for single-malt whisky. Erin is working on a novel set in turn-of-the-century Vancouver, which her husband, son and dog have to hear about all the time, and also blogs at Erin at Large.