App review: Twinkle Twinkle Little Star Preschool Storybook Piano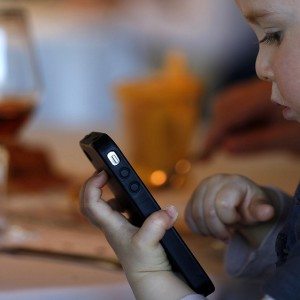 Guest post by Shelly Wutke
Twinkle Twinkle Little Star Preschool Storybook Piano by KIBOOMU combines two of the things that a preschooler loves the most: music and singing. What kid can resist a light up keyboard and one of their favorite songs? Whether they are banging away on the piano in Freestyle mode or trying to learn the song by focusing on the sheet music that scrolls by, this is an app made for little music lovers.
The app is composed of four areas, each with their own fun activities:
Play and Sing Along – As a nighttime scene plays on the screen, the keys light up to encourage your budding Mozart to play along. There is enough of a delay that my 4 year old picked up on the tune quickly, and managed to play the song with just a slight delay.
Karaoke Mode – Playing the piano is half the fun on this app. Karaoke mode highlights the words as your child sings along. Hit the record button and you can playback their latest rendition of the song over and over again.
Learn the Song – For those beginning to read musical scales, Learn the Song mode puts a serious spin on the educational part of the app by allowing your child to follow the keys and notes as the music plays. Kids learn more quickly when they are having fun, and this app provides an excellent way to practice form and melody.
Freestyle Mode – An area just for fun, kids will laugh as they play music to the sounds of barn animals or alter the melody by changing to a guitar or a flute instead of the piano. Freestyle mode is a great place to let your preschooler bang away on the keyboard and make their very own musical masterpiece.
Although this app is geared toward the beginning piano player, you can't overlook the fact that it's a great app for babies as young as one year. Not only do they love to bang away on the keyboard and sing along in their own garbled way, they find it soothing to watch the scrolling images as the song plays quietly in the background. If you have an iPad, flip it on it's side and place it beside your child's crib. The combination of music and movement will have them to sleep in no time.
Twinkle Twinkle Little Star Preschool Storybook Piano is great as an educational piano-playing app, because it puts the fun into learning to play the piano and is a great first step in getting your preschooler to appreciate music.
Shelly Wutke is a freelance writer based in Langley, BC. To visit her portfolio, see www.shellywutke.blogspot.com.

Image credit – jenny downing on flickr
Vancouver Mom
Would you like to write for us? We welcome well-written guest submissions with a local interest slant. Share your tips, review local businesses and highlight hot trends for Vancouver moms. Get all the info on our Contributor Page!