5 fun facts about The World of Kidtropolis!
As you may have heard, there's a new city in town, and it's all indoors. The World of Kidtropolis is the perfect place to hide out with the kids on a chilly day. Kids get to roam around and do everything from 'grocery shopping' to 'flying a plane' in this safe 17,000 square foot kids only city where they can let their imaginations run wild.
>> Check out 8 ways to interact with your kids at Kidtropolis
5 fun facts about The World of Kidtropolis!
Fun fact #1: Admission includes one adult
Unlike many indoor escapes, Kidtropolis does not charge admission for one accompanying adult per child, and ambitious kids can stay all day long. For a real deal, head there on Toddler Tuesdays when admission between 10 am – 12 pm is specially priced at $13 per child aged 2-4.
Fun fact #2: They have Winter Break camps
If you need to work, sign the kids up for this fun camp. Kids will take part in science experiments, creative art projects and designing life-sized games. There will also be plenty of time for your child to free play and learn in their pretend city.
Fun Fact #3: They host birthdays
We actually can't even imagine just how fun that would be for a group of little ones. Kids have up to two hours to roam around, eat cake and just have a ball and of course, there's no cleanup for you.
Fun Fact #4 – They've got WIFI and food on-site
If your kids are older, grab a coffee at the on-site Munchies cafe and work, write or surf while the kids play (of course you'll want to head in and have fun with them too). Located near the runway plane, the cafe serves soups, sandwiches, wraps, fresh fruit and veggies with healthy options that appeal to kids and grownups.
Fun Fact #5 – Kidtropolis gives back to their community
Not only has Kidtropolis created a community for kids, they actually give back to the community that makes their business possible. They've supported local children's recreation groups, elementary and daycare events and  fundraising events.
This post is sponsored by one of our Community Builders, The World of Kidtropolis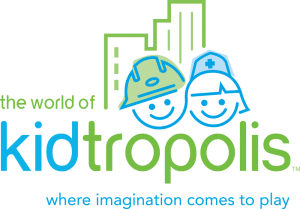 The World of Kidtropolis is an interactive city model designed to provide a safe, unique and realistic educational environment that lets kids do what they do best: pretend play! Our goal is to provide purposeful play and hands-on learning experiences in a family-focused environment. Children use their imagination to become firefighters, police officers, restaurant owners, teachers, stage performers and more. Kidtropolis is the perfect environment for parents and caregivers to bond with their children by participating together in pretend play! www.kidtropolis.ca
Harriet Fancott
Harriet Fancott is the Editor and Social Media Manager for Vancouver Mom. She has over 20 years experience in the arts, tech and mom-based blogging arenas. She lives in East Vancouver with her husband and son where they enjoy exploring all that Vancouver has to offer from festivals and events to playgrounds and beaches to sushi and ice cream (although not together).