Vancouver is the ideal city for a crisp fall walk. The crowds of the summer have dissipated, the leaves are golden and green and mushrooms are popping up on the forest floor and beside sidewalks. There's lots to see and do outdoors in the fall, so why not pack up the kids and go for a walk?
Five lovely fall walks perfect for kids
Stroll around your neighbourhood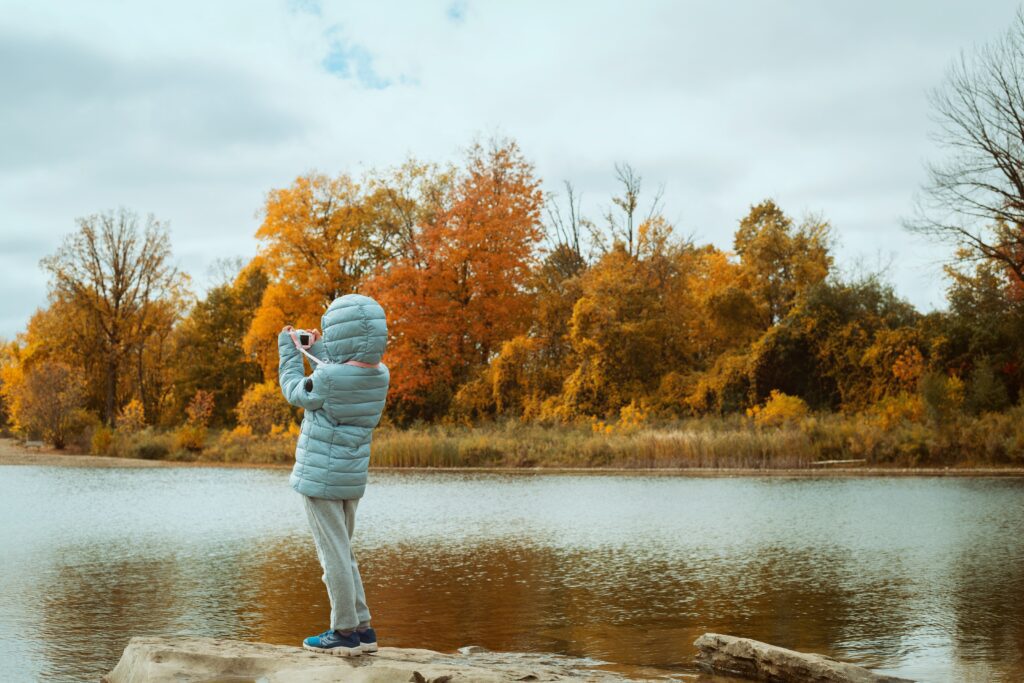 Vancouver is a beautiful city in all seasons, and for ease, nothing beats a walk through the neighbourhood. With tall, mature trees lining most streets, there is plenty of colourful foliage to look at and lots of fallen leaves for preschoolers to kick around. Bring a plastic bag and pick up handfuls of acorns, horse chestnuts, maple keys and leaves to look at when you get home. Be on the lookout for interesting mushrooms to look at growing at the base of your neighbouring trees.
Walk the Stanley Park Seawall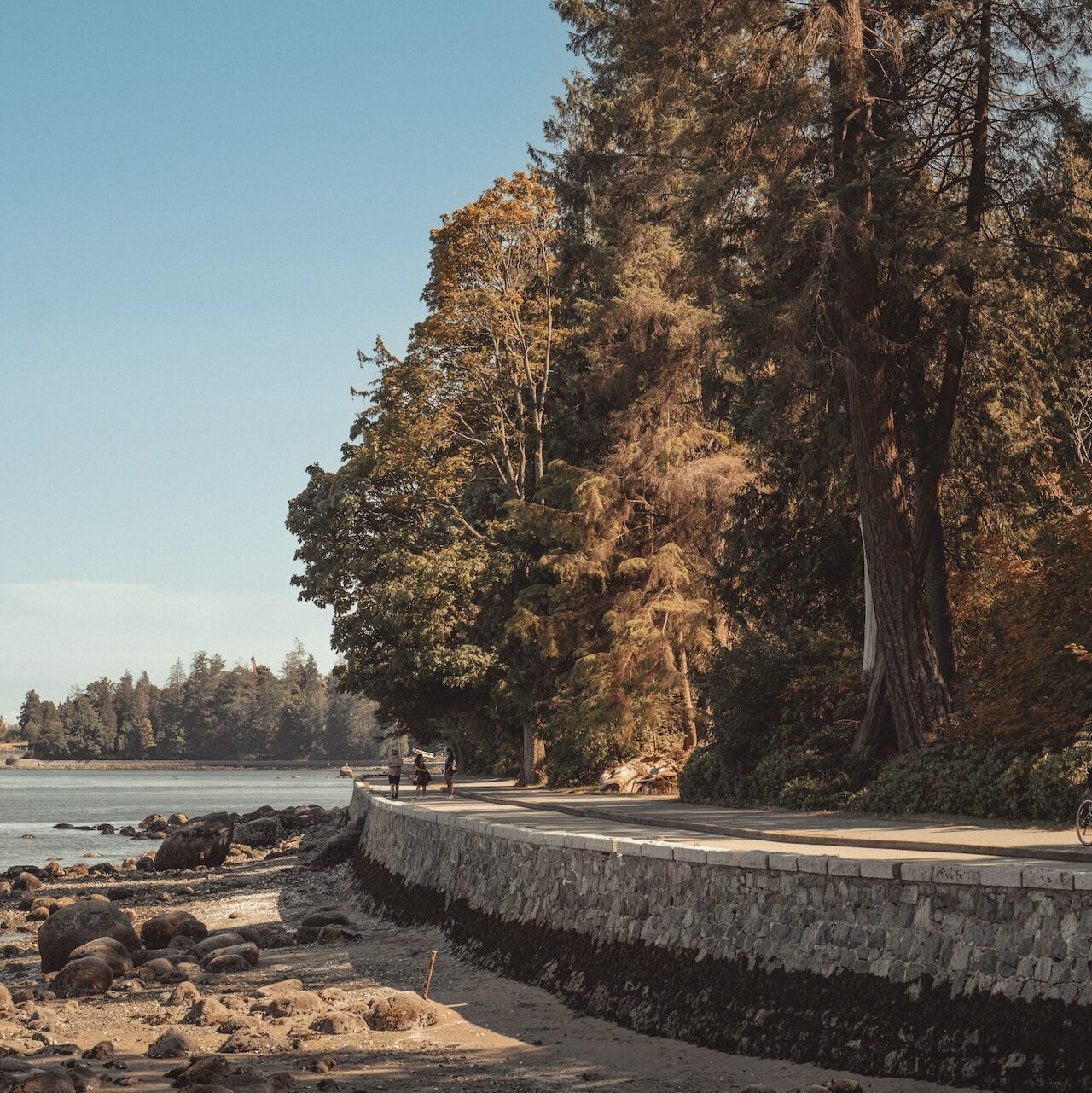 Stanley Park is a lovely destination in the fall, with a nice mix of evergreen and deciduous trees along the seawall and a gorgeous view out over downtown and North Vancouver. Start at the Information Kiosk by the totem poles and head east, working your way around the 9 o'clock gun, lighthouse and coming back through the playground beside the children's farmyard before walking behind the Aquarium and down to the Information Kiosk again.
Lift your Spirits on this Trail
Embark on a journey through the vibrant foliage of Lynn Canyon Park, where every step is like a warm hug from nature. The suspension bridge, surrounded by the golden leaves, is simply awe-inspiring. Bring your little ones along and let them marvel at the wonders of the great outdoors. Don't forget to pack some local snacks for a delightful picnic amidst the autumn scenery.

Looking for Fall Activities in Metro Vancouver >> Read More
Explore the Lakes and Beaches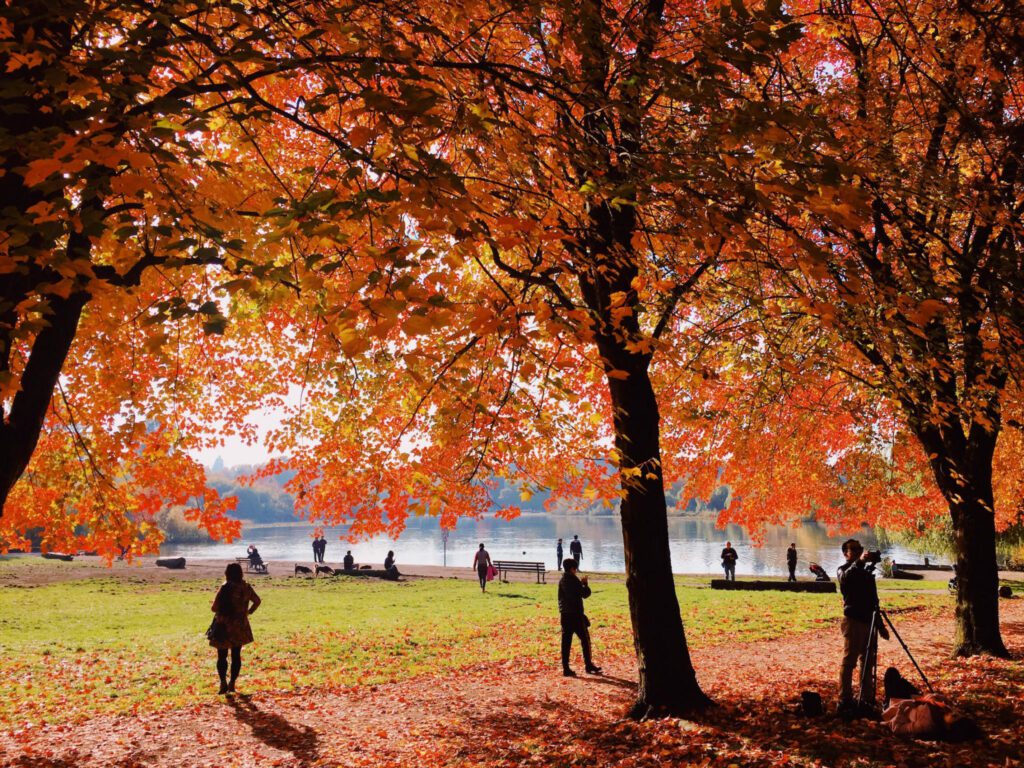 Even when it's wet and cool, the beach and/or the lake is a fun place to explore with kids. Bundle up warmly in fleece jackets and rain gear first, then hit the sand. You'll most likely have the whole stretch of shoreline to yourself, and there are lots of interesting seaweeds, crabs, shells, rocks, logs and bushes to explore whether it's sunny or rainy. Spanish Banks, Kits Beach, and even Trout Lake are fun places to play in the sand in the off-season.
See Also
Queen Elizabeth Park – Vibrant Autumn Palette
Revel in the symphony of colors at Queen Elizabeth Park as the leaves change into brilliant hues. Wander through beautifully landscaped gardens and take in the vibrant reds, oranges, and yellows. It's the perfect spot for a solo soul-searching walk or a peaceful outing with your partner.
Original post written by Michelle Carchrae of the Parent Vortex and updated in 2023
Vancouver Mom
Would you like to write for us? We welcome well-written guest submissions with a local interest slant. Share your tips, review local businesses and highlight hot trends for Vancouver moms. Get all the info on our Contributor Page!