Halloween is creeping up on us. Here is our go-to events guide for everything you need to know to make the rest of October a blast. This Halloween guide for Vancouver moms, will make those last days extra special.
Halloween Events in Metro Vancouver
Halloween is coming up, if you don't know where to go — here are the best places in the Lower Mainland.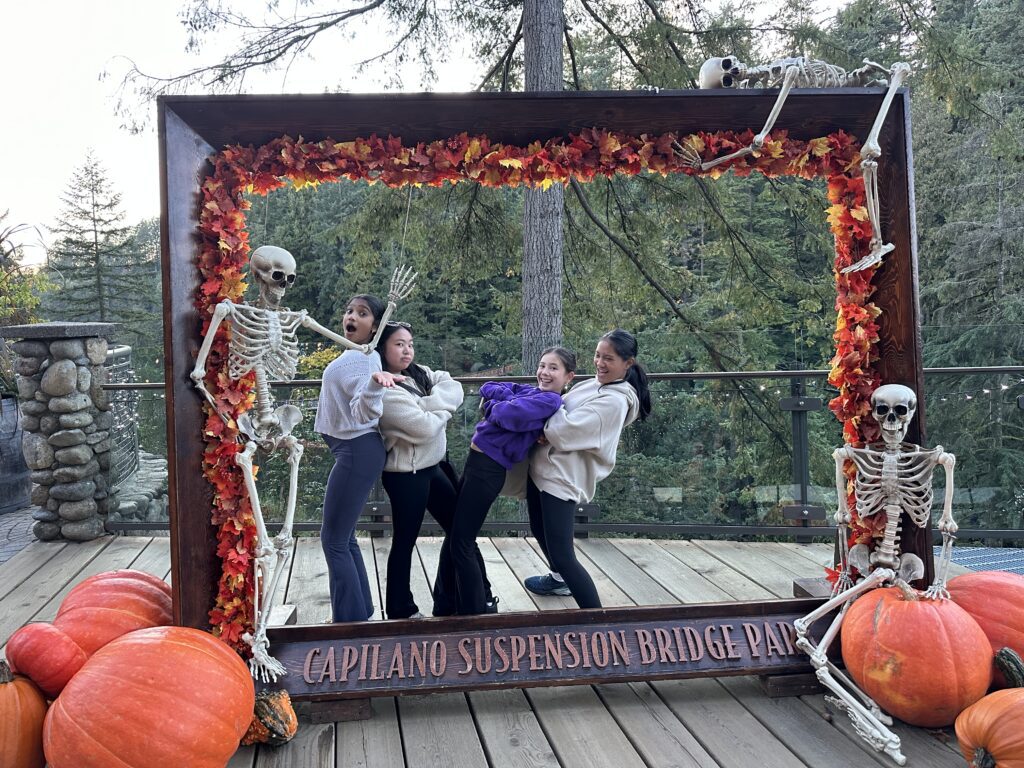 Take a walk on the wild (and slightly eerie) side at Capilano Suspension Bridge Park's Canyon Frights – only if you're feeling daring, of course!
Here, the spirits of the past come alive, joining in a Halloween celebration that feels like a nostalgic Victorian 'Fall Fair.' The park, aglow with enchanting lights just for the occasion, creates the coziest, most magical atmosphere for the festivities. And guess what? It's like a twisty plot in a ghostly novel as the rainforest surprises us with unexpected spookiness.
Address: 3735 Capilano Rd, North Vancouver, BC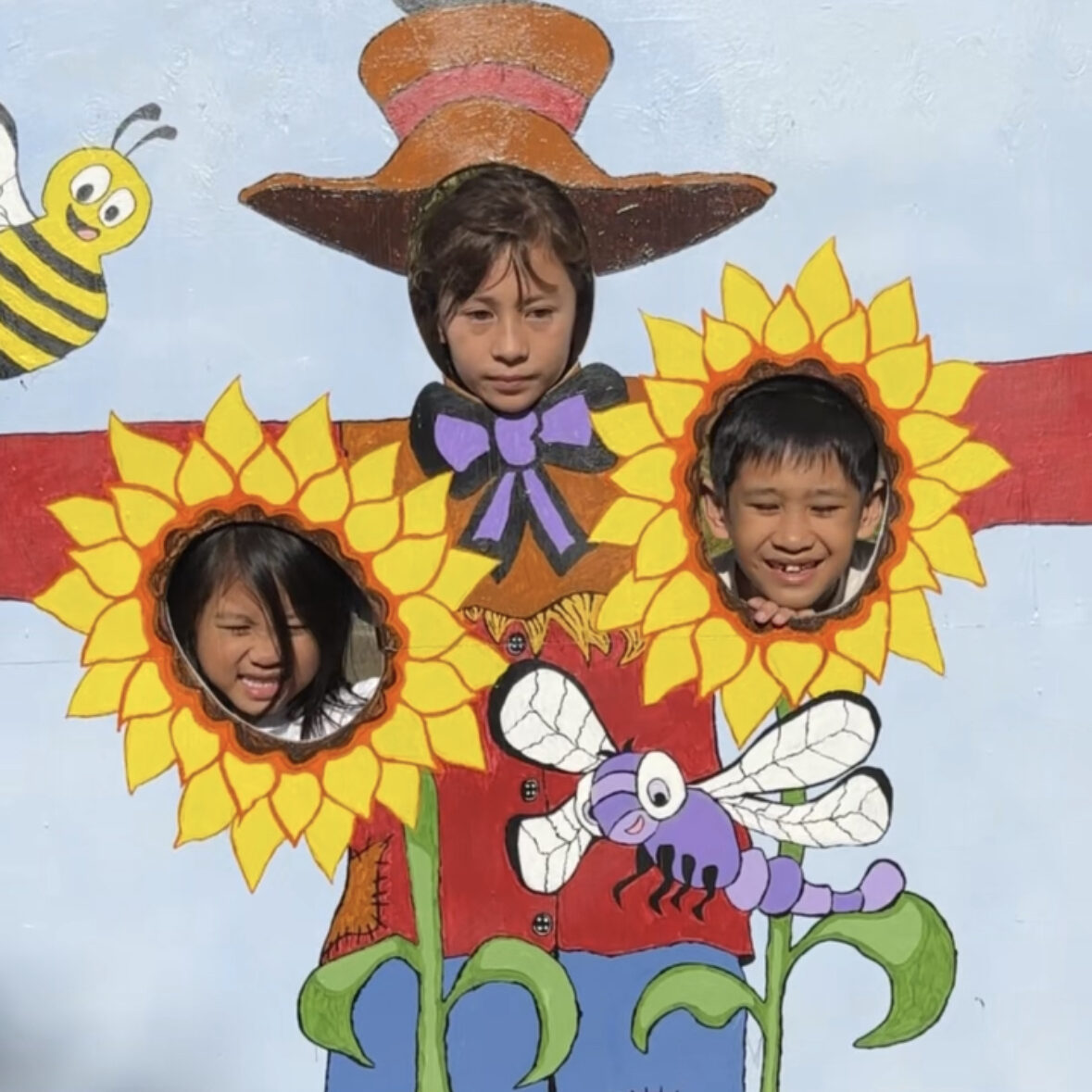 Get ready to soak in the cozy, fall vibes at VanDusen Botanical Garden! It's time to celebrate the season with the much-anticipated return of Harvest Days.
Their veggie garden and maze area are transforming into a fall wonderland, just for you and your family. Picture this: fun photo spots, exciting activities, and fantastic entertainment that'll light up your day.
And, of course, what's a celebration without some mouthwatering treats? They've got those covered too! Expect local flavours and delicious bites that'll satisfy your taste buds and warm your heart.
Address: 5251 Oak St, Vancouver, BC
Open on weekends until October 29 and October 20, 10am – 4pm
Pumpkins After Dark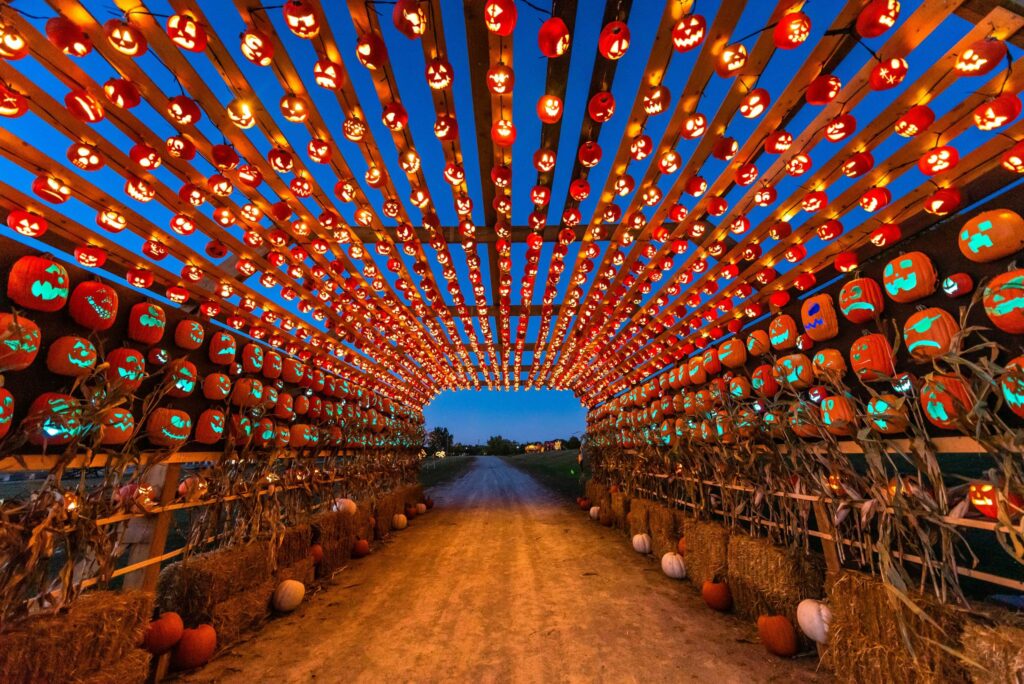 At Pumpkins After Dark, you'll experience a world of magic brought to life with music, captivating sounds, and special effects.

There are classic Halloween characters, friendly dinosaurs, and mythical dragons, alongside your favorite movie and pop culture icons. It's like stepping into a world of enchantment that has something for everyone in the family!
Address: 6100 Boundary Rd, Burnaby, BC
Open Now till October 31
Richmond Halloween Fireworks Festival
Oh, the thrill of the night sky lit up by breathtaking fireworks! Head to Richmond for a mesmerizing display that will leave you and your little ones in awe. An electrifying experience for the whole family!
October 31, 630pm-845pm
Address: Minoru Park, 7191 Granville Ave, Richmond, BC
Dimension Gallery
Why settle for ordinary when you can embrace the extraordinary? Head on over to The Dimensions Gallery this Halloween season for a mind-blowing, glow-in-the-dark art experience that'll leave you and your camera spellbound. Don't miss out on the chance to create spine-tingling photos that will set your social media on fire!
Address: 432 W Hastings St, Vancouver, BC
Vancouver Who Goes Boo Maritime Museum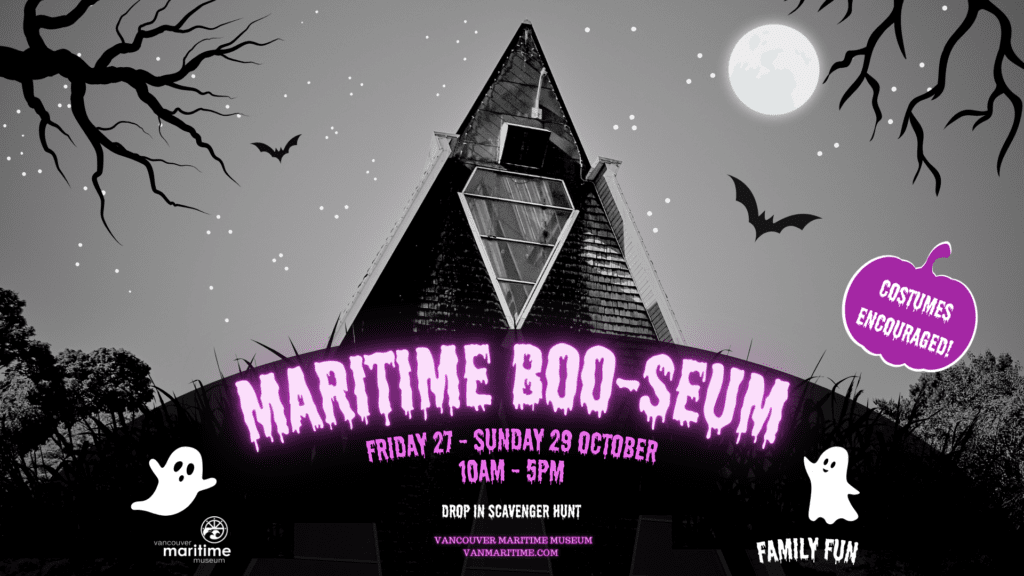 Get ready for some spooky family fun at the Vancouver Maritime Museum!
Something mysterious is afoot at the Vancouver Maritime Museum. For weeks now, their wonderful staff has been on edge, hearing strange sounds, spotting dancing shadows, and even seeing our precious artifacts move on their own. It's a real head-scratcher! They have turned this eerie enigma into an exciting adventure for the whole family. They've uncovered ghostly clues hidden throughout the museum, and it's up to you to help them unveil the true identity of this ghostly presence. Are you up for the challenge?
Address: 1905 Ogden Ave, Vancouver, BC
Open October 27 – 29, 10am-5pm
Museum of Surrey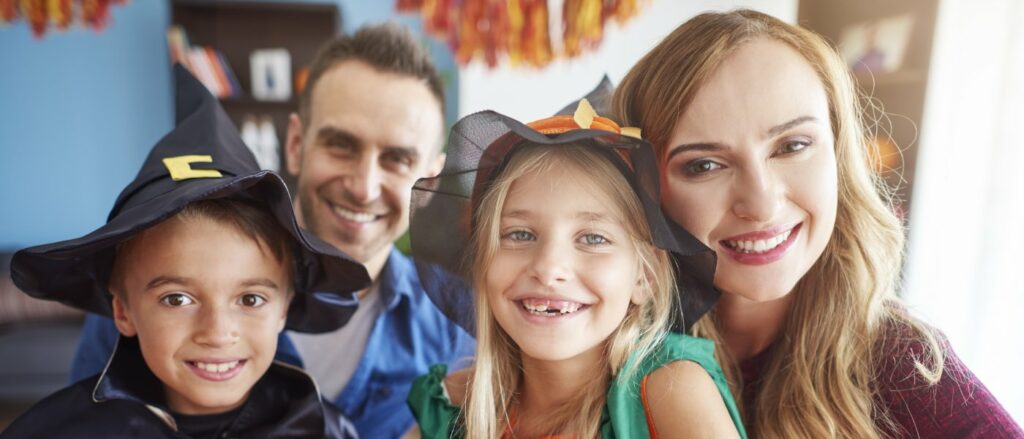 Boo-Seum Party (October 28, 1pm-4pm, Free)
Engage in Halloween crafts and embark on an exciting scavenger hunt to uncover hidden treasures. Get ready to shout "BOO" as you play Halloween-themed Bingo, and don't forget to join our costume parade.
To top it off, participate in our costume contest for a chance to win exciting prizes and make your Halloween celebration truly unforgettable.

Tots Halloween (October 26, 10am-1pm)
It's time for some spook-tacular craft time, where our wee ones (ages 0-5 years old) can get their hands busy creating creepy, cute, and totally crafty Halloween goodies. Your little explorers will have the chance to meet their museum mascot, Raj! They've got a whole bunch of Halloween activities lined up, designed to bring out the giggles and grins in your little ones. From spooky stories to games and more, there's something for everyone.
Address: 17710 56a Ave, Surrey, BC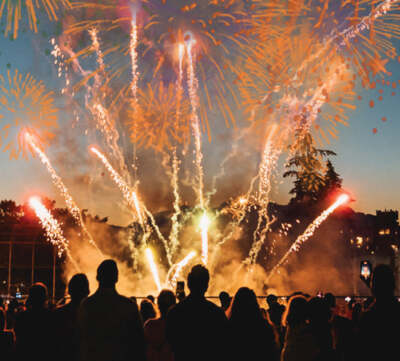 Central Spark (October 27 – 630pm-830pm)
Get ready for the spookiest and most dazzling event of the season at Central Park on Friday, October 27th! Families, mark your calendars for an unforgettable Halloween-themed night packed with fun activities, games, delicious food trucks, mesmerizing fireworks, and much more.
Address: Central Park – 3883 Imperial Street, Burnaby, BC
Spooktacular Newton in Surrey
Spooktacular Newton: Trick-or-treat, mini golf, kid zone, face painting, food trucks, haunted train. Dance performances by Surrey Dance Company. Grab a pumpkin (donation to Surrey Food Bank). It's a free, family-friendly Halloween street festival on October 28 – wear your costume!
Address: on 137 Street Between 72nd Avenue and 74th Avenue, Surrey, BC
October 28, 11am-4pm, Free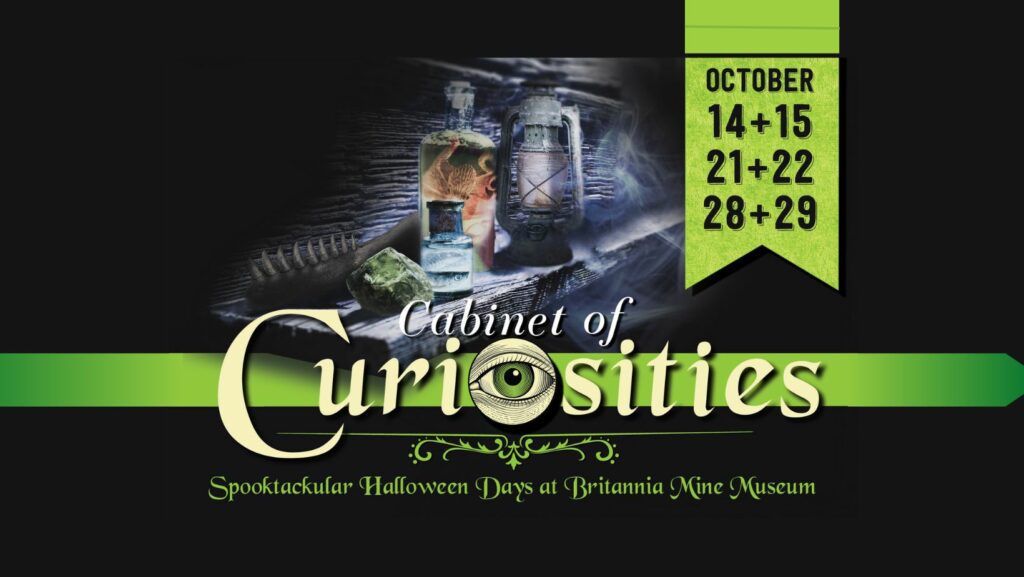 Embrace family-friendly chills and thrills this Halloween by stepping into the mysterious Cabinet of Curiosities. Explore its intriguing contents up close and unlock the secrets that lie within. Your adventure awaits, and as you dare to enter, prepare to be captivated by the wonder and terror of this captivating journey into the unknown.
Address: 150 Copper Dr, Britannia Beach, BC 
October 21 & 22, 28 & 29, 10am-3pm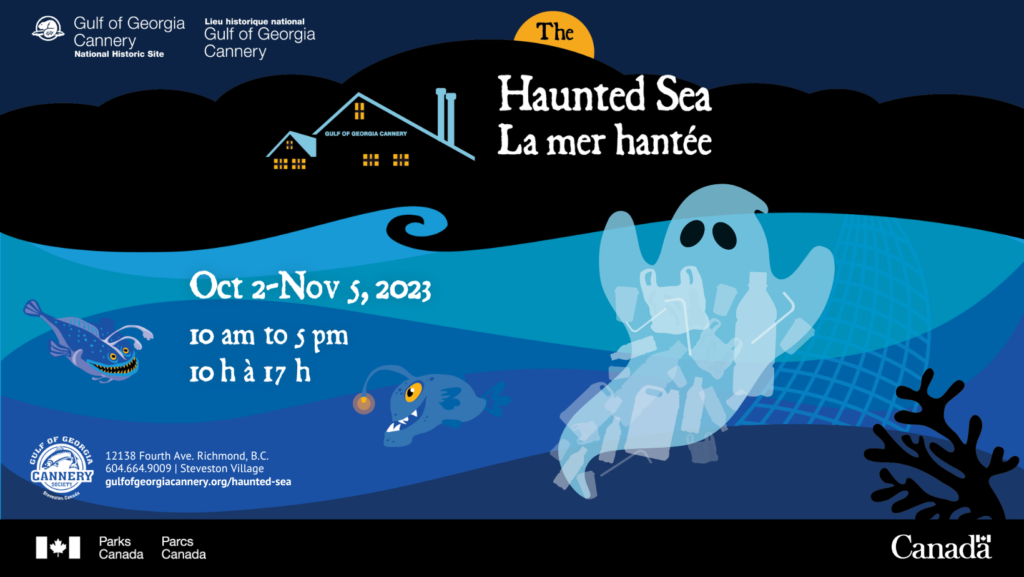 Dive into their thriving coastal waters, where life teems beneath the waves. Yet, their ocean is haunted by a sinister presence: plastic pollution. Explore the depths of the sea and come face to face with vibrant creatures crafted from upcycled materials, all to uncover the vital actions we can take to make a difference.
Address: 12138 Fourth Ave, Richmond, BC
Open now till November 5, 10-5pm
Hold onto your broomsticks, for Playland transforms into a realm of terror and thrills! Fright Nights promises spine-tingling haunted houses, bone-chilling rides, and a monstrous amount of fun.
Address:  2901 E Hastings St, Vancouver, BC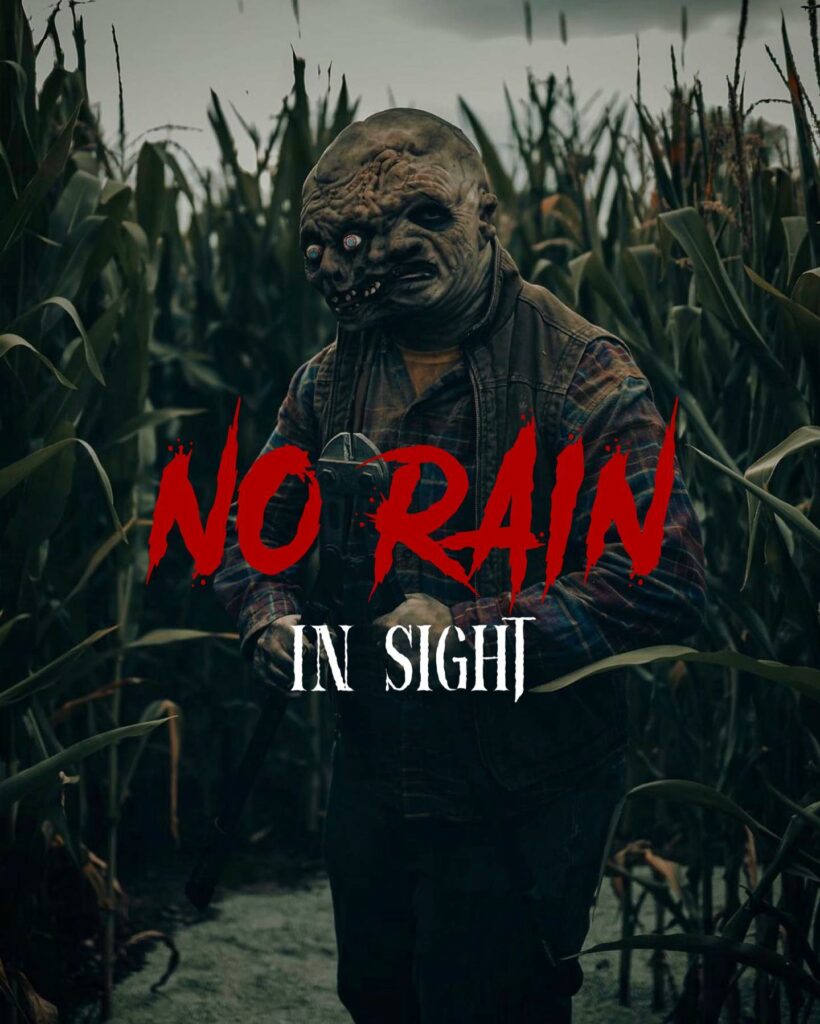 For those seeking a hauntingly good time, Maan Farms is the place to be! Prepare yourself for their most spine-tingling attractions: the Slaughterhouse, The Way Down, and Homestead. Are you brave enough to take on the challenge? Recommended for ages 14 and up.
Address: 790 McKenzie Rd, Abbotsford, BC
Open now till October 31, 7pm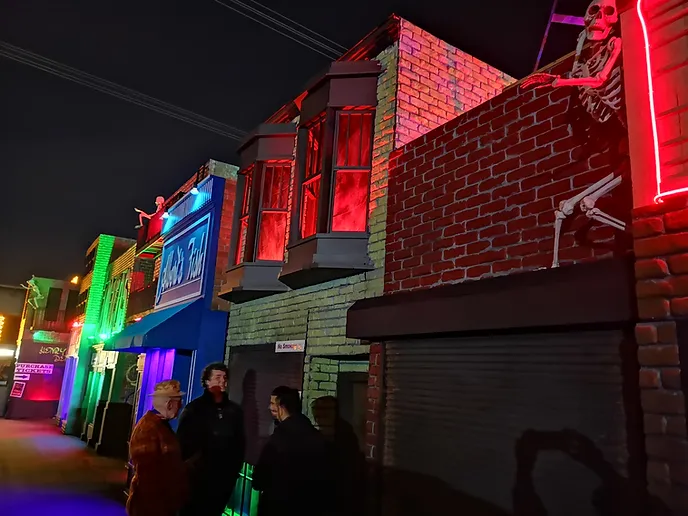 Get ready for a hauntingly thrilling night with "NEW YEAR'S EVIL," "ECHOES OF ABBATH," and our eerie new attraction, "SINNERARIA." Plus, brace yourself for the carnival-themed maze, "ZYCHO ZERKUS." An unforgettable Halloween experience awaits. Recommended for ages 14 and up.
Address: 12530 72nd Avenue, Surrey, BC
>> Check out our list of top pumpkin patches
Enjoy the last bit of October and be sure to tag #VancouverMom in all of your Halloween photos this year. Have a wonderful and safe Halloween!
Vancouver Mom
Would you like to write for us? We welcome well-written guest submissions with a local interest slant. Share your tips, review local businesses and highlight hot trends for Vancouver moms. Get all the info on our Contributor Page!