Podcast: Chatting with Will Stroet
Children's entertainer Will Stroet doesn't really require an introduction. The bilingual singer and songwriter has been a favourite of Vancouver kids for years. We were delighted to be able to sit down and chat with him on this edition of the VancouverMom.ca Podcast.
What to do in Vancouver: See Will's Jams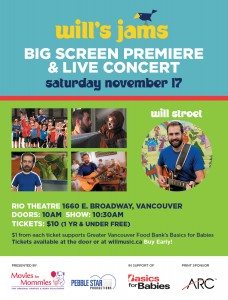 If your kids are Will Stroet fans, then you'll want to add his upcoming show at the Rio to your event. At 10:30am on November 17, 2012, Will and his band will be presenting a 30-minute concert featuring their most popular songs. Then, the Will's Jams DVD will have its big-screen debut. Tickets are $10, and kids under one year are free. Plus, $1 from the price of each ticket will be donated to Basics for Babies. What's not to love?
During our podcast we talked to Will about his upcoming concert. We also discussed how he got started as a children's entertainer, what it was like to make a DVD, the rich Vancouver kids music screen, and more. We also addressed some of our burning questions, such as how he makes kids music that children and parents enjoy. After all, if your three-year-old loves a song you're going to be hearing a lot of it. It's important that the song doesn't offend your eardrums. For the most part, Will manages to hit just the right balance and we wanted to hear more.
Will Stroet Podcast
Whether you're a Will Stroet fan from way back, you're on the hunt for some non-annoying kids music, you'd like to know more about the upcoming show, or you'd like some songs to enhance your child's French, you'll want to listen to our podcast:
Will Stroet
willmusic.ca | Twitter | Facebook | YouTube
Amber Strocel
Amber Strocel is a writer, aspiring math teacher, suburbanite, wife and mom of two. She believes in the power of the Internet to connect people, and she believes that numbers are the poetry of the universe. You can often find her knitting, sewing, volunteering, working in her garden, and sneaking chocolate when no one's looking. She blogs at Strocel.com and shares her photos on Instagram as @AmberStrocel.