Mom to Follow: Suzanne Solsona of the North Shore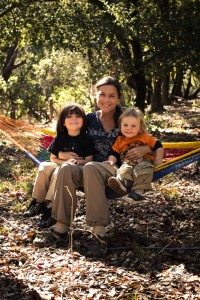 Suzanne Solsona is the founder and CEO of, MyMayu, a little company that she shares as having "big dreams of changing outdoor footwear for kids." Gone are the days where kids are tripping over their feet in big, clunky boots. Her boots make room for play and will, most importantly,  stay on! As the mother of two boys and BC as her backyard, exploration is practically unavoidable- Suzanne soon realized the footwear being made for kids were impeding their fun. Learn more about how living in the North Shore inspired her and her husband to find a solution to this problem.
Mom to Follow: Suzanne Solsona
What neighbourhood do you live in, and how long have you lived there?
We live in North Vancouver, near Edgemont Village. We moved here in March after several years in the San Francisco Bay Area for my husband's work. It feels GREAT to be home! I missed Canada a lot and am proud to be back with two little boys eager to explore.
What is your favourite thing to do with your kids in your neighbourhood?
The best thing about the North Shore is all of the green space. There are so many little paths and parks to explore with our boys! The best thing for all of us is fresh air, rocks and sticks Even when it is raining, I make sure we get out for at least a short walk and truth be told, I am the one having to drag them back inside!
What is your favourite place to eat out with kids in your neighbourhood?
The boys love to eat sushi! We are currently trying out every single one on Lonsdale Avenue. No favorites yet, but we'll keep you posted.
Where is your favourite local coffee shop?
Hands down, Cafe Artigiano in Edgemont. One grande Americano misto with foam for me, please!
What is the best thing in your neighbourhood that the rest of Metro Vancouver doesn't know about?
Our backyard is basically the woods of Murdo Fraser Park. We have spent countless hours by the stream, in the forest and walking the little paths. Soon, I'll get the boys on the golf course here!
What is your favourite local playground?
In the summer we discovered the zip line feature at a little park near McKay Creek. The boys will ride it for hours!
What inspired you to start your own business? 
When our youngest was 10 months old he started walking and I could not find any boots that fit him or that he could walk in. He kept doing face-plants into the puddles because the boots were so clunky and heavy. I thought it was crazy that no one was making a boot for little kids that allowed them to play freely without tripping over their feet, so my husband and I set to work and invented one. Three years later we have our first line of toddler boots on the market and parents and kids alike are loving them! We even have adults asking when we'll make them in their size! I love that we are encouraging outdoor play for the entire family. Every time I see a little person in our boots running around unencumbered by clunky footwear, I literally get chills down my back. It is the greatest reward.
How does the community/city that you live in inspire your designs?
We are avid outdoors people and the Vancouver area is bursting with people who love to be outside! People here expect functional, high quality gear so that they truly enjoy our natural surroundings. We are always seeking feedback from parents and kids after they have used our products so that we can continually tweak and improve our designs; it's a constant conversation that I love.
What is your favourite thing about doing what you do?
Before children, I was a lawyer. Having a law degree really helps me in running our business. We are family run and so I wear a lot of different hats. I do everything from sourcing materials, transportation and logistics, legal matters (of course!), direct sales to customers, working with our retailers and running our social media campaigns and other marketing efforts. I am always learning something new and encountering new challenges. I love this! Being able to maneuver quickly is important in today's market and we have to do it in order to keep our customers and retailers happy. As a small company we are able to implement changes in our products and processes efficiently and quickly because we make the decisions- there is no corporate board to report to! Basically, I love running a business and am proud that we are making a valuable product for young families.
Vancouver Mom
Would you like to write for us? We welcome well-written guest submissions with a local interest slant. Share your tips, review local businesses and highlight hot trends for Vancouver moms. Get all the info on our Contributor Page!