Steel Toad Brewpub: Checking out a New Mount Pleasant Eatery
With so many craft beer restaurants and tasting lounges popping up all over Vancouver you'd think we'd be drowning in breweries already. But the taste for all things craft beer is only gaining momentum in our fair city. In the Mount Pleasant area where my family resides there is Craft Beer Market and The Tap and Barrel in the Olympic Village, 33 Acres up on E 8th and the Brassneck Brewery on Main Street, not to mention others that have no doubt popped up since I was last on the hunt for a family friendly restaurant that serves craft beer. That's how I came across Steel Toad Brewpub.
Valet Service and Bouncers?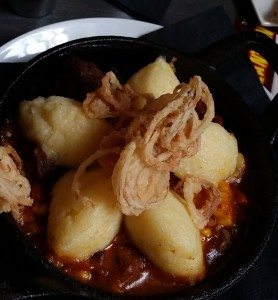 We went to the Steel Toad Brewpub with friends just after it opened a few months ago. The restaurant is housed in that iconic red warehouse on 2nd Avenue that was given a major overhaul and reminds me of the Salt Building that Craft Beer Market is in.
What surprised me at first was the valet service and the bouncers at the door. Maybe they were expecting a rowdy crowd, it was a Saturday night after all. The coat check was a nice touch especially on a rainy Vancouver night (of which we have more than our fair share). The decor is upscale and with 50 foot ceilings it has an airy feel with seating for 150+ people. The ambiance is my favorite thing about Steel Toad Brewpub. The live music in the evenings provides a lively, fun atmosphere to spend some time with friends.
Good Ambiance, Meh Food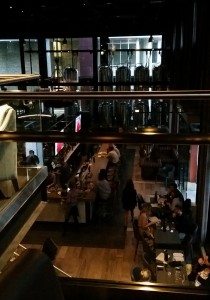 We were ushered upstairs to the main dining area and given a table that accommodated our large group with three kids nicely. At the time we were there they were having issues with their liquor license, which meant that they couldn't serve their own beer. Rather than let it go to waste they were giving it away in flights. We were off to a good start!
Having a look at the menu we quickly realized that it was not really kid friendly. We ordered the Shepherd's Pie which was actually quite good but the kids didn't eat any of it. They did have the fries which were a life saver however because the kitchen was a bit slow getting our food out. As we waited on the food I looked around and downstairs at the bar area I thought that it would be a great place to watch a Canuck's game or a fun date night.
When the food arrived however I wasn't impressed. My burger was dry and not served according to what the menu said. I suppose they had a few glitches to work out and the staff was more than accommodating. The other people at my table were equally unimpressed, one had the trout which was bland and served with what appeared to be precut frozen vegetables. The beer was good however and like I said I would love to go back to see if they've sorted their menu as the atmosphere is really nice.
See Also
Steel Toad Brewpub
steeltoad.ca | Facebook | Twitter
97 East 2nd Avenue, Vancouver (between Ontario and Quebec)
Lee-Anne Ekland
Leeanne Ekland is a stay-at-home mom of one, who's on a mission to rediscover love, wellness, and neighbourhood happenings and to have a ton of fun. She's also a lover of wine and yoga and believes that sharing her experiences at www.MomParadigm.com brings her closer to living her best life. Having started the parenting experience much later than most, she offers a unique perspective on the challenges and all that is amazing about being a mom over 40.