Trending: 10 playgrounds with spectacular views
Guest post and all photos by Laura Crawford, a North Vancouver mom of two and the voice behind Pretty Petunias.
The North Shore is home to many playgrounds with killer views. Here are a few of our favourites.
10 North Shore playgrounds with spectacular views
John Lawson Park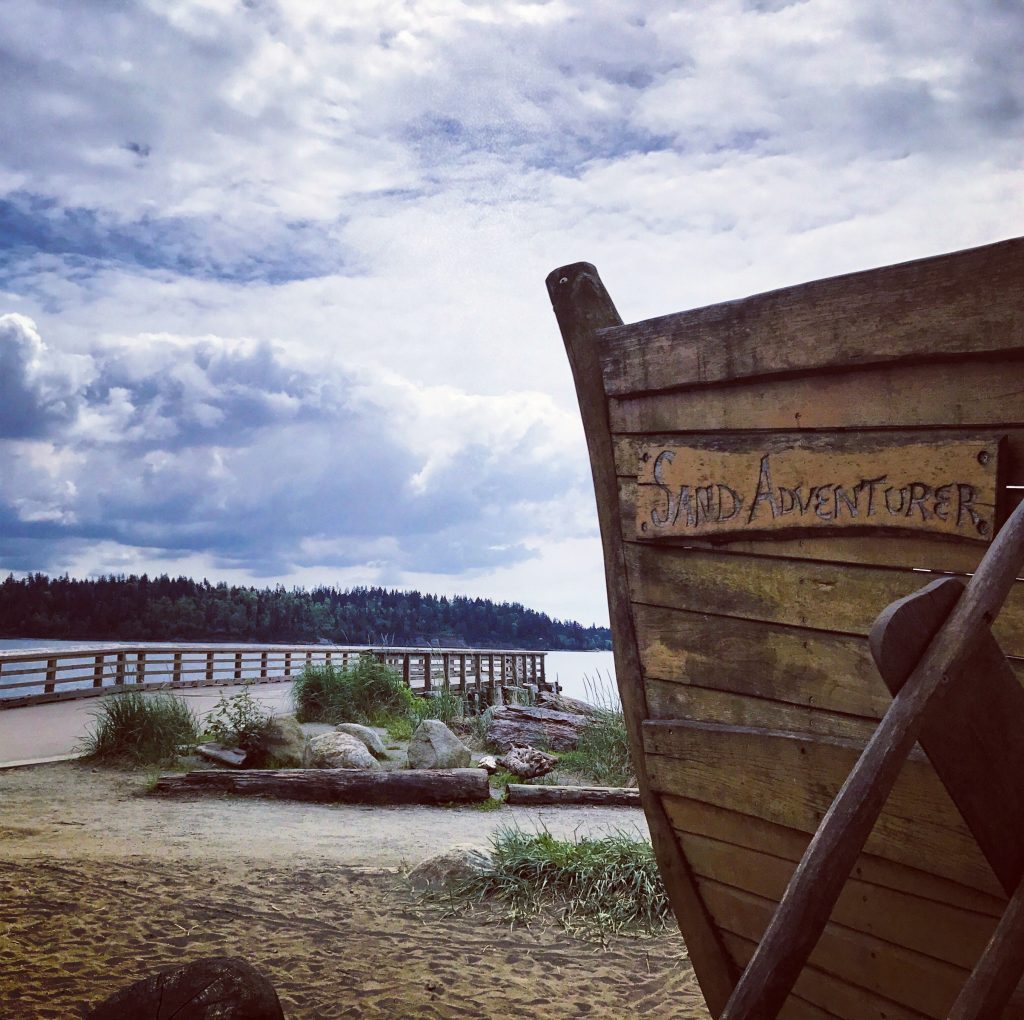 This is a very popular, well known park and for good reason. It is on the ocean and where the Spirit Trail and Seawall walk meet at Ambleside. There is lots of grass and trees for shade (or climbing) flanking either side of the playground for picnics. Plus with beaches, a pier, ocean views and a water park – this park boasts it all. There are bathrooms nearby and train tracks as well. Plus caffeine and frozen yogurt in walking distance.
Located at the base of 17th St, West Vancouver
Ambleside Park Playground
This newly renovated park is beautiful, especially with some of its new, natural wood features (like a real see-saw). Our kids are obsessed with the pump and water feature that allows you to maneuver sand and water thru dams and trails! Also it is basically on the beach (hence the sand), so the view and ambiance is hard to beat. It is also adjacent to the washrooms, concession, skatepark and basketball courts. Nearby is of course the beach, multiple sports fields, pitch and putt, a duck pond and the Spirit Trail.
Located at the foot of 13th St in West Vancouver
Dundarave Park
This park is on the western end of the Ambleside Seawall, that begins at John Lawson Park, and is even closer to the ocean (is that even possible?!). There is something so much better about pushing a child on a swing eternally, while looking at an incredible view! Though this is an older playground, best for climbing or swinging, there are still picnic tables, benches, washrooms and plenty of sea glass or rocks by the shore to discover.
Located at the foot of 25th St in West Vancouver
Horseshoe Bay Park
This is another ocean adjacent playground often taken advantage of by families awaiting their ferry. But this park can hold it's own, without a ferry ride. There are bathrooms and water features in the summer and some seating for parents. Be aware that this park can often be a bit breezy. Plus there is coffee houses, fish and chips, a pier and ice cream nearby!
Waterfront – along Bay Street in Horseshoe Bay Village
Whytecliff Park
The playground itself does not have a view, but the boulders and look outs adjacent to the playground offer some of the most incredible ocean views, plus many fun paths and large rocks to scamper around and explore. Great fun for kids that are steady on their feet.
7102 Marine Dr, West Vancouver (a little off the beaten path, best to look up directions)
Carisbrooke Park
This is an upper Lonsdale playground in a lovely neighbourhood park with peek boo views of the city. One of the few playgrounds that still has an old fashioned merry-go-around. The rest of the playground has been updated to more modern fixtures. This playground is just a small part of this upper Lonsdale gem, with beautiful old trees, winding paths, rolling hills, picnic benches and even a little rose garden.
North East Corner of Lonsdale Ave and E. Osborne Rd, (parking on E. Carisbrooke Rd and E. Osborne Rd.)
Cates Park (Whey-ah-Wichen)
This is the park that other parks aspire to be!! A huge double playground up on the hill for all ages of kids, with lots of open spaces and picnic areas. Bushes to explore, beaches, trails, a boat launch and bathrooms (yes multiple). Not to mention piers, picnic benches – open and covered (available for rent). As well as the beautiful trail to Little Cates Park, boasting some incredible rocky, rather private beaches.
4141 Dollarton Hwy, North Vancouver
Little Cates park
This park has a playground, seasonal bathrooms and tennis courts, plus an old concrete mill foundation for exploring. There is plenty of open space for sports or picnics, plus it's only a brief ten minute walk to the larger Cates Park and beaches.
4000 Dollarton Hwy N, North Vancouver (but actually accessed by Seashell Lane, off of Dollar Rd)
Deep Cove Playground (Panorama Park)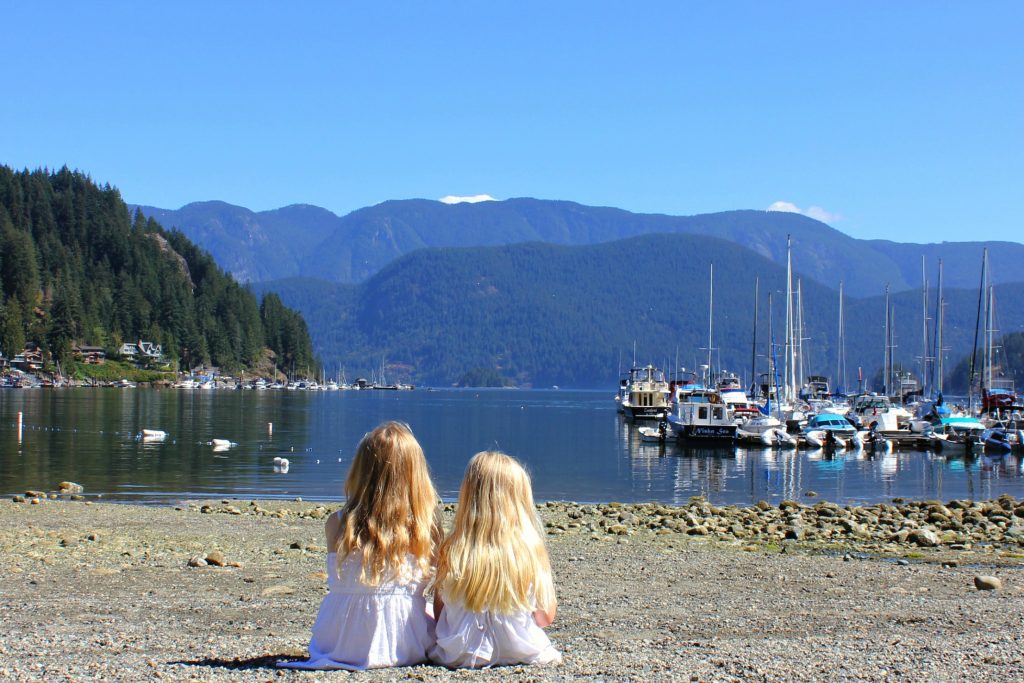 With beautiful views of the cove and generally shaded, it just happens to be steps from the beach, hiking trails and some of the world's best doughnuts (and many other wonderful establishments). There is also a nearby bathroom, kayak rentals and stage for summer concerts. However, with it being no secret just how great Deep Cove is, parking may not always be your friend!
4900 Gallant Avenue (also accessed off of Banbury Road and Rockcliff Road)
Waterfront Park
Arguably perhaps not a full playground (no swings or slide), more for kids old enough for climbing, but lots of open space and hills. Plus room to roam and explore with boats and trains to see. It also happens to be walking distance to Lonsdale Quay, the Sea Bus Terminal and it has a bathroom. Adding to it's charm, it must be accessed on foot, either over the two pedestrian overpasses that cross the train tracks from Esplanade or from the foot of Chesterfield, by the Sea Bus drop off. It's worth noting that this hilltop playground can get rather muddy in the surrounding areas on wet days (whether this is a pro or a con depends on who you ask)!
The 200 block of Esplanade W, North Vancouver
The Shipyards Playground
A small, but beautifully landscaped playground, that's geared for smaller kids. The view is incomparable (ocean and city) and The Shipyards, Quay and Pier are nearby for exploration! It also happens to be mere steps from the many delicious restaurants, coffee shops and frozen yogurt options that the base of Lonsdale has to offer.
Shipyard's Square (east of the Pier) – The foot of Lonsdale
This is by no means an exhaustive list of playgrounds, but some of our favourites that make living on and exploring the North Shore so enjoyable.
Vancouver Mom
Would you like to write for us? We welcome well-written guest submissions with a local interest slant. Share your tips, review local businesses and highlight hot trends for Vancouver moms. Get all the info on our Contributor Page!