Five reasons to send the kids to Knight Camp!
Knight camp? In a sea of summer camps to choose from, Knight Camp stands apart as a unique, active, and surprisingly relevant camp for our hectic tech-soaked modern times.
Did you know that Academie Duello's Knight Camp teaches not only skills, but places a strong emphasis on knightly virtues like humility, justice and integrity?
Knights and the culture of knighthood have long been a fascination for kids and adults alike. Swordplay, jousting and archery have a strong hold on the popular imagination as seen in such hits as A Sword in the Stone, A Knight's Tale and Lord of the Rings not to mention their infiltration into Playmobil and Lego sets. So why not actually learn about knighthood for real!
Five reasons to sign your kids up for Academie Duello's Knight Camp this summer
1. Old-fashioned values for the modern world
Teaching children centuries old knightly principles steeped in ancient virtues can help them in today's modern, ever-changing world. Knightly skills cannot be taught without also learning about history and virtues such as justice, mercy, charity, nobility, integrity and courage. Kids need to complete levels before they move up a rank. There is no fast-tracking (or jumping to a new online game) and patience and focus are required.
2. Learn historic skills and have fun
This is much more than book learning! Students are trained in the martial arts of the longsword, sword and shield, and staff, and they also learn about history, leadership, heraldry, archery, medieval games and more.
3. Physically active and educational
If you have a book worm or a child obsessed with medieval history, this camp will satisfy their desire for learning and also get them moving. For active kids, Knight Camp satisfies their need for movement but adds a layer of focus and learning to the mix. Students are sent home pleasantly sweaty and satisfied after class.

4. Feel what it's like to be a real knight
All participants get to use properly weighted and balanced synthetic swords that give the authentic feel of the real thing – while staying safe and easy to manage. Students also get to interact with real swords and armour as well as create their own shield.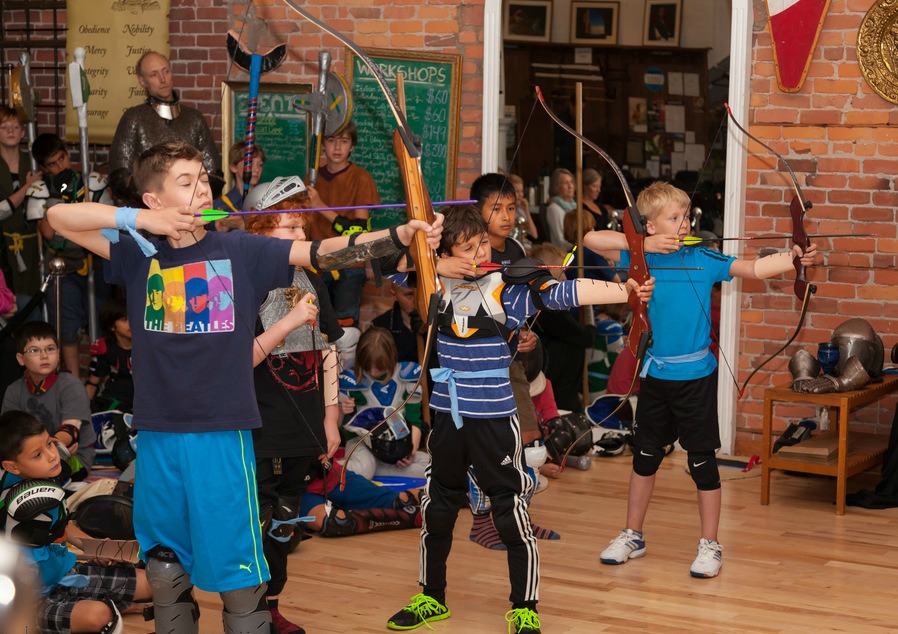 5. Authentic, passionate instruction
Experienced instructors share their love of (some might say obsession with) martial arts and medieval history. In fact, Academie Duello's Knight camp is the only authentic knight school for youth (ages 8 – 14) in Canada. And campers love it! Knight Camp was voted "The Best Children's Camp" by the Georgia Straight and takes place at a beautiful facility in downtown Vancouver with an historic and medieval flare.

On the final Friday of camp, students show off their skills in a grand finale open to friends and family.
Registration fills up quickly, learn more and sign up your kids at www.knightcamp.ca!
This post is sponsored by Academie Duello

The five-day camp is focused on the skills of becoming a knight – from martial arts of the sword and shield – to the practice of knightly virtues such as courage and integrity. Students at Knight Camp learn about history, leadership, heraldry, archery, medieval games and much more. It's an experience your kid will always cherish. Find out more at www.knightcamp.ca
Harriet Fancott
Harriet Fancott is the Editor and Social Media Manager for Vancouver Mom. She has over 20 years experience in the arts, tech and mom-based blogging arenas. She lives in East Vancouver with her husband and son where they enjoy exploring all that Vancouver has to offer from festivals and events to playgrounds and beaches to sushi and ice cream (although not together).