With three weeks left before the New Year, a whole lot of stay-at-home orders and very few organized activities due our ongoing pandemic, we certainly need to get creative to get in the holiday spirit.
Lists of local Christmas Lights with virtual maps have surfaced but, if you're like me, and find yourself wondering hey what's all this (electric) buzz about anyways?… then here are four not-to-be-missed locations.
Four epic home Christmas light displays!
1. Vancouver – Best inflatables
1818 Drummond Drive (near UBC), 5-11 pm, nightly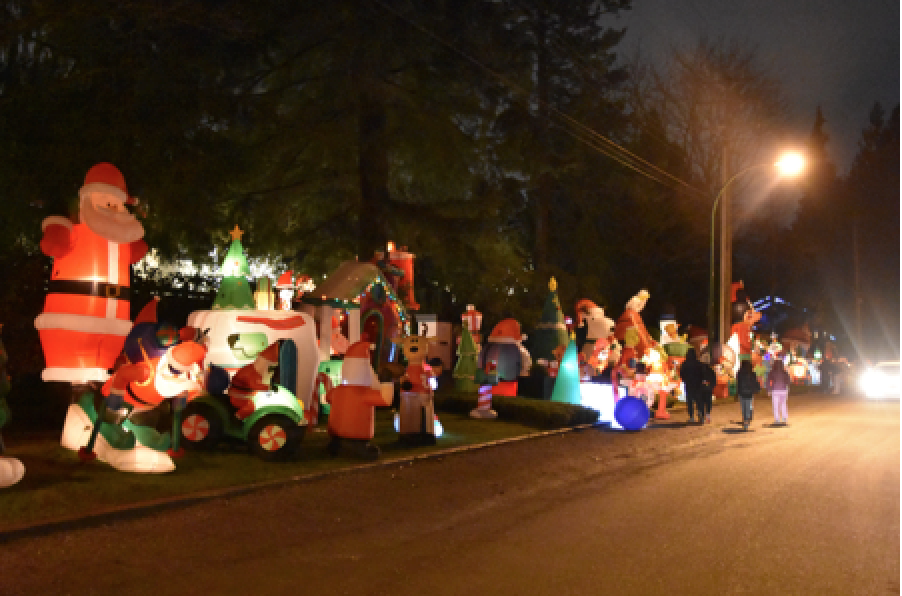 With parades cancelled this year, why not take a drive and find your own?
As their first time joining the holiday festivities, this West Point Grey mansion has lined their massive residential block with as many character inflatables imaginable. From Disney characters galore, to a special 'Santa Doing Things' section, to even a Poopin' Santa, to fuel my son's current obsession with toilet humour—this mini parade down Drummond Drive is worth the drive out to UBC.
Some exit their vehicles for a closer look as this display spans over a quarter mile. Remember to stay masked and respect the distance between others. As this street falls against a green space on the other side, feel free to drive down slower than usual to enjoy the every inflatable and look out for the Poopin' Santa.
2. Burnaby — Best vantage from a parked car
The DuPlessis Family Christmas Display
** CANCELLED AS OF DEC 28 DUE TO COVID PROTOCOL VIOLATIONS**
8222 Burnlake Drive, Burnaby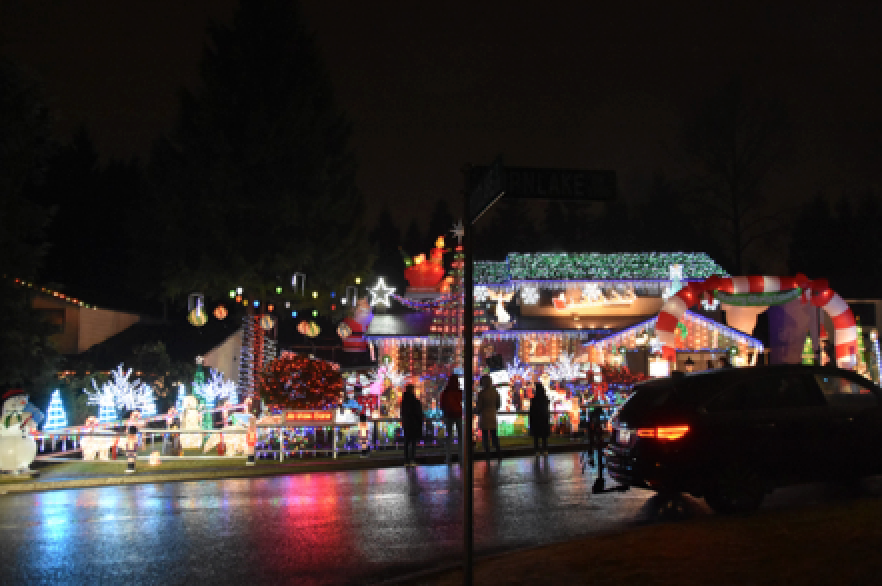 As one of the longest running Christmas light displays, this marks the 25th anniversary of the DuPlessis' light display—it's no wonder that this beloved Burnaby home is one of the most talked about light displays and high on many lists.
The DuPlessis Family Christmas Display is up and shining brighter than ever. The classic structures built by and in memory of Frank DuPlessis are up this year and they've also included a 12-foot Grinch upon his sleigh, a misfit island and a forest of trees. As the location of this home is at the bottom of a cross section T street, it's location provides an excellent vantage point for your parked car as you leisurely enjoy the lights from a distance.
A good point to note, as the main spectacle of The DuPlessis Family Christmas Display is their 12-minute light show timed to music by tuning to 92.3 FM. The nightly show runs from 4:30 pm-midnight until January 10th, 2021. As with every year, they are collecting donations for BC Children's Hospital Foundation, so be sure to check this display out for great lights and an even greater cause.
3. Port Coquitlam – Best (Most) Lights per square foot
Miracle on Rae Street
3313 Rae Street, Port Coquitlam, 5-11 pm, nightly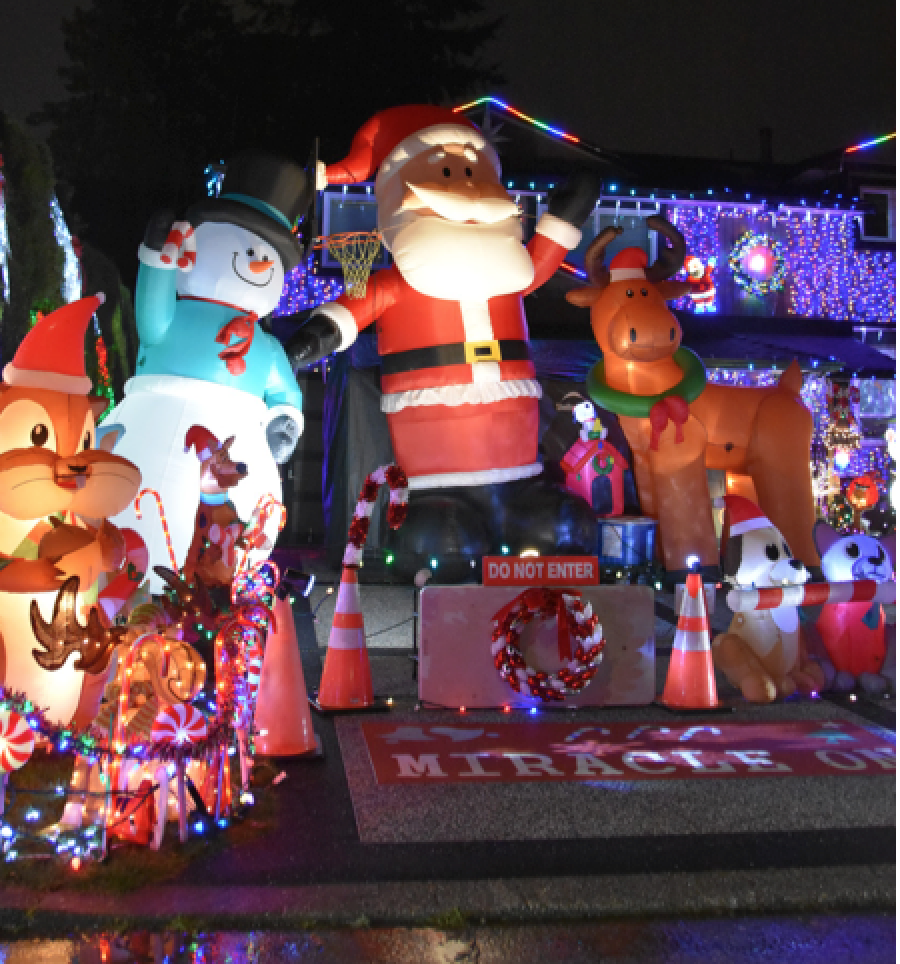 Giant 90-foot fully decorated Christmas tree surrounded by 200,000 lights—need I say more? This year is still as bright, but minus the 90-foot tree.
The Miracle on Rae Street has been growing over the last decade and homeowner Dale Brindley is determined to make each year better than the last. I spoke with Mr Brindley's eldest daughter, and she explains that this year they are switching to a Drive-Thru only event and have scaled back on their display—including their iconic 90-foot Christmas tree. She mentioned that this year has been a difficult year for most and in order to comply with the current health orders, they have changed their way of doing things but will be back bigger than ever in 2021.
This award winning Christmas display is one of the most talked about displays in the Lower Mainland and it's no surprise that it won top honors in @pulse1077 FM's annual Christmas Light Challenge last year. In the usual year, this impressive 200,000 lights display is synchronized to music, festive background displays, hot chocolate station, a mini TV that plays holiday classics on repeat and a walk-through route that takes you to a fire pit & gazebo. In fact, every square foot of space is covered in Christmas lights making it the BEST residential spectacles in the Lower Mainland by far. Yet, be sure to check this one out this year should you be in this area, as they will be sure to come back brighter than ever next year and you would be able to witness the growth.
4. Surrey — Best (most) Meaningful
Wish Upon a Star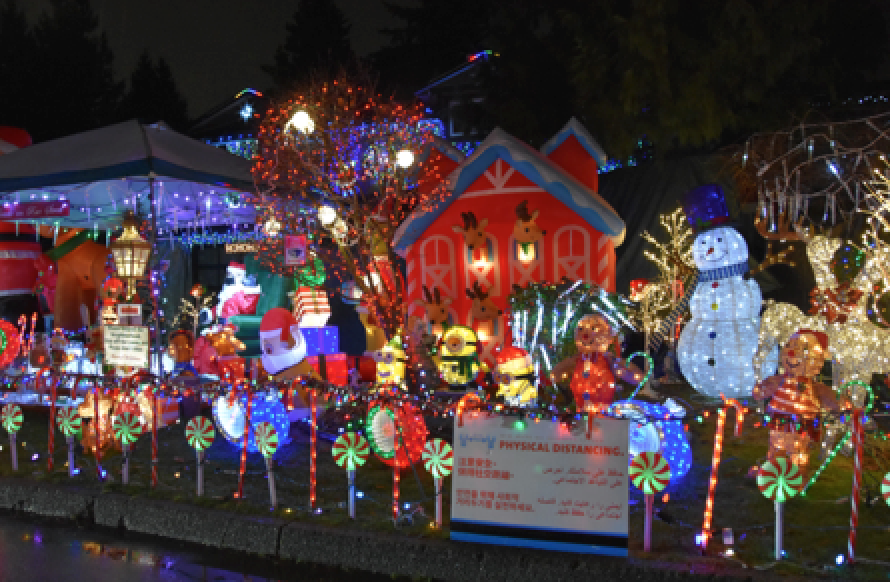 19367 62A Avenue, Surrey 5 pm-midnight, nightly
If you're a local Surrey resident, you would have seen this one for sure. An annual Surrey tradition continues with the Wish Upon a Star Christmas light display that helps raise donations for the BC Children's Hospital. The display features 40,000 lights with Santa and his sleigh, an interactive musical snowman and a light show.  This year, they also have a sanitizing station for all guests; however, please remember to not gather in one space and please wear a mask in public areas.
This local home has it all, including hot chocolate, a free toy draw for kids and even the jolly ol' man himself, Santa will visit from the North Pole to visit Wish Upon a Star for Monday, December 21st from 6pm–9pm (weather dependent). Surely a delight for all searching for that extra Christmas spirit this year.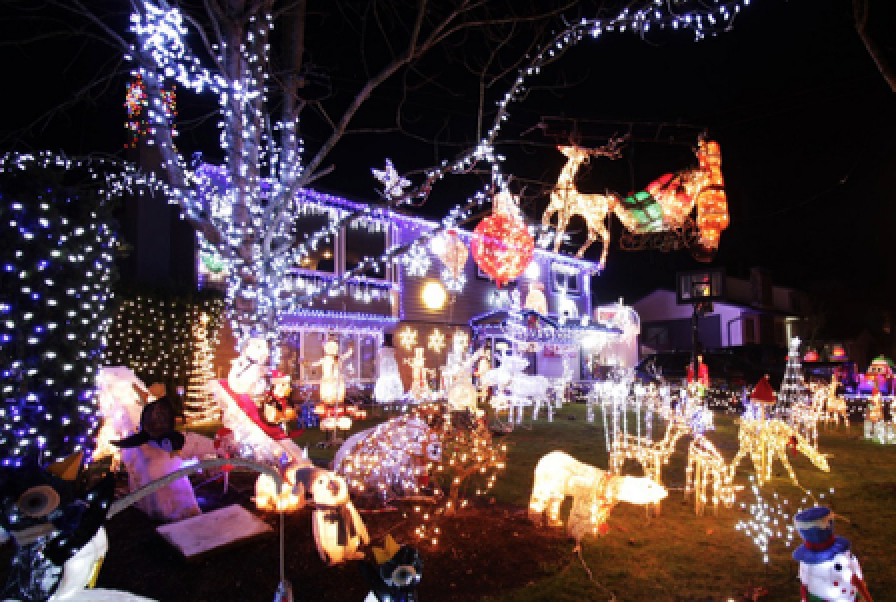 Connie Hobbis
The author behind @buddycons, Connie writes about her detailed adventures with her kids around BC (& beyond), believer of 'presence over presents' in motherhood & literacy development in children. She shares tips on traveling with ease with kids, home organization & gentle minimalism with having less. She lives in the Metro Vancouver area with her husband & two kiddos. Before becoming a mom, she worked in the Financial Industry and is a two-time award winning People Leader. Follow her adventures & updates on Instagram @buddycons.