With school in session and the stress of COVID-19 on almost everyone's mind, it's more important than ever to have a calm space for your child to unwind in and relax when they get home from school. Here's how!
There are many budget-friendly ways you can help your child deal with any worries they may have – create a mindful corner, play calming music or give them a massage.
Mindful corner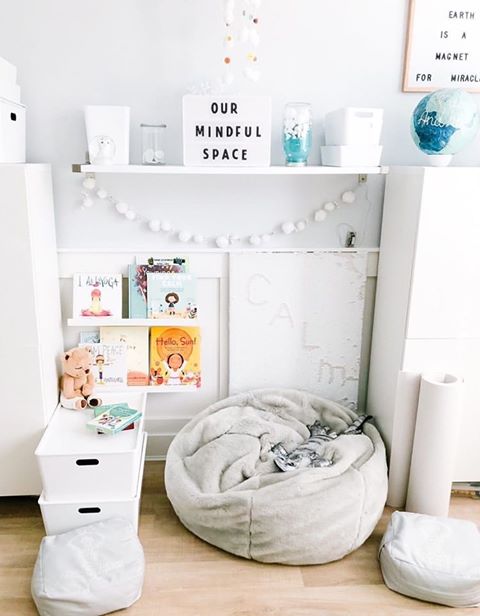 You can create your own calm space for your child at home with things you already have.
"The mindful corner doesn't need to cost anything to set up," Jennie Abbot, founder of Harmony Kids Yoga, said. "Just dedicating a corner, chair, blanket or even spot on the floor as the space where your child can go and practice mindfulness when big feelings arise is enough."
Abbot has created The Mindful You, Mindful Me Workshop to help parents establish their own simple mindful practices so they can teach them to their children and they can practice them together.
"The mindful corner is a place to feel all the big feelings and to express them in healthy ways," she said.
Music
Once you have your mindful corner set up you can find free music on YouTube or Spotify to help your child relax. Baby Einstein naptime music is a great option.
Massage
There are many immediate and long-term benefits for massaging your babies and children. It connects families and creates relaxation for both the child and the parents.
"Massage for babies and children is proven to increase the hormones that cause their body to shift to a more relaxed state," Marie Arcand, CIMI (certified infant massage teacher by IAIM), said. "At the same time, it diminishes the hormones that are present with stress — it is beneficial for everyone to reduce and manage anxiety."
It is very simple to learn how to give your children massages and incorporate it into your daily routine.
"Find someone who has knowledge about massages, find a book at the library or buy one," Arcand said. "Start with ease and learn the basic simple passage movements, practice and your confidence will increase with daily practice," she said. "It is not a chore, it is a special time in the day!"
Marie Arcand's book suggestion – Infant Massage (Fourth Edition): A Handbook For Loving Parents, by Vimala McClure
Most importantly, spending time with your child is the most important thing you can do. Lay with them in their calm space, listen to music together, talk and practice massages. This is a September none of us have ever experienced — the deeper connection you have with your child will make a huge impact in how they are dealing with any stress or fears they may have.
Kera Skocylas
Kera is a full-time mom with three kids. She lives in the suburbs of Vancouver and recently started Kids Cuddles Coffee, a 'mommy-news' blog. She loves going on adventures with her kids all over the Lower Mainland. She has a passion for writing and the news. Before becoming a mom she worked at CBC radio and at a local newspaper. Follow her on Instagram @kidscuddlescoffee