Swimming advisories at local beaches due to elevated E. coli levels
If you are like many families, you probably spent time at the beach this past weekend. With unseasonably hot weather, local beaches were crammed with umbrellas, floaties and picnic baskets. And we've never seen so many people actually in the water!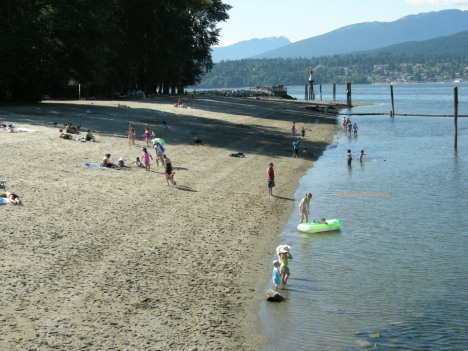 Unfortunately, just as the local temps peak and the Celebration of Light fireworks starts its annual sparkling displays, E.coli counts have closed a number of local hot spots including the wildly popular Kits (now open) and Sunset Beach swimming areas.
Vancouver Coastal Health (VCH) has closed various beaches off and on since June to swimming (and wading) due to unsafe levels of bacteria. Vancouver Coastal Health's safety guideline that determines when a beach is closed is 200 E. coli per 100 millilitre with recents count at over 15,000 per 100 millilitres of water.
High counts are blamed on water fowl, hot weather and boat waste.
Water areas now closed to swimmers due to high E. coli count
As of August 11, 2018
Jericho Beach
Sunset Beach
Barnet Marine Park
Trout Lake
Bowen Island's Snug Cove
>> For the most up-to-date swimming advisories, please check the VCH Website: 
It's important to follow the advisory as exposure to E. Coli can cause gastrointestinal illness, which can lead to vomiting and diarrhea and in extreme cases can be life-threatening.
If your little ones have been in the water, experts advise that you wash off with soapy water, paying special attention to cuts and scrapes, and wash their swimsuits and towels.
Thankfully there are lots of other beaches where the water is fine.
>> Check out these local beaches
>> Check out these local lakes
And if you'd rather play it safe, head to the pool!
Harriet Fancott
Harriet Fancott is the Editor and Social Media Manager for Vancouver Mom. She has over 20 years experience in the arts, tech and mom-based blogging arenas. She lives in East Vancouver with her husband and son where they enjoy exploring all that Vancouver has to offer from festivals and events to playgrounds and beaches to sushi and ice cream (although not together).