Weekend Getaway: Harrison Hot Springs Resort and Spa
One of the best parts of living in Vancouver in the summer is the wide variety of activities you can enjoy in and around town. There are festivals, block parties, street parties and more than your share of spectacular patios and beaches to soak in the summer sun. Sometimes you just need a weekend getaway, though. When city life leaves you pining for a different kind of adventure, check out Harrison Hot Springs Resort, a mere one hour and forty minute journey from the centre of Vancouver. I actually enjoy the drive out that way now that the new highway and toll bridge is finished. I don't even mind paying the toll as when you have kids in tow, time is precious.
Harrison Hot Springs Resort

We arrived at Harrison just before dinner time and were hungry. Check in was swift and friendly and the one bedroom suite spacious with a spectacular view of the lake. With our bags mostly unpacked we went down to the Lakeside Cafe and had a lovely dinner – almond encrusted salmon for me and a perfectly grilled steak for my partner. Our toddler chose the grilled cheese off the full kids' menu.
After dinner we went to explore the famous and relaxing hot springs mineral swimming pools. Harrison Hot Springs Resort & Spa has five different hot-spring-fed mineral pools, each at a different temperature. Pick one and you can play with the kids, sit quietly, swim laps or chat with friends, indoors or out. You're sure to find the perfect place to suit your mood. Simply float, frolic and let everything drift away.
Relaxing Weekend Getaway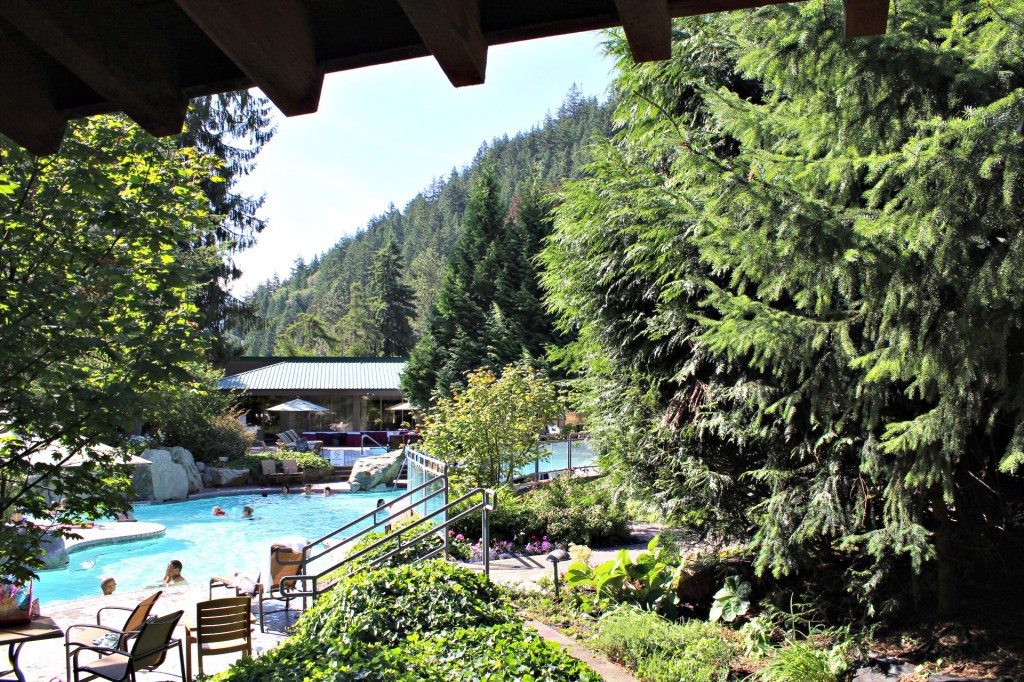 Our son thoroughly enjoyed splashing in the family pool around and I loved that there wasn't a trace of chlorine in it. The pools are fed from natural hot springs not far from the hotel and with it comes healing properties you can only get from mineral spring water. It leaves your skin feeling rejuvenated and your mind relaxed.
When it was time to turn in for the evening I was impressed – no, overjoyed at how comfortable the beds were and with the patio doors opened just slightly the air off the lake was cooling and pleasant.
Exploring Nature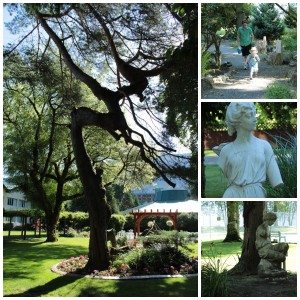 The next day we enjoyed a fabulous buffet breakfast, and I'm told that the weekends are a sell out. There was everything from omelets made to order to a variety of lush mini pastries, freshly baked breads, pancakes, eggs and all the fixings. And I have to say that the coffee was strong, just the way I like it. That was a pleasant surprise.
After a nature walk on the lovely grounds it was naptime so I left my little one and daddy and took a boat tour of the lake. We disembarked for a few minutes to take in Rainbow Falls, named for the rainbow that appears at the bottom of the falls at just the right time. We had a chance to feel the spray of the falls on our cheeks and snap a few photos before we headed back to enjoy quad-cycling, a fun way to explore the town together.
Outdoor Family Fun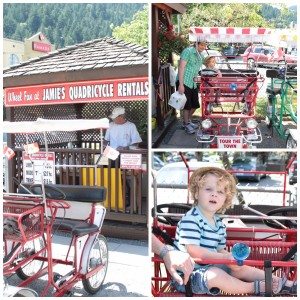 As well as the quad cycling there were other outdoor family fun options. One example is the brand new inflatable water park, which looks like a total blast. We'll come back just for that for when our son is a few years older. There are also bumper boats and you can run or race your friends on the water in big hamster balls. If the beach is more your style, they have one of those too.
It was so nice to get away from the busy-ness of the city and with an oasis like Harrison Hot Springs so close to home we will definitely go back. Harrison Hot Springs Resort is pet-friendly too. If you'd like to know more about what they have to offer and book your own weekend getaway, visit their website.

Harrison Hot Springs Resort and Spa
www.harrisonresort.com | Twitter | Facebook
100 Esplanade Avenue, Harrison Hot Springs, BC, 1 800-663-2266
Lee-Anne Ekland
Leeanne Ekland is a stay-at-home mom of one, who's on a mission to rediscover love, wellness, and neighbourhood happenings and to have a ton of fun. She's also a lover of wine and yoga and believes that sharing her experiences at www.MomParadigm.com brings her closer to living her best life. Having started the parenting experience much later than most, she offers a unique perspective on the challenges and all that is amazing about being a mom over 40.