Harrison Hot Springs: Three Great Excursions
Heading to Harrison Hot Springs over the spring break with the kids? While it's tempting to hang out in one of all of the many mineral pools, it's nice to head out on a little road trip too! Harrison is more than just hot pools, a pretty lake and snowcapped mountains, it's also home to farms (and we all know how much kids love animals!) and with that comes farm fresh food you'll want to take home with you.
Here are three great excursions:
We all know local, authentic honey tastes like nothing else, and it's good for us too. Bring the kids to this local honey farm and learn about the art and science of bee keeping. Be sure to pick up some of their specialty, the highly prized Honey Fireweed made in the clear mountain air and known for its light colour and delicate flavour. If that's not on-hand, take your pikc of the many other delicious flavours. Come back in April to see the famed bee wall attraction.
A visit to Harrison isn't complete without a trip to the Farmhouse, what with the to-die-for hand-made rounds of cheese and farm animals to amuse the little ones. The Farm House makes its artisan cheeses and specialties from the rich, fresh milk of the farm's own dairy cows and goats! And you can catch a glimpse behind the scenes by peering into their cheese-making kitchen. Treat yourself to gelato and then visit the friendly cows and goats, be sure to say hello to the stunning Clydesdale horses and pigs. On your way out, pick up some meats (raised on the farm), eggs and other locally produced food products.
Take a hike
If a stroll along the lake isn't quite enough to wear out the kids, there are a variety of trails in and around Harrison from family walks to light and extreme hikes. Within a 30-minute drive are Bridal Veil Falls (the sixth highest falls in Canada), Cheam Lake Wetlands Regional Park (great for picnics and family nature walks) and Othello Quintette Tunnels (once a part of the Kettle Valley Railway system).
And once you're done, head back to the resort and soak away!
Harrison Hot Springs Resort & Spa
www.harrisonresort.com | Twitter | Facebook
100 Esplanade Avenue, Harrison Hot Springs, BC, 1 800-663-2266
Image credit: Farmhouse Natural Cheeses Instagram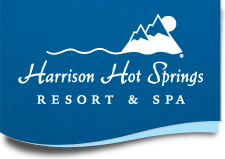 This article was sponsored by Harrison Hot Springs Resort & Spa. Family adventure. Romantic relaxation. Nightlife and great cuisine. It's all here at Harrison Hot Springs Resort & Spa – a landmark British Columbia resort hotel on the picturesque shores of Harrison Lake. Since 1886, travelers have sought the source that provides warmth to our five mineral hot pools and inspiration for our healing spa treatments.

Harriet Fancott
Harriet Fancott is the Editor and Social Media Manager for Vancouver Mom. She has over 20 years experience in the arts, tech and mom-based blogging arenas. She lives in East Vancouver with her husband and son where they enjoy exploring all that Vancouver has to offer from festivals and events to playgrounds and beaches to sushi and ice cream (although not together).