The Universe Has Your Back Tour: Gabby Bernstein in Vancouver

Go see a rock star of the self-help genre
Fans of self help will probably want to check out this popular event this coming Friday. Call it manifestation, call it universal flow, call it whatever you like, but New York Times best-selling author and motivational speaker Gabby Bernstein is all about it, and all about teaching people how to have faith that the "universe has your back." Her website says she teaches readers how to "transform their fear into faith in order to live a divinely guided life". Her new book, The Universe Has Your Back, contains stories and lessons that guide readers to release the blocks to what they most want in life: things like happiness, security and clear direction. You know, the things we all kinda wish we had the magic answer to getting and maintaining.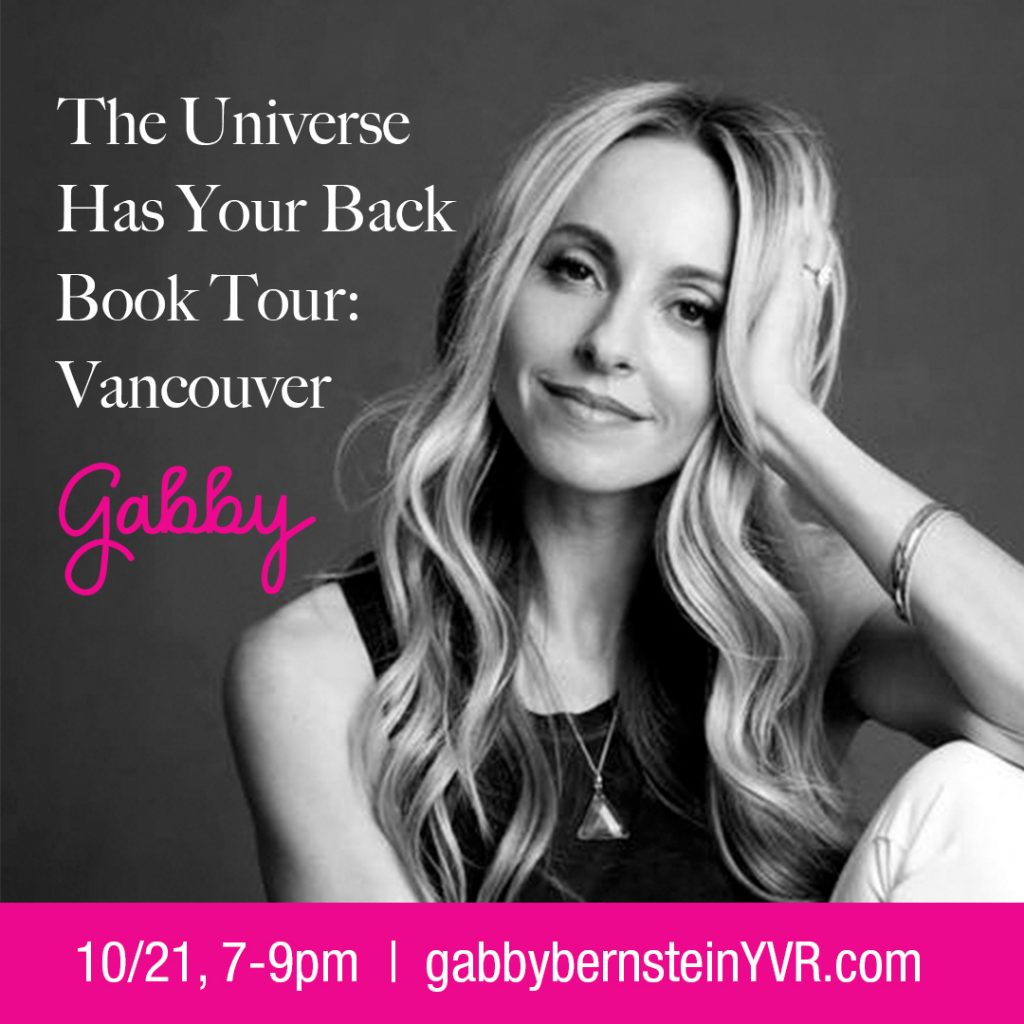 The event
This Oprah-approved author is coming to Vancouver for a nearly sold-out lecture and Q&A this coming Friday, October 21. Held at the Vancouver Playhouse, the event will treat her fans to a new talk called, "How to Transform Fear into Faith and Know the Universe Has Your Back", teaching you lessons form the book, and answering your questions during the Q&A. Your ticket come with two copies of the book and VIP tickets from with three books and Gabby's True Power Digital Course (five hours of content that you can complete at your own pace).
Meet Gabby after her talk!
You'll get a chance to meet this much-loved and inspirational writer after the lecture and Q&A, during her book signing. Gabrielle Bernstein has been named "a new thought leader" by Oprah Winfrey, and she appears regularly as an expert on The Dr. Oz show, and was named "a new role model" by The New York Times.
Get tickets for Friday here Gabby Bernstein YVR
Date: Friday, October 21
Time: Box office opens at 5:00 p.m. Doors open at 6:30 p.m. Lecture and Q&A, 7:00-9:00 p.m., followed by book signing
Place: The Vancouver Playhouse, 600 Hamilton Street, Vancouver
Vancouver Mom
Would you like to write for us? We welcome well-written guest submissions with a local interest slant. Share your tips, review local businesses and highlight hot trends for Vancouver moms. Get all the info on our Contributor Page!