Summer in Vancouver: BBQ Tips from a Pro
Planning a BBQ for your next birthday party or summer get-together? In this article Chef Dino Renaerts shares his tips.
The sun is shining. The weather is warm. There's no doubt, it's summer – the perfect time to get outside. But we don't mean in the adventurous, outdoorsy way. Get outside and have yourself the perfect summer BBQ or patio party! Grilling is also a great way to feed the masses at a summer birthday party. Don't know where to start? Local Vancouver chef and partner of The Bon Vivant Consulting Group, Dino Renaerts, has teamed up with President's Choice® this summer to compile a list of his top tips for the ultimate in BBQ-ing and outdoor entertaining.
Summer in Vancouver: BBQ Tips from Chef Dino Renaerts
1. Start planning now.
Many people are already planning their vacations and weekend getaways, so set a date now to secure it in their calendars. If it's your first outdoor party, a smaller crowd will help minimize stress. Plus, it's more intimate. Also, even if it isn't a birthday party, plan it so your kids can be involved – children and outdoors make for a lot of fun.
2. Spruce up your outdoor space.
Decide on the best spot for your outdoor party – it could be the front porch, a balcony, or a cozy corner of the garden. If you choose to go with an empty spot in the yard, find ways to make it feel like a room. Use part of your fence, a long planter, tall grasses, a trellis or simply arrange your furniture to create your own intimate party space. If you're entertaining in the evening, string fairy lights around the perimeter of the area and light a few citronella candles to keep those pesky bugs away from you and your children! For more ideas, I suggest heading to your local Real Canadian Superstore®.
3. You can't go wrong with burgers.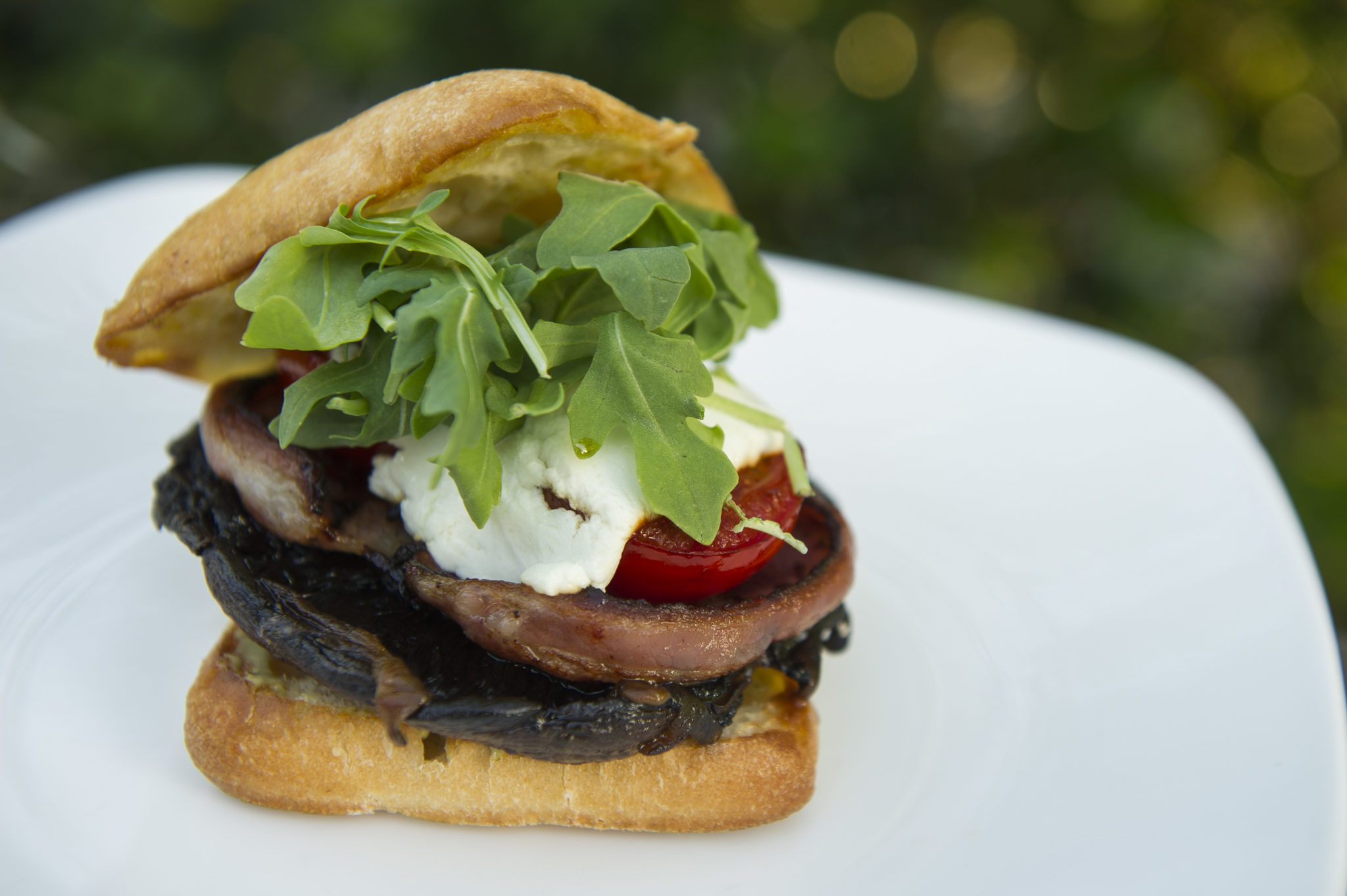 Keep your stress levels down with a simple menu filled with extraordinary food and beverages – I suggest a knockout burger combination which will win points with the kids, and build your menu around that. I find that Mediterranean flavors work really well with our warmer climate on the West Coast, so take inspiration from our friends across the ocean. If you need a hero burger, try the ultimate BC burger, the West Coast Mediterranean Portobello Burger – a PC® Portobello Mushroom Cap topped with caramelized tomato and a PC® black label Basil Pesto mayonnaise on a fresh PC ®Ciabatta Burger Bun – which I love with Panzanella Salad, followed by fresh berries and ice cream as a treat for adults and children alike!
4. Make sure you have the right equipment.
Whether you're a novice or an expert on the BBQ, you need the right tools. If you're planning on grilling up a storm, make sure you have a long-handled steel brush to clean the grill, long-handled tongs and a cloth to grease the grill, oven mitts to avoid nasty burns, a long-handled basting brush to keep your protein flavorsome and juicy, and a long spray water bottle to keep those flames under control. Try to keep a watchful eye on the kids as well – your own safety while grilling is one thing, but positioning the BBQ in an area of the garden that's a little further away from all the action will help.
5. Brighten up the party.
A table setting should look just as good as the food you serve on it! A quick and easy way to make your outdoor dining table look vibrant and welcoming is to add colour. Use a brightly coloured tablecloth to set the mood for your meal. If you're using flowers as your centrepiece, skip busy fabric and go for crisp white scattered with fresh flower petals, or place a single-stem flower onto a napkin, then roll it up and place onto each plate – it's something easy your own kids can help with.
The West Coast Mediterranean Portobello Burger
Want a recipe to kick your BBQ up a notch? Try making your own West Coast Mediterranean portobello burgers.
Ingredients:
4 PC® Portobello Mushroom Caps
4 slices PC® Naturally Smoked Bacon Rounds
2 Windset Farms BC hot house Allegro tomatoes on the Vine
4 tsp PC® black label Basil Pesto
4 tsp PC® Mayonnaise made with Extra Virgin Olive Oil
4 PC® Ciabatta Burger Buns
4 tbsp 'Happy Days' Goat Cheese
1 Pkg. PC® Organic Baby Arugula
Preparation:
1. Prepare appropriate charcoals in BBQ and light when ready allowing 30-45 minutes for charcoals to be ready.
2. Place mushroom caps on to platter, drizzle with olive oil and season lightly and set aside.
3. Slice Allegro tomatoes on the vine into 1⁄4 inch rounds, season with salt, minced garlic and thyme, set aside.
4. Mix basil pesto and mayonnaise together and set aside .
5. When the BBQ and charcoals are ready, place a piece of olive oil brushed foil on the grill and lay tomatoes on to allow caramelizing (15-20 min).
6. Add mushroom caps directly on the grill, allow 3 min, quarter turn and allow 3 min, flip and repeat.
7. Add bacon rounds on to the grill flip when lightly grilled and place on top of mushroom caps, add goat's cheese on top and allow getting gooey.
8. Brush ciabatta burger gun with olive oil or butter, lightly grill to golden.
9. Remove buns and slather with pesto mayo.
10. Place mushroom caps on top of dressed bun.
11. Add grilled tomato, top with arugula.
Dino Renaerts is one of the west coast's culinary leaders. Renaerts completed his education and training in Vancouver and has built a career spanning over two decades that has seen him cook in a clutch of the city's finest restaurants. Today, Renaerts applies his talent, passion and vision to his role as partner in The Bon Vivant Group, serving discerning clientele across the Lower Mainland. He recently teamed up with Loblaw to create the ultimate BC burger, and created the "West Coast Mediterranean Portobello Burger" which marries traditional summer flavours, with an international twist.
Vancouver Mom
Would you like to write for us? We welcome well-written guest submissions with a local interest slant. Share your tips, review local businesses and highlight hot trends for Vancouver moms. Get all the info on our Contributor Page!