Whether you're comfortable in the ocean or a placid lake, there are loads of places to rent canoes, kayaks, and pedal boats around the Lower Mainland.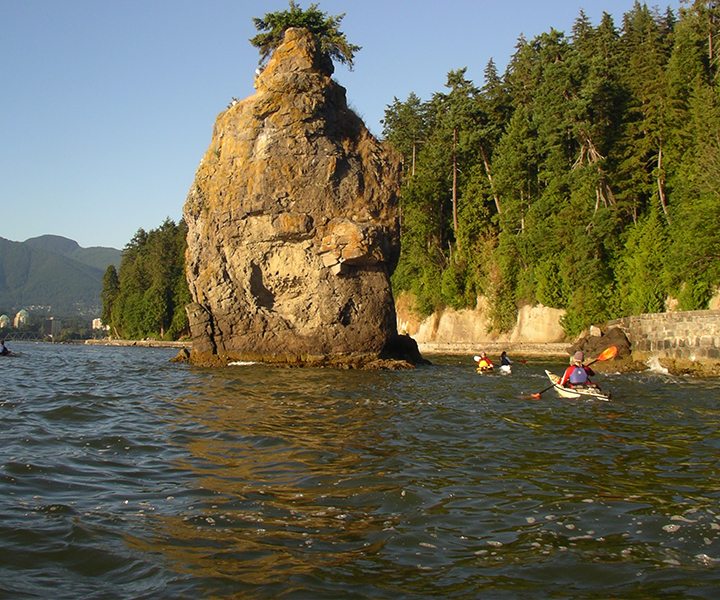 Ecomarine Paddlesport Centres
Rent a single or double kayak and paddle around the quiet waters near Granville Island, paddlers have to be at least 8 years old.
1668 Duranleau Street, Vancouver 
Creekside Kayaks
Rent a kayak and check out Southeast False Creek, even small kids can come as long as an adult is in the boat too.
1 Athletes Way, Vancouver
Deer Lake Boat Rentals
Rent a canoe, rowboat, kayak, or pedalboat. Watch out for beavers, herons, turtles and eagles around the lake!
5435 Sperling Avenue, Burnaby
Golden Ears Provincial Park
Alouette Lake is a beautiful place for a paddle, you can rent canoes and kayaks on site. Great provincial campground as well.
Maple Ridge
See Also
Deep Cove Canoe & Kayak
Deep Cove is a calm and beautiful place to learn to paddle, great for small people. Very busy at weekends.
2156 Banbury Road, North Vancouver
This post was sponsored by Pirate Adventures. Join our band of pirates for swashbuckling family outings, birthday parties, field trips, and exciting adventures! Whether you are just one pirate or a group of forty two, immerse yourself in the world of a pirate and live the unforgettable experience of Pirate Adventures!
Image Credits: Deep Cove Canoe & Kayak, Ecomarine Paddlesport Centres
Find more great places for moms just like you. Download JellyBeen, the social mobile app to find the best places to shop, eat and play with kids.
Erin McGann
Erin McGann is the former Managing Editor for Vancouver Mom and Toronto Mom Now. She drinks just a bit too much coffee, is a bit obsessed about sourcing local food, plays the cello moderately well, spends too much time on Twitter, keeps honeybees on a rooftop, and has a thing for single-malt whisky. Erin is working on a novel set in turn-of-the-century Vancouver, which her husband, son and dog have to hear about all the time, and also blogs at Erin at Large.